Sat Aug 10, 2013, 03:02 PM
freshwest (53,661 posts)
I Blame Obama! A Poll for Members of the BOG. [View all]
Last edited Sat Oct 18, 2014, 01:40 AM - Edit history (1)
Because the price of gas just dropped half a dollar a gallon at the COSTCO in my neighborhood. Welcome to my world!

BEWARE! You are close to entering the Big Bad Barack Obama Group, or as residents call it, the BOG. It is a SAFE HAVEN for those who CELEBRATE the policies and achievements of President Barack Hussein Obama.

This is you last chance to escape the Borg of the BOG, or Obamanista Collective. Resistance is Futile here. If you are not willing to be absorbed, click fast to get away and have a nice day.

P. S. I am not in charge here, fortunately. My super powers exist solely within the twilight zone of internet paranoia and my delusions of grandeur. What, you don't have any?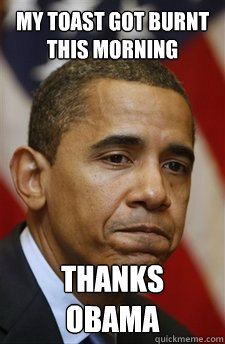 12 votes, 0 passes | Time left: Unlimited
I blame Obama when I run out of coffee creamer. He probably drinks his black, and that\'s what\'s wrong with him. Obama haters drink too much coffee and act like hyperventilating chihuahuas.

0 (0%)

I thank my lucky stars to wake up on Planet Earth when the Sun rises in the morning but only think of Obama when I visit DU. IrishAyes goes to sleep with an Obama lullaby every night. Well, not really, but she knows I love her.

0 (0%)

Obama is the best president of my lifetime. My greatest regret is that he\'s not running again.

6 (50%)

OP writer is an imperialist, statist, running dog counterrevolutionary lackey that happens to love socialism, or an Obamabot. Give your excuse for being here below.

0 (0%)

Obama is the reason we get coconut milk in grocery stores. No, this is not an OREO joke. And what\'s wrong with coconuts and OREOs, anyway?

0 (0%)

This nation is being overrun by Kenyans. Or Hawaiians. Or Something. After millenia of dinosaurs overrun by natives overrun by Europeans. We shall overcome Chick-fil-A and the GOP.

0 (0%)

OP writer is avoiding paperwork again. At least this isn\'t one of those long-winded rants. Yet.

0 (0%)

Obama has made my life better, but not in the monetary sense. If your life sucks, you may be a Bagger or Libertarian and not know it. Sorry for your loss.

0 (0%)

Michelle Obama could whip your ass. And if your name is Rush, Beck, Hannity, O\'Reilly, Ryan or Paul, it\'s long overdue.

4 (33%)

Yap -yap -yap! I am chihuahua, I am invincible!

2 (17%)

0 DU members did not wish to select any of the options provided.
Show usernames

Disclaimer: This is an Internet poll
58 replies, 12895 views
Replies to this discussion thread
58 replies
Author
Time
Post

I Blame Obama! A Poll for Members of the BOG.

[View all]

freshwest
Aug 2013
OP
ZombieHorde
Aug 2013
#1
freshwest
Aug 2013
#19
Politicalboi
Aug 2013
#2
giftedgirl77
Aug 2013
#3
freshwest
Aug 2013
#5
Cha
Aug 2013
#6
Cha
Aug 2013
#4
freshwest
Aug 2013
#7
Cha
Aug 2013
#8
BlancheSplanchnik
Aug 2013
#9
freshwest
Aug 2013
#14
greatauntoftriplets
Aug 2013
#10
freshwest
Aug 2013
#11
greatauntoftriplets
Aug 2013
#12
freshwest
Aug 2013
#13
greatauntoftriplets
Aug 2013
#15
freshwest
Aug 2013
#16
sheshe2
Aug 2013
#52
grantcart
Aug 2013
#17
freshwest
Aug 2013
#18
Hekate
Aug 2013
#45
freshwest
Aug 2013
#47
Hekate
Aug 2013
#49
Cha
Aug 2013
#20
sheshe2
Aug 2013
#22
freshwest
Aug 2013
#23
sheshe2
Aug 2013
#25
Cha
Aug 2013
#31
sheshe2
Aug 2013
#32
sheshe2
Aug 2013
#21
freshwest
Aug 2013
#24
sheshe2
Aug 2013
#27
freshwest
Aug 2013
#28
freshwest
Aug 2013
#50
sheshe2
Aug 2013
#51
orpupilofnature57
Aug 2013
#26
freshwest
Aug 2013
#29
Hekate
Aug 2013
#46
freshwest
Aug 2013
#48
bravenak
Aug 2013
#30
freshwest
Aug 2013
#39
bravenak
Aug 2013
#42
Common Sense Party
Aug 2013
#33
freshwest
Aug 2013
#34
Politicub
Aug 2013
#36
freshwest
Aug 2013
#37
Cha
Aug 2013
#40
freshwest
Aug 2013
#43
Cha
Aug 2013
#44
Politicub
Aug 2013
#35
freshwest
Aug 2013
#38
Politicub
Aug 2013
#41
Grateful for Hope
Aug 2013
#53
freshwest
Aug 2013
#54
sheshe2
Aug 2013
#57
mimi85
Aug 2013
#55
ucrdem
Aug 2013
#56
JustAnotherGen
Aug 2013
#58