Wed Oct 24, 2012, 05:48 PM
UnrepentantLiberal (11,700 posts)
Hyperfast stars point to black hole slingshot at the center of our milky way galaxy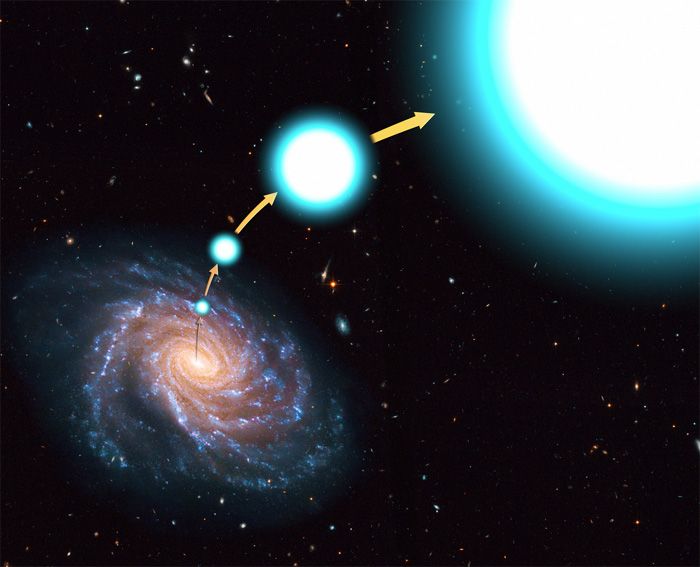 By Ray Villard
Discovery News
October 24, 2012
-snip-
In 1940, a young blue star was found amongthe ancient stars inhabiting the vast halo of our Milky Way. It is barreling through the halo at speeds several times faster than the staid halo population. Astronomers firsthypothesized that a runaway star was in a binary system and ejected though some sort of gravitational interaction with a third star entering the system, or perhaps propelled by a supernova explosion. In 1988 the gravitational slingshot effect from the galaxy's central black hole was hypothesized as the propulsion source.
In recent years, more of these so-called hypervelocity stars have been found zooming far away from our galaxy. In a survey of the northern sky five especially bright short-lived hypervelocity stars have been identified. They are all under 200 million years old. But if these wayward stars were ejected from the diskofour galaxy theywould be randomly distributed on the sky. Instead theyare found farabove the galaxy's northern pole and clustered in a patch about 1/8th the area of the northern sky.
A supermassive black hole "launcher" is the simplest explanation because the concentration suggests that the hypervelocitystarsfollow an escape trajectory, perhaps perpendicular to the plane of stars encircling the black hole. If this is true, then a survey of the southern sky for high velocity stars should uncover a mirror-image concentration on the sky.
Researchers propose that every 10,000 years our supermassive black hole knocks a hypervelocity star out of the ballpark. An idea is that one star in a binary system near the black hole loses momentum and falls toward the black hole. This momentum is transferred to the binary companion that is then accelerated to escape velocity from our galaxy. The single giant black hole propulsion theory is supported by observations that show the stars seem spaced sequentially, like a series of fired cannonballs.
More:
http://news.discovery.com/space/hyperfast-stars-point-to-black-hole-slingshot-121024.html
1 replies, 724 views
Replies to this discussion thread
| | | | |
| --- | --- | --- | --- |
| 1 replies | Author | Time | Post |
| Hyperfast stars point to black hole slingshot at the center of our milky way galaxy (Original post) | UnrepentantLiberal | Oct 2012 | OP |
| | ProdigalJunkMail | Oct 2012 | #1 |
---
Response to UnrepentantLiberal (Original post)
Thu Oct 25, 2012, 10:37 AM
ProdigalJunkMail (12,017 posts)
1. not saying this is not interesting
but haven't they already pretty much proven there is a supermassive black hole at the center of the galaxy? is this just meant to be MORE supporting evidence?


link to simple youtube video with simple explanation :


sP