Wed Nov 30, 2022, 10:57 AM
mnhtnbb (30,499 posts)
Black Turnout in Midterms One of Low Points for Democrats
From an NY Times Subscriber Only Newsletter. Archive link to avoid the paywall
We won't get conclusive numbers on this for months, but the evidence so far raises the distinct possibility that the Black share of the electorate sank to its lowest level since 2006. It certainly did in states like Georgia and North Carolina, where authoritative data is already available.
Still, relatively low Black turnout is becoming an unmistakable trend in the post-Obama era, raising important — if yet unanswered — questions about how Democrats can revitalize the enthusiasm of their strongest group of supporters.
Is it simply a return to the pre-Obama norm? Is it yet another symptom of eroding Democratic strength among working-class voters of all races and ethnicities? Or is it a byproduct of something more specific to Black voters, like the rise of a more progressive, activist — and pessimistic — Black left that doubts whether the Democratic Party can combat white supremacy?
Georgia and North Carolina are two of the states where voters indicate their race when they register to vote, offering an unusually authoritative look at the racial composition of the electorate. In both states — along with Louisiana — the Black share of the electorate fell to its lowest levels since 2006.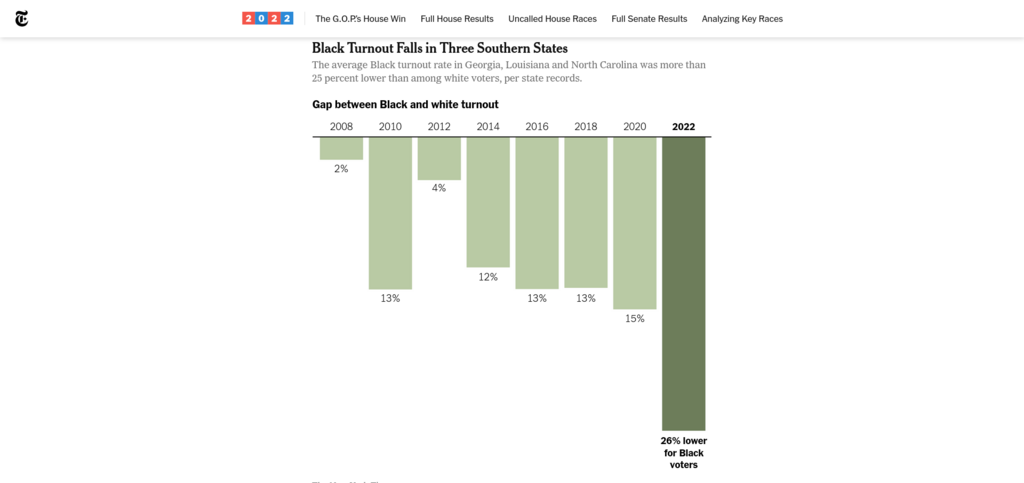 In all three states, the turnout rate among Black voters was far lower than among white voters. In North Carolina, for example, 43 percent of Black registered voters turned out, compared with 59 percent of white registered voters — roughly doubling the difference from 2018 and tripling the racial turnout gap from 2014.
Perhaps more remarkable is that Raphael Warnock, the Democratic senator from Georgia, and Ms. Beasley fared so well, even with Black voters representing such a low share of the electorate. Mr. Warnock and Ms. Beasley appear to have fared better among non-Black voters than any Democrats in recent memory in either state.
The entire article here:
https://archive.ph/wGkKk
As a senior citizen white female resident of North Carolina, I don't understand it. I thought Beasley had an excellent chance to beat her Trump supported opponent. Even without name recognition, or a charismatic personality, she had the resume and the gravitas to make an excellent Senator. I was excited to see her more than 300,000 votes ahead on Election night when the Early voting/Absentee ballot returns were coming in. That put her 150,000 votes AHEAD of where Hillary was compared to Trump in 2016 at the same point in time. I just don't understand why--when given the opportunity to elect the first Black Senator from North Carolina--the Black turnout was worse than white support for her.
The Democratic Party has to get this figured out. I had thought maybe it was an NC state thing, but apparently, this is a nationwide issue.
6 replies, 1285 views
Replies to this discussion thread
| | | | |
| --- | --- | --- | --- |
| 6 replies | Author | Time | Post |
| Black Turnout in Midterms One of Low Points for Democrats (Original post) | mnhtnbb | Nov 2022 | OP |
| | Walleye | Nov 2022 | #1 |
| | Magoo48 | Nov 2022 | #2 |
| | mnhtnbb | Nov 2022 | #3 |
| | TigressDem | Nov 2022 | #4 |
| | mnhtnbb | Nov 2022 | #6 |
| | Merlot | Nov 2022 | #5 |
---
Response to mnhtnbb (Original post)
Wed Nov 30, 2022, 11:05 AM
Walleye (22,721 posts)
1. I don't understand people who think that not voting is making a statement
---
Response to mnhtnbb (Original post)
Wed Nov 30, 2022, 11:17 AM
Magoo48 (3,867 posts)
2. It is what it is. So, what are we Democrats going to do about it?
---
Response to Magoo48 (Reply #2)
Wed Nov 30, 2022, 11:27 AM
mnhtnbb (30,499 posts)
3. I don't know.
I put this in the African American Group rather than GD hoping to engage some discussion from AA DU'ERS that might provide insight.
---
Response to mnhtnbb (Original post)
Wed Nov 30, 2022, 12:46 PM
TigressDem (4,849 posts)
4. It's GERRY MANDERING that specifically targets communities of color to make it harder to vote.
The districts are being squeezed to put DEMS and a lot of people of color into the SAME district, so although they may vote, they wait longer or can't access polling boxes (Georgia law removed many for mid-term turnout).
WATCH from Map to Map how the BLUE shrinks
2014 Map
https://www.wunc.org/politics/2017-06-19/scotus-partisan-gerrymander-decision-will-impact-north-carolina
SCOTUS' Partisan Gerrymander Decision Will Impact North Carolina
Already, federal courts have determined that
Republican North Carolina lawmakers drew voting districts that are racially gerrymandered
, which the Supreme Court has ruled unconstitutional.
However, the highest court has never ruled against gerrymandering districts purely for partisan gain.
2018 Map
https://www.nytimes.com/interactive/2018/11/29/us/politics/north-carolina-gerrymandering.html
Democrats in North Carolina
earned 48.3 percent of the total vote
cast in House races
but appeared to win only three seats
;
Republicans had 50.4 percent of the vote and won at least nine seats
.
2020 Map
https://www.vox.com/policy-and-politics/2021/11/9/22765982/north-carolina-redistricting-gerrymandering-2021-2022
North Carolina's extreme new gerrymander, explained
New election maps passed into law could be worse for Democrats than their recent loss in Virginia.
In a state split nearly evenly between Republicans and Democrats —
Trump won it in 2020 with 49.9
percent of the vote — the new map of districts for House elections would likely give the GOP at least 10 House seats out of 14 (71 percent).
North Carolina law does not allow Democratic Gov. Roy Cooper to veto the maps, which means they will be used in 2022 unless courts intervene.
The Princeton Gerrymandering Project, an academic group that
grades political maps based on a set of mathematical metrics of fairness, gave the North Carolina map an "F" for extreme partisan bias
— marking it as one of the very worst proposals anywhere in the country. Two separate analyses, from a Duke University professor and the Campaign Legal Center, also found that the map was unusually tilted in the GOP's direction.
https://cdn.vox-cdn.com/thumbor/iomt2r2zEUfCcwXIQ39uPVe9lQo=/1400x0/filters:no_upscale
()/cdn.vox-cdn.com/uploads/chorus_asset/file/22999521/xxWi9_north_carolina_s_new_house_map_for_2022_br_favors_republicans_even_more.png
BUT THE ACTUAL 2022 MAP HAS BETTER GRADES - Except for Competetiveness????
https://gerrymander.princeton.edu/redistricting-report-card?planId=recLnbOX0HgTlcdAK
Overall Grade
B
Partisan Fairness
B
Advantages incumbents
Competitiveness
F
Very uncompetitive relative to other maps that could have been drawn
Geographic Features
C
Compact districts, typical number of county splits
A: Good for the category
B: Better than average for the category, but bias still exists
C: Average for the category, could be better, but also could be worse
F: Poor for the category, could be much better
---
Response to TigressDem (Reply #4)
Wed Nov 30, 2022, 06:00 PM
mnhtnbb (30,499 posts)
6. It's been a decade long battle in NC to rectify the gerrymandered districts
that resulted from the 2010 Election when turnout was so awful. That's when Republicans took control of the State Senate and House and the gerrymandering began.

We're finally back to 7 Repub and 7 Dem US Representatives as a result of the 2022 Election, BUT since the Republicans will take control of the NC Supreme Court, I think the gerrymandering will begin again. It's an endless battle.

It wasn't just the chance to turn a Senate seat that was lost because of low turnout.

I live in Durham County--which is one of the most Democratic in the state--and the Early Voting turnout was spectacular, but didn't follow through Election Day to match the turnout of the 2020 General Election. Even in a predominantly Democratic County, where there were numerous Early voting locations, we still didn't have the turnout.

It's not just the gerrymandering, because turnout was much better in the 2020 General Election.
---
Response to mnhtnbb (Original post)
Wed Nov 30, 2022, 02:06 PM
Merlot (9,374 posts)
5. Do they even consider the effects of voter suppression and intimidation?
Things like desanti's high profile arrests of black voters right before the election, for example.

Lack of drop boxes, confusing ballot rules, dis-allowed ballots due to technicalities - all these things are having the intended purpose. To blame it on "lack of enthusiasm" is just doing more of the same.