Fri Sep 21, 2012, 06:06 PM
KoKo (84,711 posts)
Is it time for "Three Days of the Condor" once again?
http://dvd.netflix.com/Search?v1=Three+Days+of+the+Condor&ac_abs_posn=1&fcld=true&ac_rel_posn=1&ac_category_type=movie&raw_query=Three+Days+of+the&raw_query=Three+Days+of+the
Three Days of the Condor
(3 Days of the Condor)
1975R117 minutes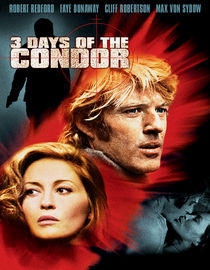 Robert Redford stars as Joe Turner, a New York-based CIA researcher who returns from lunch to find all his co-workers murdered. In the next 72 hours, everyone Turner trusts will try to kill him, in this conspiracy thriller by director Sydney Pollack. Double-crossed and forced to go underground, Turner kidnaps a young woman (Faye Dunaway) and holds her hostage as he unravels the mystery. Max von Sydow and Cliff Robertson co-star.
Cast:
Robert Redford, Faye Dunaway, John Houseman, Cliff Robertson, Max von Sydow, Addison Powell, Tina Chen, Michael Kane, Don McHenry, Michael B. Miller
Director:
Sydney Pollack
Genres:
Classics, Espionage Thrillers, Classic Thrillers, Mystery, Suspense, Blu-ray
This movie is:
Suspenseful
Format:
DVD and Blu-ray
Reviews voted most helpful
Votes are counted and displayed within 24 hours
"I just read books!" The best non-spy spy movie. Redford plays a bookworm looking for secret codes in periodicals when his section his hit. Why waste a bunch of bookworms? Redford has to think fast on his feet and each move could be his last. What did he find? Why was everyone killed? Who can he trust? This one keeps you on the edge of your seat through the whole film. Great 70's funk music in the background, splendid performances by Max Von Sydow and Redford, and a great story makes this one of the greatest sleepers in the Spy / Thriller genre. You'll be wary the next time you encounter a postman after seeing this flick. By the way, even though this was made in the 70's the subject is still relevant today, probably more than ever. Enjoy!
388 out of 445 members found this review helpful
--------------
While it's obvious this is a pre-PC movie (text terminals and printers), the suspense is so good that I forgot about the lack of technology. I guess that's what 3DC reminded me of: there was plenty of intrigue and spying long before modern computing. The script and acting are so good that you forget about the rest. I particularly liked Robert Redford's character - although he's a CIA researcher, he's more of an everyman type of character. He has to learn how to be a real spy as he goes along. However, his instincts give him the courage to take on the "establishment", and make the top officials very uncomfortable.
1 out of 1 members found this review helpful You found this review HelpfulNot Helpful Inappropriate
--------------
This movie was released in 1975, 37-years ago. I've watched it more than once since then. Since the last eleven years, if I watch this movie I get a chill when the Redford character asks the Robertson character" "Do we have plans to invade the Middle East?", to which the CIA Robertson replies: "No!" What goes around comes around, as they say.
3 replies, 1969 views
Replies to this discussion thread
| | | | |
| --- | --- | --- | --- |
| 3 replies | Author | Time | Post |
| Is it time for "Three Days of the Condor" once again? (Original post) | KoKo | Sep 2012 | OP |
| | Graybeard | Sep 2012 | #1 |
| | barbtries | Sep 2012 | #2 |
| | ZoltarSpeaks | Sep 2012 | #3 |
---
Response to KoKo (Original post)
Sat Sep 22, 2012, 01:34 PM
Graybeard (6,996 posts)
1. Amazing how relevant it remains today.
And prescient. This was made before Oliver North and his thugs took over the basement of The White House. And way before Darth Cheney corrupted the CIA even more.

Great flick.
---
Response to KoKo (Original post)
Sun Sep 23, 2012, 12:23 AM
barbtries (19,209 posts)
2. it's a great movie
i wish it was streaming. robert redford never looked better.
---
Response to KoKo (Original post)
Sun Sep 23, 2012, 08:03 AM
ZoltarSpeaks (78 posts)
3. Amazon Prime currently has this...
Streaming for free if you are a subscriber.