Thu Nov 19, 2020, 11:38 PM
Judi Lynn (149,823 posts)
Woman found dead at retreat of disgraced Brazilian guru who appeared on Oprah
NOVEMBER 19, 2020
PUBLISHED AT 7:45 PM
REUTERS
Hitomi Akamatsu, 43, was found dead near a waterfall in Brazil on Monday.
Twitter
A Japanese woman has been found murdered in Brazil, where she had sought treatment at a spiritual retreat owned spiritual guru Joao Teixeira de Faria, known as "John of God".
Hitomi Akamatsu, 43, was found on Monday by a waterfall on property belonging to the self-proclaimed healer, who became a celebrity after appearing on a show hosted by Oprah Winfrey.
The guru later fell from grace after being convicted of raping women at his retreat.
Police have arrested Rafael Lima da Costa, an 18-year-old who confessed to killing Akamatsu on November 10 during a robbery. Police tracked him using security camera footage and found where he had burned clothes, according to detective Isabela Silva.
More;
https://www.asiaone.com/asia/woman-found-dead-retreat-disgraced-brazilian-guru-who-appeared-oprah
Joao Teixeira de Faria, known as "John of God"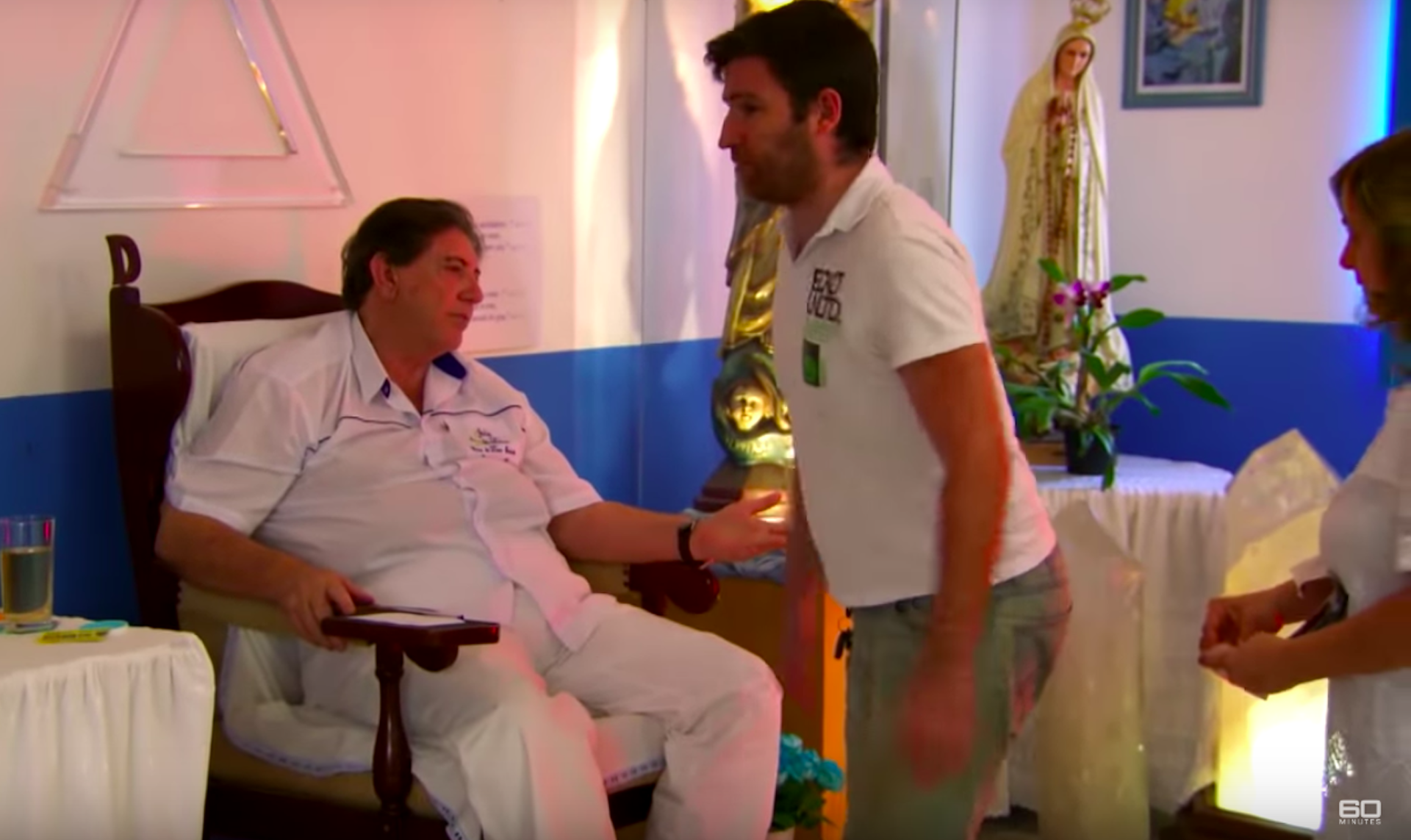 Supernatural' events terrify police while interrogating celebrity medium John of God over sexual abuse claims as computer 'takes on life of its own' and electrical appliances short circuit
By JANET TAPPIN COELHO IN BRAZIL FOR MAILONLINE
PUBLISHED: 05:01 EST, 19 December 2018 | UPDATED: 14:07 EST, 19 December 2018
Detectives questioning a celebrity medium in Brazil, accused of sexually abusing more than 300 women, have reported spooky goings-on during their two hour interrogation.
Unexplained incidents ranging from a 'bizarre' computer crash to wiring on electrical appliances suddenly 'short circuiting' appears to suggest supernatural forces were at play during the interview.
The mysterious problems unnerved cops but didn't deter them from collecting the testimony from faith healer, João Teixeira de Faria, who is known as João de Deus – John of God on Sunday night in Goiânia.
Detective Karla Fernandes, responsible for coordinating the task force investigating the allegations, claimed that as the spiritual guru began to speak, strange things started to happen.
. . .
Teixeira has denied allegations that he sexually violated hundreds of women, including his own daughter, under the pretence of administering mystical treatments.
His lawyer claimed his client is being 'persecuted' and the complaints made by hundreds of women, with the number now topping some 500, are coming from 'people who want to destroy him.'
More:
https://www.dailymail.co.uk/news/article-6511201/Supernatural-events-terrify-police-interrogating-celebrity-medium-sexual-abuse-claims.html
4 replies, 762 views
Replies to this discussion thread
| | | | |
| --- | --- | --- | --- |
| 4 replies | Author | Time | Post |
| Woman found dead at retreat of disgraced Brazilian guru who appeared on Oprah (Original post) | Judi Lynn | Nov 2020 | OP |
| | RockRaven | Nov 2020 | #1 |
| | Beakybird | Nov 2020 | #2 |
| | no_hypocrisy | Nov 2020 | #3 |
| | Judi Lynn | Nov 2020 | #4 |
---
Response to Judi Lynn (Original post)
Fri Nov 20, 2020, 12:07 AM
RockRaven (9,496 posts)
1. Not the first Oprah-guru death....
Her credulity was/is fucking dangerous. Even when the people she boosts don't get their own syndicated shows later.
---
Response to RockRaven (Reply #1)
Fri Nov 20, 2020, 12:25 AM
Beakybird (2,391 posts)
2. Ain't that the truth!
She even promoted, "The Education of Little Tree," written by the leader of the Klu Klux Klan. Later, she said, "Oops!"
---
Response to Judi Lynn (Original post)
Fri Nov 20, 2020, 07:30 AM
no_hypocrisy (38,988 posts)
3. As a side note, the minions (who believe Oprah without the filter of critical thinking)
are those whom Donald Trump wanted to harness when he floated the idea of running for President in 1992. Do you remember how he said that maybe he wanted Oprah to be his running mate? Even then, Trump recognized the mindless influence Oprah had and wanted those female votes.
---
Response to Judi Lynn (Original post)
Sat Nov 21, 2020, 01:37 AM
Judi Lynn (149,823 posts)
4. Japanese woman killed in Brazil died from blow to the head
By ASSOCIATED PRESS
PUBLISHED: 19:33 EST, 20 November 2020 | UPDATED: 19:33 EST, 20 November 2020
RIO DE JANEIRO (AP) - The Japanese woman whose body was found next to a waterfall in Brazil´s Goiás state died as a result of a blow to the head, probably from a blunt rock, according to the detective leading the investigation.
The 18-year-old Brazilian man who confessed to killing Hitomi Akamatsu claimed in his first interrogation that he had used her blouse to strangle her, detective Isabella Joy told The Associated Press by phone. A forensic report from Goiás state´s crime lab that came back on Friday indicated cranial trauma was the actual cause of death.
The man, who local press has identified as Rafael Lima da Costa, is under preventative arrest for homicide resulting from a robbery and for hiding a cadaver.
Akamatsu moved to the city of Abadiania to seek treatment for her skin cancer after she survived a nuclear accident in Japan, Joy said. She remained there after the arrest of the spiritual healer known as João de Deus, or John of God, who drew people from all over the world to his small city two hours west of Brazil's capital with promises he could treat everything from depression to cancer.
Last year, he was found guilty of committing multiple rapes.
Akamatsu's body was found in a ditch beside the waterfall after her friend reported her missing, which prompted authorities to send out a search party with tracker dogs.
More:
https://www.dailymail.co.uk/wires/ap/article-8972073/Japanese-woman-killed-Brazil-died-blow-head.html
Another "man of God."