Sun Feb 21, 2021, 08:49 PM
Emrys (5,684 posts)
Tunnel vision: now PM sets his sights on a roundabout under the Isle of Man
It's a drab February, the ever-mounting post-Brexit cockup heap and the pandemic are making for misery all round, and we're nowhere near silly season yet, so it appears the UK government have set up a special unit to fill the void:
As flights of political fancy go, Boris Johnson's desire to build a tunnel between Great Britain and Northern Ireland might seem to be one of the most audacious.
However, Whitehall officials have revealed that one version of the plan worked up in Downing Street went even further, envisaging not one but three tunnels under the Irish Sea connecting in an "underground roundabout" beneath the Isle of Man.
No 10 officials given the task of examining how Johnson's blue-sky thinking might be feasible quickly concluded that the original plan of a link between Stranraer in Scotland and Larne in Northern Ireland was impractical.
https://www.thetimes.co.uk/article/tunnel-vision-now-pm-sets-his-sights-on-a-roundabout-under-the-isle-of-man-cg9523lxp
The
Times
exclusive fades out at that point unless you're a subscriber, so let's turn to a more tabloid treatment:
Boris 'wants to build giant roundabout under the Isle of Man'
The prime minister has hopes of building an 'underground roundabout' beneath the Isle of Man to connect Britain to Northern Ireland, Whitehall sources claim.
Under the alleged plans, the transport network would see as many three tunnels heading out from England and Scotland in a bid to iron out post-Brexit trade issues across the UK.
They would connect at a roundabout named 'Douglas Junction', after the island's capital, before heading out across the Irish Sea beneath the Isle of Man, reports The Sunday Times.
Several senior Whitehall sources are said to have dismissed the roundabout plan as 'round the bend' but it is so beloved by Boris Johnson that 'it cannot die'.
...
A source told The Times: 'Everyone knows Boris wants to do this so people were asked to look at how.'
However, another source said while some senior aides describe the plan as 'bats**t', they acknowledge it as a 'Fuhrer bunker project'.
One told the paper: 'Just as Hitler moved around imaginary armies in the dying days of the Third Reich, so the No 10 policy unit is condemned to keep looking at this idea, which exists primarily in the mind of the PM.'
https://metro.co.uk/2021/02/21/boris-wants-to-build-giant-roundabout-under-the-isle-of-man-14120356/
So we're not quite at the stage of "Let's just buy Greenland" yet, but it may not be far off.
I commented on the idea of a bridge (or tunnel) between Scotland and Northern Ireland being a non-starter back in September 2019:
https://www.democraticunderground.com/?com=view_post&forum=1088&pid=17500
It seems the government's analyses have come to the same conclusion, so the solution they've come up with is to use the Isle of Man as a stepping stone/undersea roundabout in a vast network of tunnels under the Irish Sea:
Now, we could spend this dark evening, and probably a few more, picking apart the idiocy and megalomania of this idea, but here's a few points for starters.
The Isle of Man is neither in the UK nor the EU, but as a Crown dependency it has its own tax regime and is in a customs union with the UK, so using it for hopscotch will likely add to complications rather than reduce them. It's also unclear whether anyone in Westminster has thought to ask the Manx government how it feels about all this, which would seem a good starting point.
For the next point, I can't improve on the expression of this Twitter user:
Link to tweet
🏳️‍🌈Max🏳️‍🌈
@SpillerOfTea

Apart from the obvious logistical illiteracy of this idea, I feel obliged to point out that [wearily grabs megaphone] TUNNELS DON'T CHANGE THE FUCKING LAW WE ALREADY HAVE A TUNNEL TO THE EU AND IT HASN'T SOLVED A FUCKING THING YOU MAD TWAT
Or put more politely:
Link to tweet
Dr Anna Jerzewska
@AnnaJerzewska
And for all of you tweeting a pic of Faroe Islands tunnels at me:

1. Yes, it's possible. Norway and Iceland also have some really lovely tunnels

2. It's a network of ca 11km and it took 3 years.

and most importantly...
/1

Dr Anna Jerzewska
@AnnaJerzewska
The biggest barrier between NI and GB isn't the sea - it's the newly introduced customs and regulatory border and you can't dig a tunnel under that.
2/2
Of course, the point isn't whether any of these tunnels/bridges/whatever will ever actually get built. Aside from being a handy distraction from *gestures vaguely and widely*
all this
, there's a bundle of money to be made from carrying out feasibility studies etc. Just ask those involved in London's Garden Bridge. That cost £53 million before it was abandoned, and it was only meant to be a few hundred yards long.
4 replies, 1189 views
Replies to this discussion thread
| | | | |
| --- | --- | --- | --- |
| 4 replies | Author | Time | Post |
| Tunnel vision: now PM sets his sights on a roundabout under the Isle of Man (Original post) | Emrys | Feb 2021 | OP |
| | abqtommy | Feb 2021 | #1 |
| | T_i_B | Feb 2021 | #2 |
| | muriel_volestrangler | Feb 2021 | #3 |
| | Emrys | Feb 2021 | #4 |
---
Response to Emrys (Original post)
Sun Feb 21, 2021, 09:23 PM
abqtommy (10,753 posts)
1. snark on: Since BO "Ya Doesn't Have To Call Me Johnson" JO has been so successful in
handling covid and Brexit why not let him have a go at tunneling? snark off

Actually, I've already read a lot of articles about why these tunnels are a lousy idea and will never happen. Just like a proper response to covid and the whole Brexit fiasco.
---
Response to Emrys (Original post)
Mon Feb 22, 2021, 08:06 AM
T_i_B (14,574 posts)
2. Buying Greenland is a far more sensible idea than this
These unrealistic bampot proposals are becoming more than a little bit tiresome.
---
Response to Emrys (Original post)
Mon Feb 22, 2021, 10:21 AM
muriel_volestrangler (96,217 posts)
3. I bet he calls them Tom, Dick and Harry
and fantasizes about where to dispose of the earth, while humming "dum dum, dum DA da dum dum...".
---
Response to Emrys (Original post)
Mon Feb 22, 2021, 11:40 AM
Emrys (5,684 posts)
4. Someone on Twitter with a functioning memory has pointed out
that Leeds for Europe posted a spoof on its Facebook page last year that bears a more than passing similarity to Johnson's scheme: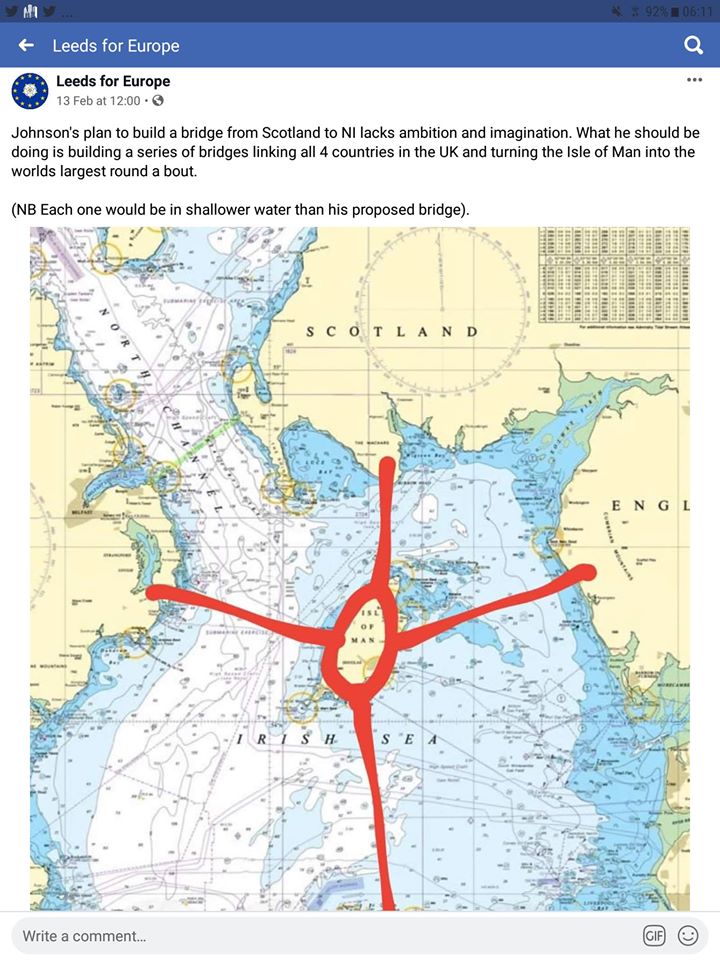 In fact, within the bounds of the current lunacy, some of the landfalls make more sense (though, like Johnson's, they don't take into account the lack of infrastructure links at those landfalls). Though it's off the bottom of the map, it looks like it took in Holyhead, meaning that Wales wasn't mysteriously missing out.
Now, the following may be pure fantasy, as there's no indication the tweeter,
Nick Tolhurst
, has any real inside knowledge despite the fact he has a large following, but we might as well pile fantasy on fantasy (it resembles some of the "insider" leaks about the Trump administration over the years):
+UPDATE+
Civil Service increasingly despairing of "Johnson's ability to focus on everyday govt" as he floats ever more stranger ideas - the latest a "giant roundabout under Isle of Man to connect UK countries via interconnecting tunnels" - as part of his "patriotic Union" plan.
2/ Story starting to (partially) seep out now..
https://www.thetimes.co.uk/article/tunnel-vision-now-pm-sets-his-sights-on-a-roundabout-under-the-isle-of-man-cg9523lxp
3/ Civil service increasingly told to present information in "short easily understandable answers" and to research ever ever more fantastical ideas & "notions" the Prime Minister throws at them at short notice.
4/ Tasked by Boris Johnson to find a way this could work officials have suggested 4 tunnels, starting from Larne, Stranraer, Liverpool & Heysham could be routed via a roundabout at the Isle of Man.
Civil Service staff have termed the scheme "Boris Junction".
5/ It is understood Boris insisted on research for this plan after officials informed him that his previous idea - a direct tunnel from Stranraer to Larne - would be impossible due to the almost 2million tonnes of army munitions dumped in Beauforts Dyke over the last 80 years.
6/ Boris Johnson has become increasingly impatient with his officialls for "not thinking big" & "hindering his plans".
Civil servants have been trying to eliminate the plan from publication, but it looks likely Boris may get his way and open feasibility study announced soon.
7/ Civil servants "afraid to challenge" ideas from the PM on feasibility grounds as Boris Johnson views doubts on these as inherently linked to a defeatist attitude on Brexit and "that we are in danger of not believing in ourselves, not believing in Britain.'
8/ A good graphic on this from the Times.
Apart from the insanity, what strikes me most is the 2 costly tunnels to England when one would do - given the short distance between Heysham & Liverpool.
The only conclusion I can draw is that Boris wanted the symmetry of 4 tunnels.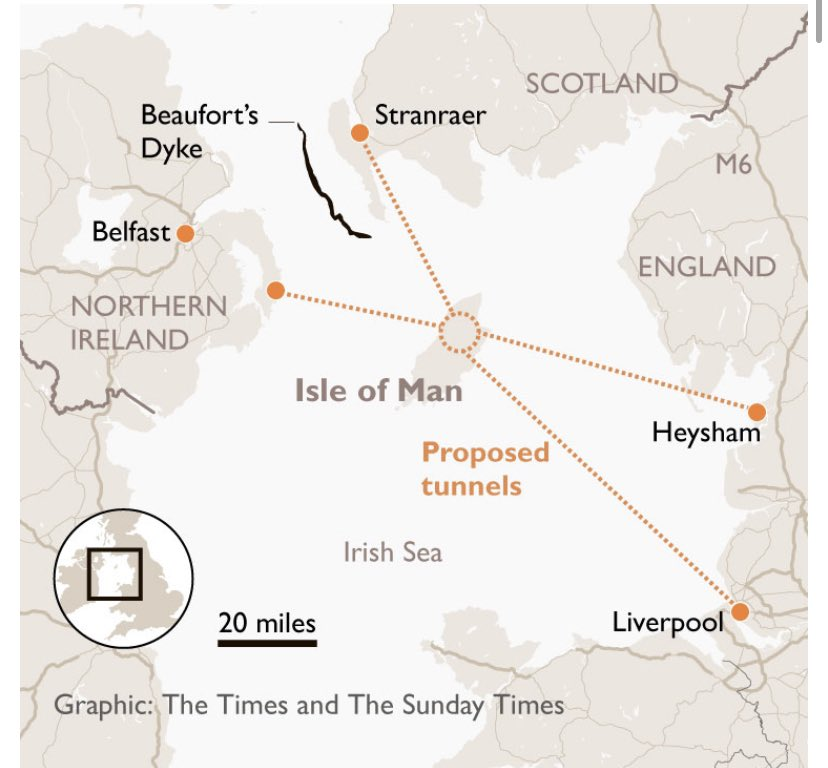 9/ At this stage its perhaps worth recalling that one of the reasons the PM started floating the tunnel idea was that trade in one of biggest routes (after Dover-France) - the Dublin-Holyhead route - was heavily impacted.
Yet neither Dublin nor Wales are included in this.
https://threadreaderapp.com/thread/1363480576808869891.html