Tue Dec 29, 2015, 07:13 PM
regnaD kciN (25,310 posts)
2015: A Look Back
Time for my (almost) annual photo retrospective. For those of you who haven't seen one of these before, I always have two rules in building this collection:
1) One photo per month.
2) None of which has been shown on DU before.
Normally, at this point, I gripe about how difficult it's been to choose this year, because I tend to post every good image I shoot here. For once, that isn't true -- I barely posted
anything
this year. The reason for that was that this was a most unusual year for nature photography in the Northwest. Remember the old Chinese curse, "may you live in interesting times?" 2015 was the most interesting year yet.
As I noted in my last post, the weather up here this past year was decidedly weird, with January temperatures reaching into the 60s and 70s, with very little rainfall. This essentially "kick-started" the seasons, so everything was running well ahead of its usual schedule. There's a certain routine to Northwest nature photography, as detailed in
this article
I wrote several years ago. In particular, from the first daffodils in March to the last autumn leaves in November, you generally have a number of predictably-good subjects and locations for every month of the year. Not so in 2015! One example will suffice: normally, you can count on Mount Rainier's wildflowers reaching their height of color in middle-to-late August. This year, as hard as it was to believe, they had reached peak before Independence Day! The weather had a ripple effect throughout the year; the overcast days and high water levels ideal for photographing waterfalls and forest streams in May and June barely happened at all, with hot, cloudless days taking their place; middle-to-late summer featured dried-out landscapes (and smoke from massive wildfires); autumn, following that dry summer, was similarly disappointing. Finally, as if to catch up on all it had missed, December was one of the wettest months on record, with downpours, flooding, and dark gray skies making nature photography near-impossible.
Oh, well, as a prominent former Secretary of Defense may have put it, you shoot the year in nature you have, not the one you want...
What may be my favorite image of the year came from early on, in
January
. Some interesting, distant locale? Hardly -- this was taken from a highway overpass one morning, while returning from dropping my son off for classes at college, when the rising sun broke through the fog behind a grove of bare trees.
February
was literally for the birds. (In past years, I have found it almost impossible to get a shot like this -- during the late winter Cedar River salmon run -- with anything other than a white, blown-out sky. The fact that we actually had clear weather was immensely-helpful in getting this imnage; unfortunately, it was also a harbinger of what was to come.)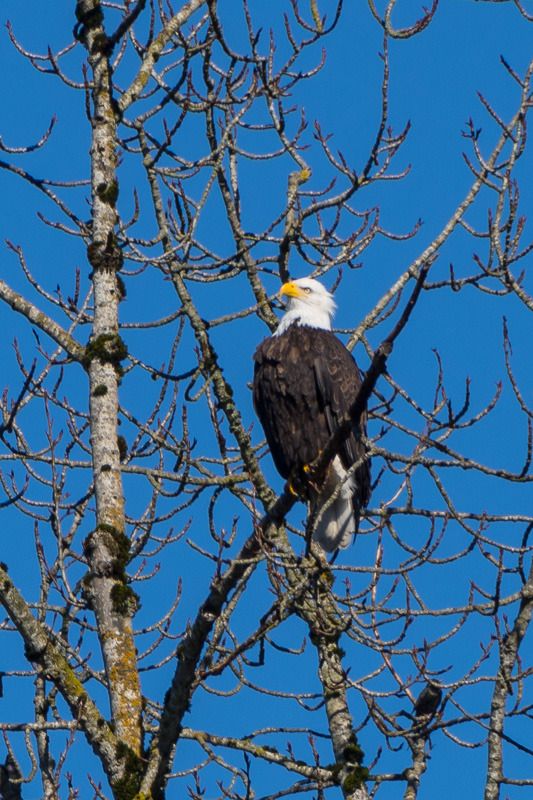 From all accounts, the first sighting of a "flying saucer" came from an Air Force pilot flying near Mount Rainier. With lenticular clouds such as those found on this day in
March
, is that any surprise?
The Skagit Tulip Festival always touts itself as taking place in
April
, with "bloom dates by Mother Nature." Indeed; I can remember years when the month drew to a close with only the first patches of color emerging in the fields. By contrast, this image was taken on April 8th, at one of the last unharvested fields.
As covered in a previous post,
May
provided one appropriately-cloudy day to make the uphill trek to Fairy Falls in Oregon. Here's a different composition from that location.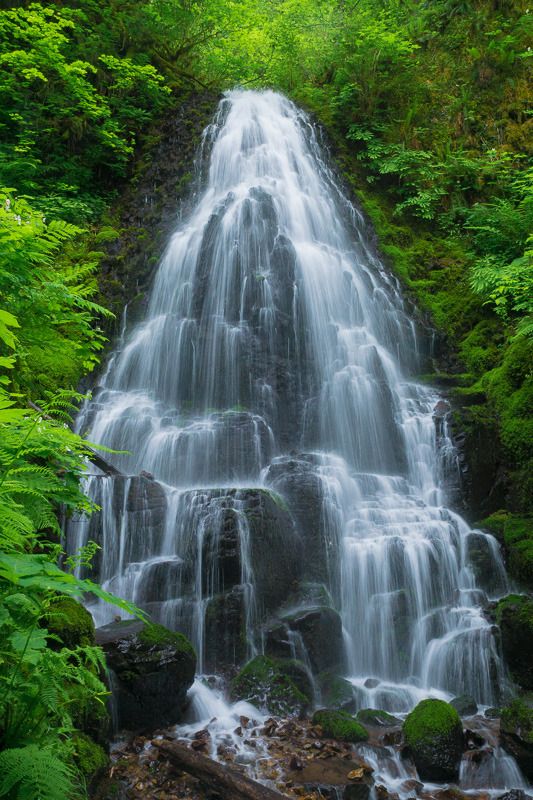 With most of the usual
June
attractions dried out, I traveled to the coast for my first visit to Ruby Beach in several years.
On
July
3rd, spurred by reports of an unbelievably-early wildflower bloom, I made it to Lower Tipsoo Lake for my only chance this year to capture Rainier wildflowers.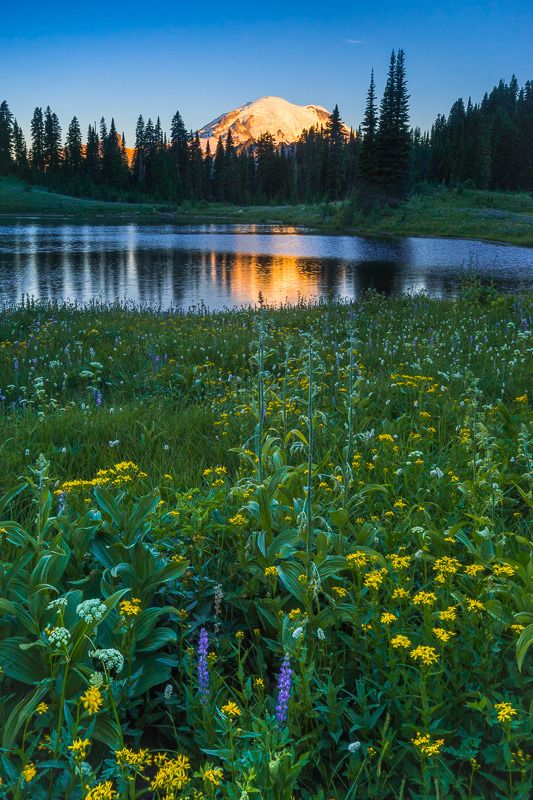 As noted,
August
was a particularly-unpromising month for photography. With little in the way of natural locales available, I wound up capturing the sunset at Mukilteo Lighthouse (you'll notice more sunset shots than usual this year -- when all else fails, the sky is something you can count on).
I tried visiting Upper Tipsoo Lake twice in
September
, when the forecast for sunset clouds looked promising. Unfortunately, the first time, smoke from the eastern Washington wildfires flowing over Chinook Pass was so thick, you could barely see Mount Rainier, as I posted
here
earlier. A week later, the smoke had cleared, and I got the sunset for which I'd been hoping.
The last two times I had visited Kuboda Garden in south Seattle, I had been 1) attacked by a pitbull and 2) had my car broken into. As you can guess, I hadn't been eager to return! However, as
October
drew to its end, reports were spreading through the Seattle photographer community that it was the one place where you could find good autumn color. Accordingly, I joined the throng, and wound up unbitten and unrobbed this time.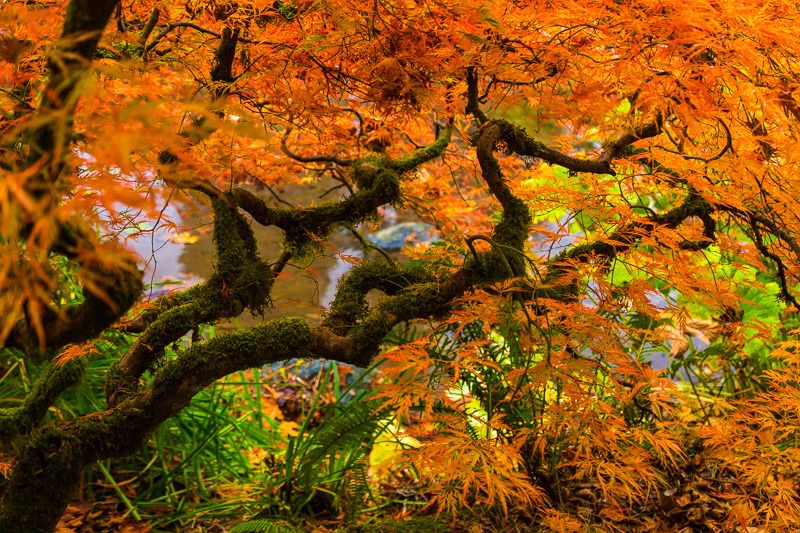 November
took me for a second trip to the Gorge, where I found this scene along Starvation Creek.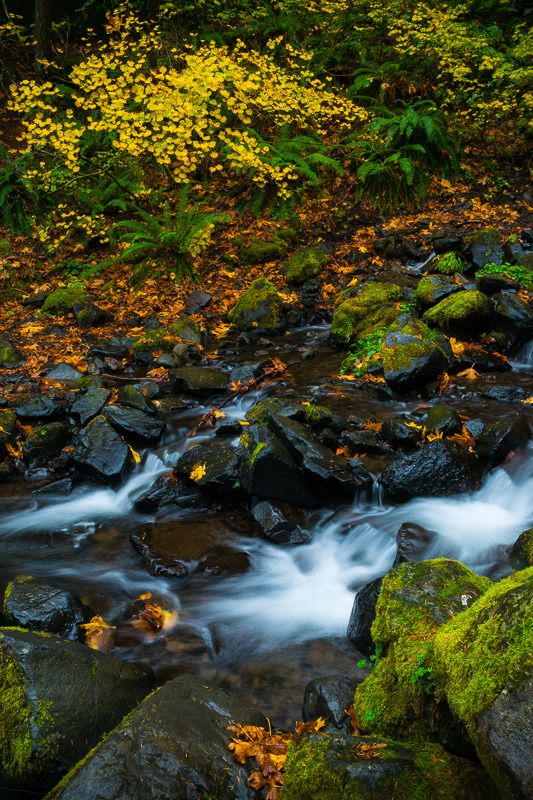 December
has been a washout (literally), except for the predictable subject of holiday lighting displays. In keeping with the main pop-culture story of this month, I'll close with an image I've titled "This Is Not The Santa You're Looking For." Here's to a better 2016!
7 replies, 2317 views
Replies to this discussion thread
| | | | |
| --- | --- | --- | --- |
| 7 replies | Author | Time | Post |
| 2015: A Look Back (Original post) | regnaD kciN | Dec 2015 | OP |
| | NV Whino | Dec 2015 | #1 |
| | mnhtnbb | Dec 2015 | #2 |
| | CaliforniaPeggy | Dec 2015 | #3 |
| | Solly Mack | Dec 2015 | #4 |
| | 2naSalit | Dec 2015 | #5 |
| | hermetic | Dec 2015 | #6 |
| | _Calm | Dec 2015 | #7 |
---
Response to regnaD kciN (Original post)
Tue Dec 29, 2015, 07:54 PM
NV Whino (20,886 posts)
1. Nice collection
Part of the fun/challenge of photography is to take what you are given and make it work.
---
Response to regnaD kciN (Original post)
Tue Dec 29, 2015, 08:55 PM
mnhtnbb (29,876 posts)
2. Gorgeous shots!
Thanks for sharing.

I think I'd see a flying saucer, too, seeing those lenticular clouds!
---
Response to regnaD kciN (Original post)
Tue Dec 29, 2015, 09:06 PM
CaliforniaPeggy (143,313 posts)
3. You NEVER fail to please us, and thank you for that!
These are all wonderful. Magnificent, awesome, amazing, gorgeous.........well, you get the picture!
Thank you.
Let's hope 2016 is much better!
---
Response to regnaD kciN (Original post)
Tue Dec 29, 2015, 09:57 PM
Solly Mack (87,681 posts)
4. Thank you! Great shots!
---
Response to regnaD kciN (Original post)
Thu Dec 31, 2015, 02:40 AM
2naSalit (63,513 posts)
5. Very Nice!
Thank you for sharing those.
---
Response to regnaD kciN (Original post)
Thu Dec 31, 2015, 11:36 AM
hermetic (7,280 posts)
6. Beautiful!!
Thanks for showing some beauty from 2015. I really love January.


---
Response to regnaD kciN (Original post)
Thu Dec 31, 2015, 08:44 PM
_Calm (11 posts)
7. Very nice.
Thanks your following,these beautiful natural scenery are from God's creating.
Under the Authority of the
Creator
, All Things Are Perfect。