Sun Jun 10, 2018, 11:40 PM
appalachiablue (21,340 posts)
FRIDA KAHLO: 'Making Her Self Up' The Artist's Personal Belongings On View, London
'Frida Kahlo: Making Her Self Up' Exhibit Review –An Extraordinary Testimony to Suffering & Spirit, Victoria & Albert Museum, London, The Guardian, June 10, '18
From plaster corsets to prosthetic legs, Frida Kahlo's possessions reveal the astonishing courage of an artist whose life and work were painfully intertwined.
Here is a self-portrait by Frida Kahlo that shows the artist's bare torso split in two to expose a shattered spine, the result of a horrific bus accident at the age of 18. Her body is held together by straps. Tears stream down her cheeks and her poor flesh is everywhere pierced with sharp little nails. It is one of Kahlo's most famous martyrdoms.
The painting is called The Broken Column, which throws the focus so completely on the spine – depicted as a ruined Ionic column – as to make the straps seem incidental, or perhaps as metaphorical as the architecture. But Kahlo (1907-54) really did live inside such a harness. The object appears in a show of her possessions opening at the Victoria and Albert Museum this week, and it is a horrific contraption of metal spars, cloth restraints and nail-like buckles. Its representation turns out to be the documentary truth.
That the art and the life were even more literally intertwined than anyone knew is the great revelation of Frida Kahlo: Making Her Self Up. Until 2004, the artist's extravagant and instantly recognisable wardrobe was locked away in the Blue House in Mexico City where she lived and died, along with her jewellery, cosmetics, medicines and some 6,000 personal photographs. The house became a museum, which eventually put some of these objects on display. Now the V&A has somehow coaxed them out of Mexico for the first time, matching objects to drawings, paintings, letters and photographs to produce an intensely intimate portrait of the artist.
The photographs are extraordinary testimony in themselves. You see Kahlo working with her legs in callipers, confined to a wheelchair or even in bed. In one picture, immobilised by yet another botched operation on the spine, she lies horizontal beneath a suspended canvas, somehow continuing to paint.
Kahlo's father was a German photographer, also brilliantly inventive. He made many self-portraits – caustic, comic, melancholy, nude – so that the idea of picturing one's autobiography was already second nature to the young Frida. She helped him to pose, develop and retouch his photographs, and they were further united by illness: his epilepsy, her childhood polio...
Read More,
https://www.theguardian.com/artanddesign/2018/jun/10/frida-kahlo-making-her-self-up-v-and-a-cindy-sherman-spruth-magers-review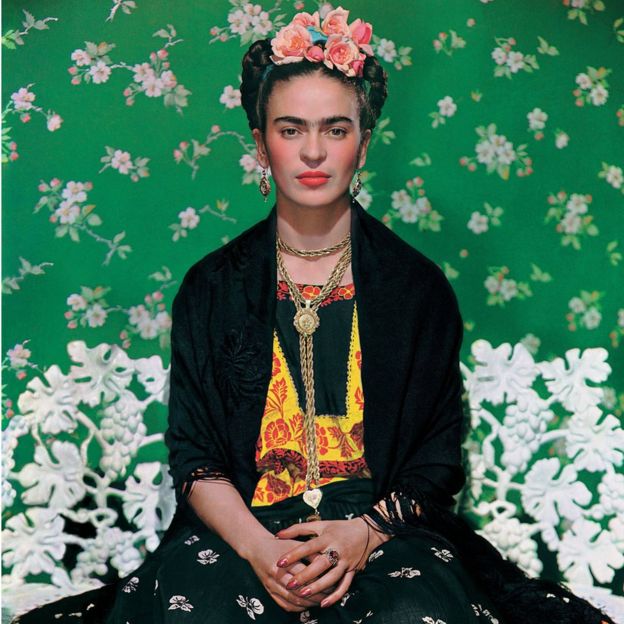 4 replies, 1911 views
Replies to this discussion thread
| | | | |
| --- | --- | --- | --- |
| 4 replies | Author | Time | Post |
| FRIDA KAHLO: 'Making Her Self Up' The Artist's Personal Belongings On View, London (Original post) | appalachiablue | Jun 2018 | OP |
| | Nitram | Jun 2018 | #1 |
| | appalachiablue | Jun 2018 | #2 |
| | Nitram | Jun 2018 | #3 |
| | Y-T | Jan 2019 | #4 |
---
Response to appalachiablue (Original post)
Mon Jun 11, 2018, 10:40 AM
Nitram (13,267 posts)
1. I love her paintings.
---
Response to Nitram (Reply #1)
Mon Jun 11, 2018, 06:29 PM
appalachiablue (21,340 posts)
2. Frida's life was exceptional like the expressive, fascinating & unique art she created.
(wiki) One of Kahlo's earliest champions was Surrealist artist André Breton, who claimed her as part of the movement as an artist who had supposedly developed her style "in total ignorance of the ideas that motivated the activities of my friends and myself". This was echoed by Bertram D. Wolfe, who wrote that Kahlo's was a "sort of 'naïve' Surrealism, which she invented for herself". Although Breton regarded her as mostly a feminine force within the Surrealist movement, Kahlo brought postcolonial questions and themes to the forefront of her brand of Surrealism.
Breton also described Kahlo's work as "wonderfully situated at the point of intersection between the political (philosophical) line and the artistic line." While she subsequently participated in Surrealist exhibitions, she stated that she "detest[ed] Surrealism", which to her was "bourgeois art" and not "true art that the people hope from the artist".
Some art historians have disagreed whether her work should be classified as belonging to the movement at all. According to Andrea Kettenmann, Kahlo was a symbolist concerned more in portraying her inner experiences. Emma Dexter has argued that as Kahlo derived her mix of fantasy and reality mainly from Aztec mythology and Mexican culture instead of Surrealism, it is more appropriate to consider her paintings as having more in common with magical realism, also known as New Objectivity. It also combined reality and fantasy, and employed similar style to Kahlo's, such as flattened perspective, clearly outlined characters and bright colours.
https://en.wikipedia.org/wiki/Frida_Kahlo
---
Response to appalachiablue (Reply #2)
Tue Jun 12, 2018, 08:12 AM
Nitram (13,267 posts)
3. Whether or not her art was Surrealist, it drew from the same roots of dreams, symbolism,
introspection, self-analysis. As a Mexican woman she added elements informed by her experiences as a woman in a patriarchal society, as a person who grew up in a strict Catholic culture, and the influence of Native American culture.
---
Response to appalachiablue (Original post)
Wed Jan 23, 2019, 09:04 AM
Y-T (19 posts)
4. Saw exhibition of her work at New York Botanical Garden
I feel her physical pain even so long after her death. If only she hadn't been hit by that bus.