Fri Jun 3, 2016, 07:55 PM
KoKo (84,711 posts)
The End Game--Mr. Smith Goes to NYC/Wall St./Washington
The End Game--"Mr. Smith Goes to Washington/NYC/Wall St."

Keiser Report:

American Doesn't Prosecute the Crooks..Middle America is Starved...Outsourcing...Decline of "Mom & Pop" Stores to bring in Walmart....MonoCulture...and Deception by Multinational Corporations..Donald Trump (Neo Fascist vs. NeoLiberals vs. Trump Economics) Robots Taking Over Economy and Lies and Lies! As the Middle Class in America Dies. Robots, Entrepreneurs and the Hype!

Follow up with Robert McChesney.

Published on May 31, 2016



Check Keiser Report website for more: http://www.maxkeiser.com/


3 replies, 1278 views
Replies to this discussion thread
| | | | |
| --- | --- | --- | --- |
| 3 replies | Author | Time | Post |
| The End Game--Mr. Smith Goes to NYC/Wall St./Washington (Original post) | KoKo | Jun 2016 | OP |
| | highprincipleswork | Jun 2016 | #1 |
| | appalachiablue | Jun 2016 | #2 |
| | uhnope | Jun 2016 | #3 |
---
Response to KoKo (Original post)
Fri Jun 3, 2016, 08:02 PM
highprincipleswork (3,111 posts)
1. When those jobs that aren't handled by Robots have all been outsourced, we will know who not only
didn't stop it, but actually voted it into existence, at the very moment that one small chance yet remained to go another way.
---
Response to KoKo (Original post)
Fri Jun 3, 2016, 09:38 PM
appalachiablue (36,551 posts)
2. K & R. Great show, more young people age 18-34 are living at home
now in the US than since 1888. In the 2nd part, millions of job losses worldwide are coming to create 30-50% unemployment in the next two decades due to recent advances in robotics, artificial intelligence/AI, automation and driverless vehicles.
The media, the free market and the government aren't addressing these major issues as Max discusses with ROBERT MCCHESNEY, Communications Professor and co-author with John Nichols of the new book, 'PEOPLE GET READY, The Fight Against a Jobless Economy and A Citizenless Democracy.'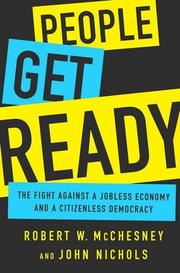 ---