Sun Jun 30, 2013, 03:57 PM
undeterred (34,658 posts)
Graça Machel: so much more than a first lady
Robert McCrum The Observer, Saturday 29 June 2013 13.29 EDT
As the world's thoughts turn towards Nelson Mandela, it is becoming clear that his wife too will take her place in history as a huge figure in the fight against poverty, illiteracy and injustice.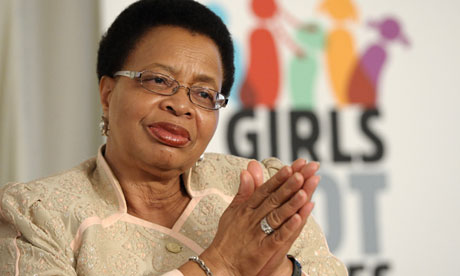 Shakespeare, in one of Nelson Mandela's favourite lines, now strangely apposite, says that "the valiant never taste of death but once". As the world waits for Mandela to make his final rendezvous with history, one woman – his third wife – who has been at his bedside throughout his illness, and now keeps vigil there, is almost perfectly cast for her role. Graça Machel (pronounced Mah-shell) has, after all, been here before.
In 1986, Machel was tragically widowed when the Russian Tupolev jet carrying her husband, Samora Machel, the first president of independent Mozambique, ploughed into a remote hillside just inside the South African border. The apartheid regime denied involvement, but suspicions of a political assassination linger. As the nation rallied in grief, Graça Machel, a young mother, was dubbed Mozambique's Jackie Kennedy. It's not an implausible comparison. She has the same easy, cosmopolitan self-confidence, natural presence, and command of languages (English, Portuguese and French).
She has many weighty qualifications, too, including a law degree – combined with an impressive slate of global achievements in women's rights and humanitarian issues. "I'm not Samora's wife," she's been known to snap. "I'm me." In public, she's beloved for her ready smiles and self-deprecating humour, mixed with a steely determination. As Mozambique's first lady, she was widely credited with being a moderating influence over her firebrand Marxist husband. And if Samora Machel's story is now part of African liberation folklore, and if Nelson Mandela is a figure for the ages, Graça Machel is close to the equal of her two husbands. Shy of publicity, she once said: "It's not two leaders who fell in love with me, but two real people. I feel privileged that I have shared my life with two such exceptional men."
She was born Graça Simbine on 17 October 1945 on the coast of Mozambique, then a Portuguese colony. Her family were peasants. Her father, who was semi-literate, provided for the family by oscillating between the South African mines and farming, and would become a Methodist minister. When he died, weeks before Graça was born, family legend says that he made his wife promise that their unborn child would have proper schooling. Machel's mother kept her word. "We were a poor family," Machel has said, "but I had the best education."
http://www.guardian.co.uk/commentisfree/2013/jun/29/profile-graca-machel
0 replies, 2837 views