Sat Jan 19, 2013, 02:14 PM
marmar (70,152 posts)
Listing Left
from
Dissent
magazine:
Listing Left
By David Moberg - January 18, 2013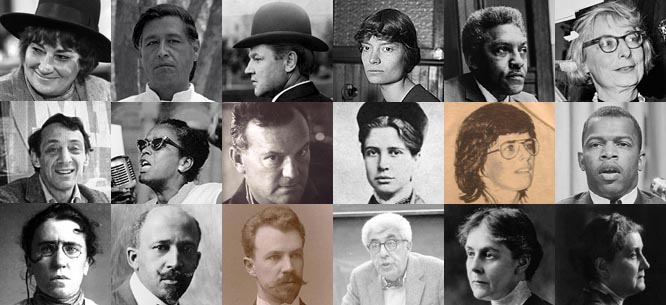 The 100 Greatest Americans of the 20th Century:
A Social Justice Reader
by Peter Dreier
Nation Books, 2012, 480 pp.
Who doesn't love a list? From the "begat" lists of the Bible to the autobiographical lists of modern memoirist Joe Brainard, from the cuneiform inventory tablets of Babylon to a January full of "ten bests," the list is a venerable, flexible, intriguing literary form. It immediately poses questions: Who or what's on and off? Does the order matter? What's the significance of this grouping? And those questions provoke debate.
Peter Dreier, the E.P. Clapp Distinguished Professor of Politics at Occidental College and an equally distinguished policy wonk, journalist, and activist, has produced a list that is guaranteed to agitate many potential readers: The 100 Greatest Americans of the 20th Century. The book has been greatly expanded from an earlier article in the Nation.
To give a clue about who qualifies as a "great American," Dreier's catalogue of 100 outstanding figures does not include John Wayne or Ronald Reagan, not even Dwight Eisenhower. But it does include some widely recognized names—such as Walter Reuther, both Theodore and Franklin Roosevelt, Helen Keller, and Ralph Nader—and some more obscure—such as Myles Horton, Rose Schneiderman, Virginia Durr, Harry Hay, and Victor Berger (respectively, the founder of the Highlander School that trained civil rights and other movement organizers; an immigrant socialist organizer of garment workers; an influential southern white advocate of civil rights; the founder of the modern gay rights movement; and the first socialist elected to Congress).
If Dreier had titled his book "100 of the Most Influential or Noteworthy Progressive Voices of the 20th Century," he would have been accurate but less provocative. But he wants to make a point: much of what we now take for granted as common sense was once espoused by people who were widely considered left-wing radicals. And their greatness—as Americans, among other identities—consists in large part of how they helped change this country and the world for the better. ...................(more)
The complete piece is at:
http://www.dissentmagazine.org/online_articles/listing-left
1 replies, 854 views
Replies to this discussion thread
| | | | |
| --- | --- | --- | --- |
| 1 replies | Author | Time | Post |
| Listing Left (Original post) | marmar | Jan 2013 | OP |
| | xchrom | Jan 2013 | #1 |
---
Response to marmar (Original post)
Sat Jan 19, 2013, 05:04 PM
xchrom (108,903 posts)
1. Du rec. Nt