Fri Nov 27, 2020, 12:27 PM
riversedge (59,522 posts)
Keep cool: Germany preps vaccine drive as COVID cases hit 1M
Source:
AP
By FRANK JORDANS and CHRISTOPH NOELTING 2 hours ago
TUTTLINGEN, Germany (AP) ó Hulking gray boxes are rolling off the production line at a factory in the southern town of Tuttlingen, ready to be shipped to the front in the next phase of Germanyís battle against the coronavirus as it became the latest country to hit the milestone of 1 million confirmed cases Friday.
Man-sized freezers such as those manufactured by family-owned firm Binder GmbH could become a key part of the vast immunization program the German government is preparing to roll out when the first vaccines become available next month.
Thatís because one of the front-runners, a vaccine made by German company BioNTech together with U.S. pharmaceutical giant Pfizer, needs to be cooled to minus 70 degrees Celsius (minus 94 degrees Fahrenheit) for shipping and storage.
Ensuring such temperatures, colder even than an Antarctic winter, is just one of the many challenges that countries face in trying to get their populations immunized.
The effort has been compared to a military operation. Indeed some countries, including Germany, are relying on military and civilian expertise to ensure the precious doses are safely transported from manufacturing plants to secret storage facilities, before being distributed.
..........................
Read more:
https://apnews.com/article/immunizations-health-coronavirus-pandemic-germany-europe-11822468c0e9ad10781376d240885e61
---
Sure hoping the usa is getting ready.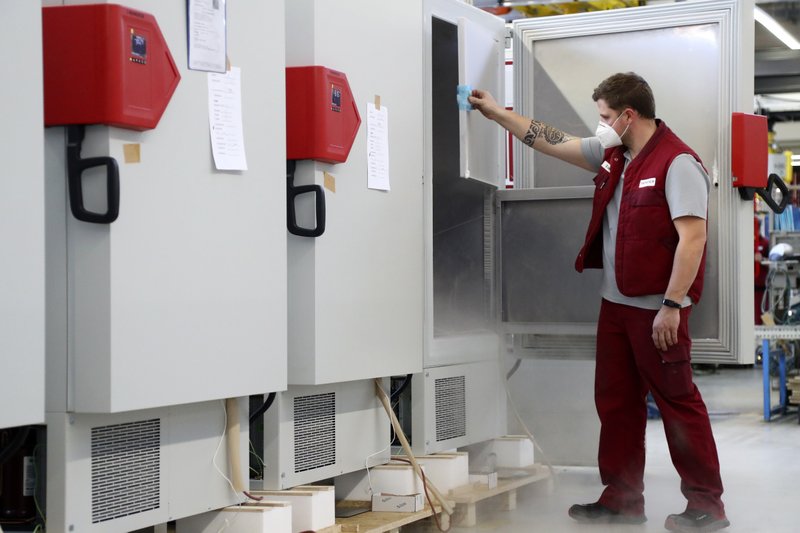 File -- In this Tuesday, Nov. 24, 2020 file photo an employee of Binder, the world's largest manufacturer of serial-production environmental simulation chambers for scientific or industrial laboratories, checks an ultra low temperature freezer in Tuttlingen, Germany. Germany prepares for the vaccination of the German population during the upcoming month. (AP Photo/Matthias Schrader, file)
1 replies, 1025 views
Replies to this discussion thread
| | | | |
| --- | --- | --- | --- |
| 1 replies | Author | Time | Post |
| Keep cool: Germany preps vaccine drive as COVID cases hit 1M (Original post) | riversedge | Nov 27 | OP |
| | CrispyQ | Nov 27 | #1 |
---
Response to riversedge (Original post)
Fri Nov 27, 2020, 04:12 PM
CrispyQ (29,177 posts)
1. You're lucky to find a bag of peas in the frozen food section that hasn't thawed out some.
Good luck to them, but I'm just sayin'.