Fri Feb 1, 2013, 04:43 PM
bigtree (69,420 posts)
Donna Brazile: Hillary: Secretary of Empowerment
Donna Brazile
‏@donnabrazile
Please read and share widely. Hillary: Secretary of empowerment -
http://CNN.com
http://www.cnn.com/2013/02/01/opinion/brazile-hillary-clinton/index.html
…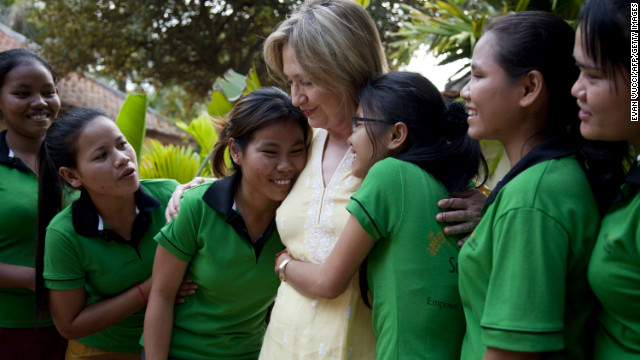 Girls hug U.S. Secretary of State Hillary Clinton during a 2010 tour of a shelter run for sex trafficking victims in Cambodia.
____ By the way, is there any other leader in the last 50 years whom we routinely refer to by a first name, and do so more out of respect than familiarity? The last person I can think of was Ike -- the elder family member who we revere with affection. Hillary is Hillary.
It's not surprising that we feel we know her. She has been part of our public life for more than 20 years. She's been a model of dignity, diplomacy, empathy and toughness. She also has done something no other secretary of state has done -- including the two women who preceded her in the Cabinet post.
Hillary has transformed our understanding -- no, our definition -- of foreign affairs. Diplomacy is no longer just the skill of managing relations with other countries. The big issues -- war and peace, terror, economic stability, etc. -- remain, and she has handled them with firmness and authority, with poise and confidence, and with good will, when appropriate.
But it is not the praise of diplomats or dictators that will be her legacy. She dealt with plenipotentiaries, but her focus was on people. Foreign affairs isn't just about treaties, she taught us, it's about the suffering and aspirations of those affected by the treaties, made or unmade . . .
Of course, Hillary wasn't the first secretary of state to advocate for human rights or use the post to raise awareness of abuses or negotiate humanitarian relief or pressure oppressors. But she was the first to focus on empowerment, particularly of women and girls.
read more:
http://www.cnn.com/2013/02/01/opinion/brazile-hillary-clinton/index.html
U.S. Secretary of State Hillary Rodham Clinton says farewell to State Department employees at the U.S. Department of State in Washington, D.C. on February 1, 2013.
3 replies, 861 views
Replies to this discussion thread
| | | | |
| --- | --- | --- | --- |
| 3 replies | Author | Time | Post |
| Donna Brazile: Hillary: Secretary of Empowerment (Original post) | bigtree | Feb 2013 | OP |
| | Thinkingabout | Feb 2013 | #1 |
| | northoftheborder | Feb 2013 | #2 |
| | bigtree | Feb 2013 | #3 |
---
Response to bigtree (Original post)
Fri Feb 1, 2013, 04:49 PM
Thinkingabout (30,058 posts)
1. Thanks for your services, Hillary, you have empowered many who will follow in your footsteps.
I hope to see more of your services in the future.
---
Response to bigtree (Original post)
Fri Feb 1, 2013, 05:33 PM
northoftheborder (5,713 posts)
2. I watched her goodbye words at the State Dept. and you could tell how much those people respect and
love her. I also remember when she walked in on her first day there, she was met with an outpouring of greeting and affection.

A superlative woman, greatest of our time, I think, even if she never runs for another office, she will continue to contribute to our country, and the world, howeveer she can, because that is what she does, and who she is.
---
Response to bigtree (Original post)
Fri Feb 1, 2013, 11:15 PM
bigtree (69,420 posts)
3. .