Tue Jan 15, 2013, 05:24 PM
babylonsister (154,846 posts)
Hypocrite Republicans Ignored Decades of Debt Until Obama Became President
http://www.politicususa.com/procrastinating-debt-decades-republicans-claim-time-waste.html
Hypocrite Republicans Ignored Decades of Debt Until Obama Became President
By: Rmuse
Jan. 15th, 2013
The act of replacing a high-priority action with a task of lower priority, or doing something of no importance at all and thus putting off important tasks to a later time is procrastination. The real issue, and problem with procrastinators, is ignoring the urgency of a high-priority task and in America,
Republicans never place a high-priority on spending and the national debt until there is a Democrat in the White House that has been a regular occurrence dating back to the Reagan era. The priority for the last two Democratic presidents has been cleaning up the fiscal mess left by their Republican predecessors,
and invariably, Republicans complicate matters by threatening to shut down the government to confound the Democratic president's clean-up efforts and punish the people for electing a Democrat in the first place.
If it were not so serious, it would be comical that
Republicans have the ability to prioritize reducing spending and the nation's deficit when a Democrat is in the White House, because during Republican administrations, out-of-control spending and rising debt are the lowest priority possible for allegedly fiscally responsible conservatives.
During George W. Bush's administration, Dick Cheney reminded Americans over the course of eight years that Ronald Reagan said "deficits don't matter," and then on January 21, 2009 after Bush left President Obama a $1.2 trillion deficit for fiscal 2009, deficits instantaneously became Republicans highest priority next to cutting safety net spending and reducing the deficit they ran up for two unfunded wars, unfunded tax cuts for the rich, and an unfunded Medicare prescription plan.
Now, Republicans claim that the nation cannot procrastinate addressing eight years of Republican debt and out-of-control spending any longer, and to force the President to clean up the fiscal mess they left the country faster, are making very serious threats to shut down the government and default on the debt they racked up during the Bush era.
Shutting down the government is a favorite ploy of Republicans during Democratic administrations and it informs more that Republicans are wreaking vengeance on the voters for electing a Democrat than fiscal policy, but that is the price Americans have had to pay for rejecting Republican presidential candidates.
snip//
This Republican Party is not serious about anything that does not ravage Medicare, Social Security, and safety nets while protecting bloated defense spending and corporate entitlements. Their highest priority, by their own admission, is crashing the economy and shutting down the government to punish the American people for re-electing President Obama and show their constituents they are fighting the President. The President gave them a sweet deal to avert the fiscal cliff and they balked the same way they shunned John Boehner's absurd Plan B, and it is becoming apparent there is nothing whatsoever they will accept that does not include either a credit default and government shutdown, or eviscerating safety nets.
They procrastinated addressing Bush's out-of-control spending and deficit increases until a Democrat entered the White House at which time they suddenly became serious fiscal conservatives.
It seems there is nothing, and no-one, to rein in recalcitrant Republicans single-minded priority of obstructing President Obama from cleaning up their fiscal mess, or their insane and politically suicidal plan to shut down the government and cause a credit default. What is telling, is that they would rather cause a global economic catastrophe and decimate Americans than work with the President, and there is nothing as dangerous as dying tyrants lashing out at their own people, and whether they are angry they lost the election, or confounded at their inability to rule America, it is the American people who will suffer and sadly, that too is one of their highest priorities.
8 replies, 1736 views
Replies to this discussion thread
| | | | |
| --- | --- | --- | --- |
| 8 replies | Author | Time | Post |
| Hypocrite Republicans Ignored Decades of Debt Until Obama Became President (Original post) | babylonsister | Jan 2013 | OP |
| | Cha | Jan 2013 | #1 |
| | Fumesucker | Jan 2013 | #2 |
| | Skittles | Jan 2013 | #3 |
| | Berlum | Jan 2013 | #4 |
| | freshwest | Jan 2013 | #5 |
| | Tempest | Jan 2013 | #6 |
| | LeftInTX | Jan 2013 | #7 |
| | Scurrilous | Jan 2013 | #8 |
---
Response to babylonsister (Original post)
Tue Jan 15, 2013, 05:49 PM
Cha (199,813 posts)
1. Yes, I know they did and so does most of
the REALITY BASED internet. Now the US corporatemediaWhore$ need to be calling them on it.

Thank you, babylonsistah, for passing this around. Needs To GO VIRAL!
---
Response to babylonsister (Original post)
Tue Jan 15, 2013, 05:51 PM
Fumesucker (45,851 posts)
2. Not just the Republicans, the M$M never said diddly shit about the deficit while Dubya was resident
---
Response to babylonsister (Original post)
Tue Jan 15, 2013, 06:04 PM
Skittles (115,608 posts)
3. they CAUSED decades of debt
---
Response to babylonsister (Original post)
Tue Jan 15, 2013, 06:12 PM
Berlum (7,044 posts)
4. Republicans created America's groaning debt
Republicans bear full responsibility, from which, as usual, they are now AWOL.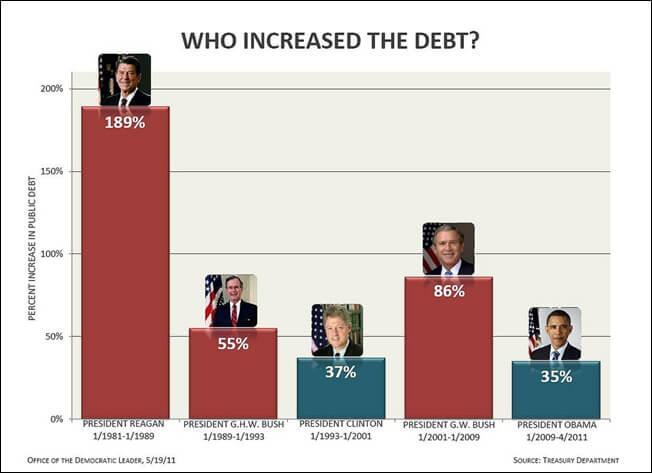 ---
Response to babylonsister (Original post)
Tue Jan 15, 2013, 06:38 PM
freshwest (53,661 posts)
5. Behind every manufactured crisis and outrage there is a profit to be made. They are consistent.
---
Response to babylonsister (Original post)
Tue Jan 15, 2013, 06:50 PM
Tempest (14,591 posts)
6. They didn't ignore it, they just didn't care
---
Response to babylonsister (Original post)
Tue Jan 15, 2013, 07:50 PM
LeftInTX (6,953 posts)
7. I'm watching a documentary right now
During WWI and WWII - there was the huge effort called "war bonds".
Now it's just endless, unpaid wars.
---
Response to babylonsister (Original post)
Tue Jan 15, 2013, 08:00 PM
Scurrilous (29,763 posts)
8. K & R