Sat Sep 16, 2023, 12:43 AM
orleans (33,147 posts)
when 12 national reporters (including welker, costa, bash) have dinner w/trump campaign advisors
are they compromising their journalistic standards? lowering their own bar? selling out?
this is a partial transcript i just put together from olbermann's podcast august 23/24 2023.
(photos from politico at link.)
i thought this might be an interesting glimpse of various national reporters (and a few of their bosses), their dinner shared with trump campaign advisors, & olbermann's take on the situation
(oh to have been a fly on that steakhouse table
(10:30) i wanted to lead with this but i just couldn't talk myself into it.
on tuesday night 3 trump hoodlums led by the disgusting jason miller were, per politico, whining and dining a dozen top national political reporters at a milwaukee steakhouse called Rare. the point was to let trump be there and also remain in absentia and continue taking his shots at ron desantis through his vessels: jason miller, chris lacivita, and stephen cheung.
they handed the reporters packs of pudding snacks (a shot at desantis and eating pudding with his fingers story) and they gave them debate desantis bingo cards mocking desantis as desanctimonious and evoking various pronunciations of his own name and how many times he says woke and ron desantis can melt in the hot sun for all i care because the issue is not which fascist politician's thugs were doing the insulting and which fascist politician was on the receiving end of the insulting.
(11:48)
the point is this:
what in the ever loving christ were a dozen top american political reporters doing having any kind of meal with any three campaign hacks the night before they covered a debate?
these weren't a dozen frauds from fox news and newsmax and the daily caller.
twelve adults; twelve veteran reporters from CNN and CBS and NBC and ABC and the new york times and the washington post. they thought it was somehow appropriate to share a table with not just political operatives but political operatives who regularly encourage the public to view news reporters as criminals, as enemies of the people who should be targeted/attacked/assaulted/and killed.
donald trump, and for that matter, desantis as well, believes in censorship and punishment and lawsuits and revenge and violence both symbolically against freedom of the press and literally against reporters. and as we heard last night, trump is willingly ready to employ the prospect of civil war as a campaign plank of some sort. and these reporters--not commentators, not TV hosts--reporters (in the field reporters!) had no problem sitting down with trump's employees because... i don't know.
i can't even make up whatever implausible rationalizations they employed for not quitting their jobs in horror an hour after the check came and they realized what they had done.
i've seen the news media in this country, particularly the political news media firsthand for a quarter of a century and i've seen it start bad and narrow minded and subsurvent in 1997 and 1998 then get worse and worse and more and more amoral, approaching the now perfect balance in which access to the people you're covering and tv hits and bylines are a 100 and your journalistic ethics are a zero.
(14:05) and if you're wondering how their bosses reacted to these reporters letting themselves become compromised in this way and just to make sure it could not be more wrong or more obvious, compromised by trump people, well... three of them at the dinner *were* their bosses.
at the table: rick klein, political director of ABC news, and mario parker, the politics editor of bloomberg news, and david chalian, the infamous political director of CNN--the one who defended the chris licht townhall lie by saying "we obviously can't control what donald trump says--that's up to him" and who insisted that trumps whole...you know...attempted coup "thing" ... quote "does not make our approach any different to him.
(14:53) three bosses. three guys in charge. so disconnected from the audience they serve, from the nation they supposedly serve--remember that part of it, boys?--so not dedicated to anything but themselves that they would break bread with these people (and by the way, it would be just as structurally inappropriate if they had done this with biden people--the only difference would have been that the chance of catching some food borne illness from jason miller and cheung and lasavita would have been more than with biden people) and the presence of the other 9 at the table is, in its own way, just as appalling.
(15:35) dana bash from CNN was at the table. (wish i was surprised by that name.) but i was surprised by this name -- i was hoping for improvement when chuck todd leaves meet the press; forget it. kristen welker was at this meal along with another NBC reporter named dasha burns. the chief election correspondent from CBS news: robert costa. a CBS politics producer named fin gomez, rachel scott: senior congressional correspondent of ABC, shane goldmacher national political correspondent new york times, rob crilly white house correspondent of the u.k.'s daily mail and if that name sounds familiar from the previous episode...rob crilly is the guy who started the whole biden "no comment" on hawaii right wing feeding frenzy because he was the pool reporter who never heard president biden *say* that, but he and some other people *thought* they could read biden's lips at a distance and so they attributed the quote to it.
(16:37) rob crilly is the only one of the 12 at the table here who did not, to my mind, forfeit his journalistic reputation because there wasn't anything *to* forfeit.
if you have been keeping count, (and no, i'm not expecting that you have) you would have noticed that's only 11 names. because the last of the dozen is, to me, genuinely shocking. josh dawsey, political investigations / washington post. he has been part of virtually every washington post trump story for years. all the document stuff, all the special counsel stuff. do you know what the trump people think of him? do you know what they say about him? do you know what they say they intend to do to the washington post? does he? and he breaks bread with them? he allows himself to be seen with them?
and please, don't try to defend this by saying this is a way to cultivate sources because guess what? the trump guys are also simultaneously cultivating *you.* and frankly, the last six, seven years of source reporting on trump shows that the trump people are better at it than the american political reporters are.
(17:54) but look at all those scoops woodward and costa and haberman and the others got and didn't put in their newspapers but just sort of held onto...sat on...buried...for years...woodward about covid and the danger it presented to the country in real time, sat on it until they could cash that book advance and the politicians all smiled quietly to themselves and said 'they didn't even notice that we got them to not report something bad about us for like 28 months... jesus, are they stupid'
and please also don't reply or defend this by saying manipulation of reporters is a serious risk. okay, but a dinner like that? that can still just safely show professionalism and courtesy on dawsey's part and the part of the other 11.
it is quite the opposite. you are not *supposed* to have personal relationships with key figures in a presidential campaign or an administration. some contact is going to be inevitable, and no, it doesn't necessarily have to be adversarial even with the worst of them. but it has to be minimal. and only when necessary. and going to dinner with a bunch of them as they roll out their attacks on another candidate, their gimmicks, there is nothing minimal or necessary about that. and then, again, it's who *these* people are.
those 3 trump people include one of the more morally bankrupt members of the trump administration in miller. and the goonish former fight promoter cheung. and lasavita who rose to prominence as one of the people behind the infamous swift-boat smear campaign against john kerry. these are not just sleezebag characters, these are anti-journalists.
(20:00) and even if they really weren't, let me tell you a story from the not-so-distant past.
[story... through 29:00; worth listening to]
https://omny.fm/shows/countdown-with-keith-olbermann/cwko-thu-8-24-23-final
olbermann wrote: "They (and they include Dana Bash, Robert Costa, and Kristen Welker) should all be fired."
yes, well, stay tuned for sunday's first meet the press starring kristen welker in her taped-in-advance sit-down with trump. will she mention the dinner she had with his 3 goons?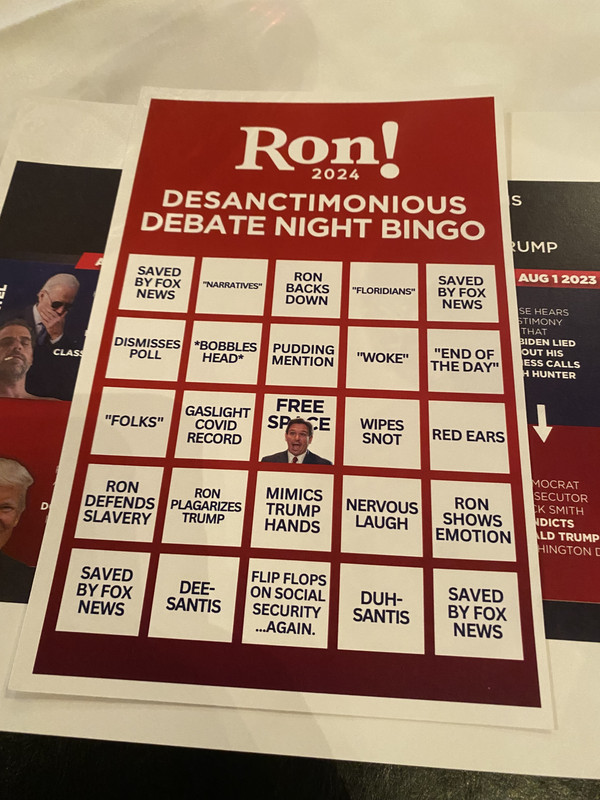 https://www.politico.com/newsletters/playbook/2023/08/23/your-one-stop-guide-to-the-first-gop-debate-00112399
7 replies, 912 views
Replies to this discussion thread
| | | | |
| --- | --- | --- | --- |
| 7 replies | Author | Time | Post |
| when 12 national reporters (including welker, costa, bash) have dinner w/trump campaign advisors (Original post) | orleans | Saturday | OP |
| | agingdem | Saturday | #1 |
| | True Blue American | Saturday | #2 |
| | orleans | Saturday | #3 |
| | tetedur | Saturday | #4 |
| | orleans | Saturday | #5 |
| | Tickle | Saturday | #6 |
| | orleans | Saturday | #7 |
---
Response to orleans (Original post)
Sat Sep 16, 2023, 01:21 AM
agingdem (7,087 posts)
1. If they had anything resembling journalistic integrity
they would have passed on the invite...instead they "broke bread" ( "bread" more than likely paid for by Trump's super PAC), with three of Trump's vile henchmen, and were entertained with a DeSantis-bashing shit show... and just like that Kristen Welker got her debut MTP Trump interview...big surprise!..it's more than obvious access to press-loathing Trump and his band of gutter scum supersedes the tenets of journalism..truth, accuracy, and facts....
---
Response to agingdem (Reply #1)
Sat Sep 16, 2023, 01:34 AM
True Blue American (17,553 posts)
2. Time to tune out cable news.
Kristen Welker destroyed any integrity she may have had and so did the company bosses. I will not be watching, turning to the local news that tries to be objective.

The PTB are a disgrace to media.
---
Response to agingdem (Reply #1)
Sat Sep 16, 2023, 02:07 AM
orleans (33,147 posts)
3. from the politico link:
---
Response to orleans (Original post)
Sat Sep 16, 2023, 05:32 AM
tetedur (790 posts)
4. Not only did did Trump's henchmen mock DeSantis, the pictures show
that some propaganda about Joe and Hunter Biden and Jack Smith was being pushed. Why was there no clear picture of that flyer?
---
Response to tetedur (Reply #4)
Sat Sep 16, 2023, 10:52 AM
orleans (33,147 posts)
5. good question. i don't know the answer. nt
---
Response to orleans (Original post)
Sat Sep 16, 2023, 11:01 AM
Tickle (2,020 posts)
6. Is that true that olbermann
wanted them fired? You don't have to like what they did it's ok to have whatever feelings you have but firing or wanting to get them fired is fascism.
---
Response to Tickle (Reply #6)
Sat Sep 16, 2023, 03:02 PM
orleans (33,147 posts)
7. so by that standard me wanting bill o'reilly fired made me a fascist?
or anyone who fires anyone is a fascist?