Mon Aug 8, 2022, 08:17 PM
iluvtennis (16,828 posts)
Rachel Maddow gives her first interview as she steps back from the nightly grind
https://www.vanityfair.com/news/2022/08/exclusive-rachel-maddow-gives-her-first-interview-as-she-steps-back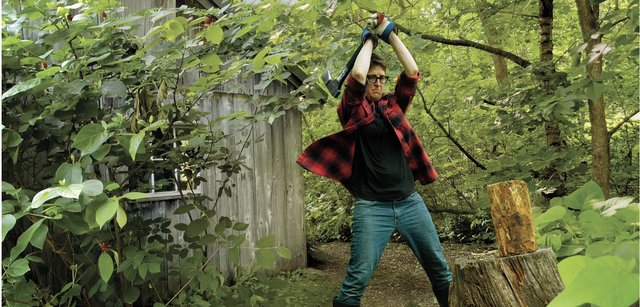 RACHEL MADDOW GIVES HER FIRST INTERVIEW AS SHE STEPS BACK FROM THE NIGHTLY GRIND AND REVS UP FOR HER NEXT ACT

SEPTEMBER 2022 ISSUE
The cable juggernaut signed a multimillion-dollar contract to not be on the air five nights a week. Now, Maddow opens up about why she's changing gears, her upcoming projects, her health scares, the Steele dossier, and her surprisingly amiable rapport with Tucker Carlson.
BY JOE POMPEO
PHOTOGRAPHY BY ANNIE LEIBOVITZ
AUGUST 7, 2022
"The only reason you'll ever need this is if you fall through the ice," said Rachel Maddow, standing beside her pickup truck at an empty boat launch on a cloudy winter's day. She tossed me something that looked like a cross between a bike lock and a telephone cord and told me to put it around my neck: safety picks. In a worst-case scenario, you're supposed to pull apart the orange handle things, stab the ice in front of you, and claw your way back onto solid ground. "There's 20 inches of ice out here, you're not gonna fall through," Maddow promised. "But just in case."
It was a Monday in early February, on Maddow's home turf of Western Massachusetts. We met up in the parking lot of a frozen lake rimmed by low-slung mountains, Maddow in buffalo plaid, a baseball cap emblazoned with the logo for YUM fishing baits, and tortoiseshell Coke-bottle glasses that the folks at home don't get to see when she's all made up for the cameras. The temperature had plunged to something like 12 degrees over the weekend, but now it was in the mid-30s, ideal for our piscatorial excursion: more than enough ice to minimize your risk of a frosty death, warm enough to keep your hands from falling off. Maddow lives for this stuff, even as someone who grew up in sunny Castro Valley, California. Before we set off, she showed me the cozy lakefront fixer-upper she'd purchased weeks earlier with her longtime partner, the photographer Susan Mikula, about 30 minutes from the couple's 164-year-old farmhouse. We dropped by her go-to bait shop, in the garage of a home boasting tattered Trump flags, where Maddow stocked up on rosy red minnows and medium shiners. Then we squeezed into our snow pants, strapped medieval-looking spikes over our boots, and trekked out onto the lake with a sled full of gear. "It may be a little slushy," she said, "but I promise it's fine."
One week earlier, Maddow had knocked the wind out of her 2.4 million viewers. "I am going to go on hiatus for a little bit," she said, broadcasting on a laptop from home as opposed to her nearby studio because she'd just had a COVID-19 exposure. (It was to Mikula, who'd already had a frightening run-in with the disease in the fall of 2020.) Maddow said she had several projects in the pipeline outside of her nightly duties—including a Ben Stiller– and Lorne Michaels–helmed adaptation of her 2018 podcast series, Bag Man, about Spiro Agnew's Nixon-era bribery scandal—and that she needed time and space to work on them. She said she'd pop back in with special coverage as warranted, like for the State of the Union or "other big news events." (The largest European ground war since World War II, which would briefly disrupt Maddow's hiatus, wasn't what she had in mind.)
A few days later, on a Thursday, Maddow signed off from The Rachel Maddow Show for the last time until her planned return in mid-April. That Friday, she called me with an invitation to go ice fishing. And on Monday, out on the lake, as we drilled small holes and fiddled with our tip-up traps and Vexilar transducers—it's a more high-tech sport than you'd think—it occurred to Maddow that this was the first Monday in 13 years that she wasn't about to be live on air five nights a week, with no end in sight. "Today's day one," she said.
>>>> CONTINUED AT LINK
=====
Dr. Rachel Maddow chopping wood - wow! She's amazing. Miss her nightly show, but so happy we see her on Mondays.
4 replies, 668 views
Replies to this discussion thread
| | | | |
| --- | --- | --- | --- |
| 4 replies | Author | Time | Post |
| Rachel Maddow gives her first interview as she steps back from the nightly grind (Original post) | iluvtennis | Aug 8 | OP |
| | FakeNoose | Aug 8 | #1 |
| | jcgoldie | Aug 8 | #2 |
| | Hekate | Aug 8 | #3 |
| | Celerity | Aug 11 | #4 |
---
Response to iluvtennis (Original post)
Mon Aug 8, 2022, 08:20 PM
FakeNoose (25,590 posts)
1. K & R Bookmarked
Thanks for this!
---
Response to iluvtennis (Original post)
Mon Aug 8, 2022, 08:22 PM
jcgoldie (9,379 posts)
2. Rachel buys bait from Magats??
Say it aint so!
---
Response to jcgoldie (Reply #2)
Mon Aug 8, 2022, 08:26 PM
Hekate (79,028 posts)
3. Maggots make the best bait, after all
---
Response to iluvtennis (Original post)
Thu Aug 11, 2022, 11:28 PM
Celerity (31,688 posts)
4. kick for visibility