Thu Jun 18, 2020, 07:44 PM
Celerity (12,366 posts)
Bolton Is A Weasel, But That Doesn't Mean He's Lying
Bolton says Trump appeased multiple dictators to help him cheat in the election. The question is, who didn't he ask?
https://thebanter.substack.com/p/bolton-is-a-weasel-but-that-doesnt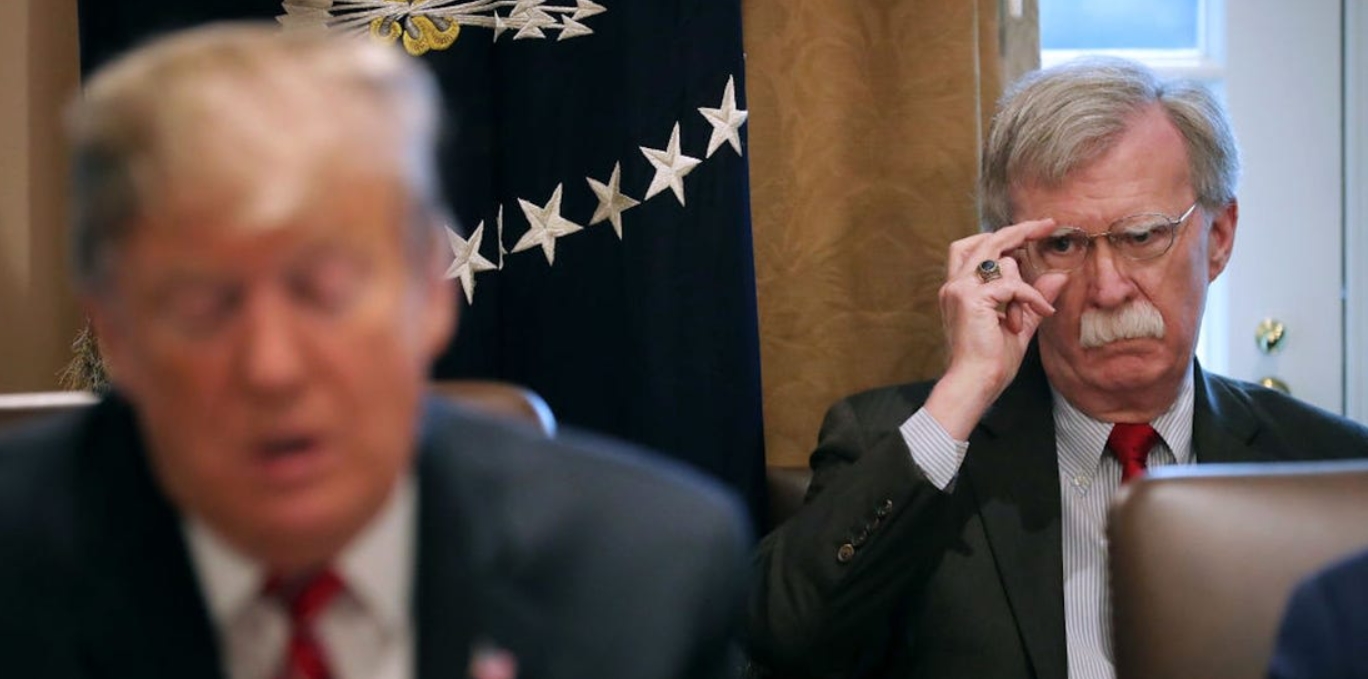 WASHINGTON, DC -- Yeah, I get it. Former National Security Adviser John Bolton was too much of a cowardly weasel to appear as a witness in the impeachment proceedings. Bolton should have agreed to testify in defiance of Donald Trump, and he'll have to live with himself knowing that he could've made a difference when it mattered to the investigation. We're also going to have to reconcile this aspect of Bolton when we evaluate him, a notorious crackpot, as a political figure in the Trump White House as well as throughout the last 20 years or so. But none of that should diminish the impact of the allegations Bolton describes in his new book about his time working for Trump. The details are a separate matter that ought to keep us squarely focused on what Trump appears to be getting away with. The first major bombshell to emerge from Bolton's book is that Trump's quest to cheat in the 2020 election involved a hell of a lot more than extorting President Zelensky of Ukraine in order to launch a potentially damaging investigation into Joe Biden and his son, Hunter. It turns out, Trump also exploited his nonsensical, herky-jerky trade war with China as
a way to get President Xi to help him win the election
. According to the book, Trump was "pleading with Xi to ensure he'd win. He stressed the importance of farmers, and increased Chinese purchases of soybeans and wheat in the electoral outcome."
Bolton also reports that Trump exploited U.S. probes of overseas crimes as a means of giving "personal favors to dictators he liked" in exchange for election help. In other words, Trump promised more than one dictator that he'd obstruct justice in order to get election help in exchange for the obstruction. The obvious question now is this: who didn't Trump ask for help to cheat in the election? So far, we know about Russia, Ukraine, China and Turkey. We also know that Bill Barr's probe into the origins of the FBI's "Crossfire Hurricane" Russia investigation was authorized in order to smear Joe Biden, who was vice president during the Summer of 2016. Make no mistake, Trump has enlisted the Justice Department to help him smear Joe Biden and therefore help Trump with his re-election effort. Who else? Hopefully, other former Trump officials will follow Bolton's lead and step forward to corroborate the allegations. I'm not holding my breath, but stranger things have happened. For a brief second, I considered the possibility that Trump was too ignorant to understand what he was doing, but that thought didn't last very long. Trump knows when he's cheating. He might not understand the legal ramifications, but he knows what it means to cheat, otherwise he wouldn't be desperately suing to keep the book from being released -- a truly idiotic move since content from the book has started to flood the zone, and all Trump is doing is guaranteeing that book sales will be robust.
As I've said all along: Trump always makes things worse for Trump. Trump always thinks he's helping himself, but he has a tendency to get caught. A lot. He gets caught in his lies, he gets caught cheating, he gets caught breaking the law and he often ostracizes the people around him, motivating leaks like the ones we've seen from Bolton's book. He's invariably the dumbest crook in the history of dumb crooks. My other Trump theory is that everything he does must be viewed through the prism of re-election. His malevolent response to the COVID-19 crisis was all about muscling the economy to stay afloat so he could use it in the campaign. Likewise, during talks with China, Trump pleaded "with Xi to ensure he'd win." Bolton also observed that if the House of Representatives had expanded its inquiry beyond Ukraine, investigators would have discovered that many other "'high crimes and misdemeanors' had been perpetrated." By the way, Bolton also noted that Trump thought Finland might be part of Russia, and he didn't know that Britain was a nuclear power. Trump, Bolton also observed, came closer to withdrawing from NATO than was previously reported.
Given Trump's blinding incompetence and aggressive criminality, no wonder he felt as though he needed to cheat in order to win. By now, Trump has to know that if he loses the election, and doesn't figure out a way to pardon himself, he'll very likely be indicted for a variety of crimes once he's a private citizen again. At the same time, it's clear to anyone who's paying attention that Trump requires all kinds of help just keeping his presidency from completely melting down. It's unprecedented the amount of resources required to keep him standing upright -- and even with all the president's men, including all of Fox News Channel, holding the administration together with chewing gum and chicken wire, it's still a wobbly wacky shack that could implode at any moment. The president won't be impeached again. Not before the election. Likewise, as long as Bill Barr is attorney general, he won't be indicted. And it's doubtful Mike Pence will orchestrate some kind of 25th Amendment strategy to remove him that way. The only thing remaining is the November election and all of us. If Trump is re-elected, it will metastasize Trump's horrendousness, rewarding it and franchising it as a successful political movement. The high crimes are obvious and unequivocal, and we can't let the cheater win again.
snip
2 replies, 295 views
Replies to this discussion thread
| | | | |
| --- | --- | --- | --- |
| 2 replies | Author | Time | Post |
| Bolton Is A Weasel, But That Doesn't Mean He's Lying (Original post) | Celerity | Jun 18 | OP |
| | Cirque du So-What | Jun 18 | #1 |
| | Laelth | Jun 18 | #2 |
---
Response to Celerity (Original post)
Thu Jun 18, 2020, 08:07 PM
Cirque du So-What (15,095 posts)
1. I try to find the silver lining
Two repug assholes, one a neocon and the other a MAGAT, and one is obviously lying. I believe Scary Moustache Guy, but I hope all the repug voters see this as proof that none of their saviors have a scintilla of integrity.
BTW, WTF is Bolton doing in that photo? It looks like 'I'm crushing your head!'
---
Response to Celerity (Original post)
Thu Jun 18, 2020, 08:30 PM
Laelth (25,578 posts)
2. He's a master at "getting away with" things others can not.
The ordinary rules don't apply to him (in his mind). Just look at how much he's gotten away with so far.

This is typical behavior for a person with a Cluster B personality disorder, and Trump is a textbook case.

-Laelth