Mon Mar 26, 2018, 09:31 AM
babylonsister (167,672 posts)
A Domestic Budget to Make Barack Obama Proud
See what happens when you don't read?!
https://www.theatlantic.com/politics/archive/2018/03/trump-obama-omnibus-spending-budget/556436/
A Domestic Budget to Make Barack Obama Proud
The Republican Congress didn't just ignore Trump's proposals: The $1.3 trillion spending bill actually fulfilled—or even exceeded—many of the funding requests of his Democratic predecessor.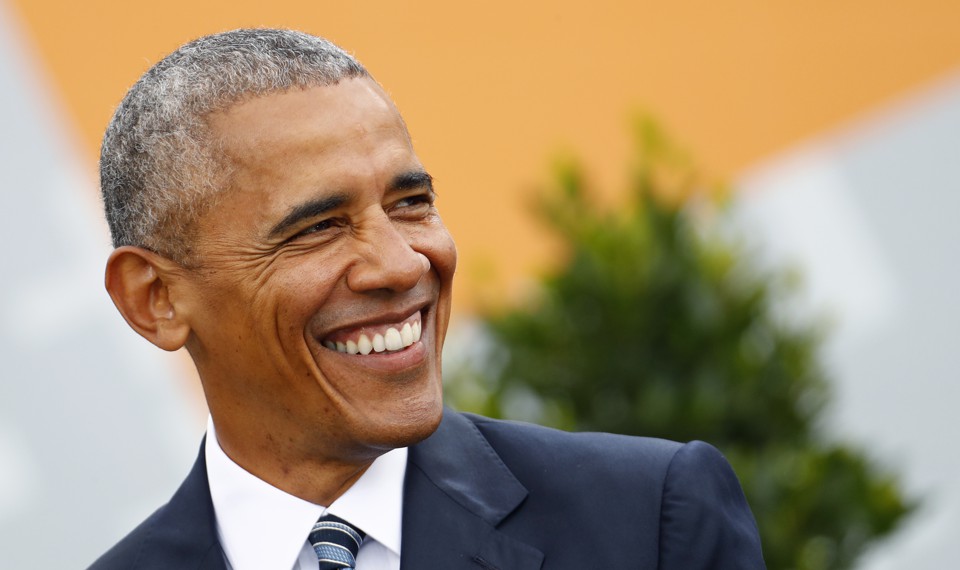 Fabrizio Bensch / Reuters
Russell Berman Mar 25, 2018 Politics
President Obama finally got a Republican-controlled Congress to fund his domestic budget. All it took was Donald Trump in the White House to get it done.
In the $1.3 trillion spending bill that President Trump reluctantly signed on Friday, lawmakers did more than reject the steep cuts in dollars and programs that Trump proposed for domestic agencies a year ago.
Across much of the government, Republican leaders agreed to spending levels that matched or even exceeded what Obama asked Congress to appropriate in his final budget request in 2016—and many of which lawmakers ignored while he was in office.
The Department of Health and Human Services received $78 billion, nearly identical to the $77.9 billion Obama sought and almost 20 percent more than what the Trump budget called for. Ditto for the Department of Labor and the Department of Education, which got $1.5 billion more than Obama's final request and nearly $12 billion more than the reduced level Trump sought. Obama-era priorities like Head Start and Pell Grants drew increases, too.
Congress eliminated
none
of the 18 independent agencies Trump wanted to scrap, including the Corporation for Public Broadcasting, the National Endowment for the Arts, and the National Endowment for the Humanities. And several of the programs he wanted to zero out won huge increases instead. Take the TIGER grants, an infrastructure program created by Obama's 2009 economic stimulus package. Congress had allocated $500 million to it each of the last several years, despite annual Obama requests to boost it to $1.25 billion. Trump's budget called for axing it entirely, but lawmakers went even higher than Obama, giving $1.5 billion to TIGER. Or the Community Development Block Grant, a federal housing program that had been receiving $3 billion from Congress annually. Obama actually proposed cutting its funding by $200 million in 2016, while Trump called for chopping it altogether. In the end, it received $3.3 billion—a 10 percent boost.
The spending spikes all contributed to this week's unexpected display of Democrats celebrating legislation enacted under complete GOP control of Washington. And
the victories for a president who has been out of office for a year were not lost on conservatives.
"This could have been written by President Obama and liberal Democrats," Senator Rand Paul of Kentucky said Thursday night on Fox News, hours before he consented to a vote on a 2,200-page bill most of his colleagues hadn't had time to read. Senator Ben Sasse of Nebraska accused his party of hypocrisy. "Every Republican would vote against this disgusting pork bill if a Democrat were president," he said in a statement.
snip//
Hoagland said
the Trump administration was "somewhat irrelevant" in the budget process. It's a reality that may explain why a Republican president unhappily signed a spending bill that fulfilled his Democratic predecessor's wishes as much or more than his own.
9 replies, 965 views
Replies to this discussion thread
| | | | |
| --- | --- | --- | --- |
| 9 replies | Author | Time | Post |
| A Domestic Budget to Make Barack Obama Proud (Original post) | babylonsister | Mar 2018 | OP |
| | Johnny2X2X | Mar 2018 | #1 |
| | ExciteBike66 | Mar 2018 | #2 |
| | babylonsister | Mar 2018 | #3 |
| | Fred Sanders | Mar 2018 | #5 |
| | yallerdawg | Mar 2018 | #4 |
| | wishstar | Mar 2018 | #6 |
| | Lucinda | Mar 2018 | #8 |
| | mentalslavery | Mar 2018 | #7 |
| | Lucinda | Mar 2018 | #9 |
---
Response to babylonsister (Original post)
Mon Mar 26, 2018, 09:43 AM
Johnny2X2X (11,082 posts)
1. Why?
Why would the GOP do this? I don't get it. I'm happy that Obama's agenda is being pursued, just have no idea why Reps did this.
---
Response to Johnny2X2X (Reply #1)
Mon Mar 26, 2018, 09:51 AM
ExciteBike66 (1,931 posts)
2. Because cuts hurt people, and they know who would get the blame...
Republicans know that their policies and wishes are going to hurt people, and they are too timid to follow their "minds" (such as they are) and take the blame.

It was all fun and games when they didn't completely control the government. Now that they have to govern they are doing a 180 on all of their priorities...
---
Response to Johnny2X2X (Reply #1)
Mon Mar 26, 2018, 09:53 AM
babylonsister (167,672 posts)
3. I think because, even though the gop won't admit it publicly,
they know proposals dt and his band of miscreants have made would be too destructive. This is their fix.
---
Response to babylonsister (Reply #3)
Mon Mar 26, 2018, 10:37 AM
Fred Sanders (23,946 posts)
5. The Republican party as a whole is not insane, certainly not economically
incompetent as Shitler and his Fox News TV advisers. As a whole they recognize the obvious that Obama's policies and funding created the recovery and the unprecedented years of growth. Rather obvious.

Keep it going? Of course!

Shitler really has become irrelevant. A mad king. Except for the red button, and maybe this all shows even that is not being allowed to be just his decision.

Really the hugest news since the last election.
---
Response to Johnny2X2X (Reply #1)
Mon Mar 26, 2018, 10:02 AM
yallerdawg (16,104 posts)
4. They also know the Democratic Party will have to fix it all.
The 'blue wave' will sweep us in, we take fiscal responsibility - again - and then we get the Taxed Enough Already Party in opposition.
The Great Game goes on.
It is up to us to end the game.
---
Response to yallerdawg (Reply #4)
Mon Mar 26, 2018, 11:01 AM
wishstar (4,605 posts)
6. Repubs play Santa with tax cuts without spending cuts so Dems will look like Scrooge
Pressure will be on when Dems take Congress to rein in spending by cutting social safety net programs and taking back some of the tax cuts.
---
Response to Johnny2X2X (Reply #1)
Mon Mar 26, 2018, 05:51 PM
Lucinda (29,468 posts)
8. Midterms. n/t
---
---
Response to babylonsister (Original post)
Mon Mar 26, 2018, 05:51 PM
Lucinda (29,468 posts)
9. KNR