Sun Apr 22, 2012, 09:18 AM
Ian David (69,020 posts)
Teen feminist site blacklisted in schools
Last edited Sun Apr 22, 2012, 09:19 AM - Edit history (1)
Teen feminist site blacklisted in schools
Feminist website Mookchick Online questioned educational web filters when hotlisted in US and UK schools and libraries for supposed occult and pronographic content.
In an effort to combat peer pressure, school bullying and newer forms of gender-related bullying like slut shaming, Mookychick.co.uk was launched in 2005 as a feminist website dedicated to highlighting resources for the free-thinking young female social outsider. Aiming to find common ground within social labels like Goth, Emo and Geek, Mookychick attracted a word of mouth following and now has over 5,000 forum members and 7,000 Facebook fans, with over 100,000 global visitors every month.
Mookychick's members have a fierce loyalty to the site and the forum's anonymous Secret Survey - with over 7,000 entries - is filled with testimonials from young women regarding the marked improvement that the site has made to their social confidence.
When visitors were asked what they thought the best thing about Mookychick was, the answers tended to focus on its policy of acceptance and spirit of intelligent enquiry. One survey member spoke of it as a site where "people who might normally be classified as "outcasts" by modern society can join together and have intelligent, opinionated, prejudice-free conversations about life, the universe, and everything. It's a place to learn without being judged."
More:
http://www.mookychick.co.uk/feminism-politics/activism/teen-feminist-site-blacklisted-in-schools.php
Hat-tip to:
https://twitter.com/#!/mookychick/status/194048628455784449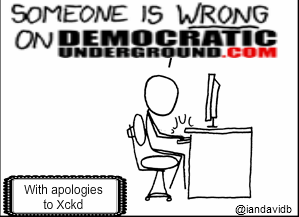 3 replies, 1445 views
Replies to this discussion thread
| | | | |
| --- | --- | --- | --- |
| 3 replies | Author | Time | Post |
| Teen feminist site blacklisted in schools (Original post) | Ian David | Apr 2012 | OP |
| | ZombieHorde | Apr 2012 | #1 |
| | laconicsax | Apr 2012 | #2 |
| | ZombieHorde | Apr 2012 | #3 |
---
Response to Ian David (Original post)
Wed Apr 25, 2012, 08:05 PM
ZombieHorde (25,656 posts)
1. Why is occult content banned?
Most news papers in the US have occult content, and they're allowed in schools. Aren't they?
---
Response to ZombieHorde (Reply #1)
Wed Apr 25, 2012, 08:58 PM
laconicsax (14,860 posts)
2. It's code for "not conservative Christian." n/t
Juror #5 voted to LEAVE IT ALONE and said: Ban the person.
---
Response to laconicsax (Reply #2)
Wed Apr 25, 2012, 09:05 PM
ZombieHorde (25,656 posts)
3. Duh. I should have known that. nt