Thread is a continuation from:
http://www.democraticunderground.com/discuss/duboard.ph...
http://www.democraticunderground.com/discuss/duboard.ph...
Who Killed John O'Neill
Who needs a plane?
An Updated MIHOP
Who did 9/11? A question we all want to know answers to.
Meet the CIA of the 21st century. Privatized, independent and hidden from view.
AIG as Money Laundering Inc.

Marsh Crisis Consultancy as Terrorism Inc with Osama bin Laden played by Paul Bremer

Kroll as the privatized CIA Inc.

al-Cokeda as the drug dealers in the flight schools who are later called terrorists in the OCT.


Learn how they all work together.

Learn how they make fortunes on 9/11 with insider trading.

Learn how sophisticated psyops and black ops is.


Learn what the government and the OCTers don't want you to know
Journal:
http://journals.democraticunderground.com/DrDebug
The video
(it is better if you watch the video first)
Ty Rauber made it and it has one actor playing all the parts -a conspiracy theorist, a paranoid "they're after us" type, an OCTer, a philospher and they are all discussing 911-it's kind of like this forum. He ties Kroll, CIA, AIG together, speculated that Kroll is a sort of privatized CIA, running on drug money but able to do what the CIA can't because they aren't allowed. Some of this relates to the Hopsicker story.
Why are these Kroll types anti terrorism experts; where do they get the information? Then they show how people move between these corporations and CIA . Doesn't spend a lot of time on the hows and why's of the actual day, more about drugs insurance companies/ CIA and the piece de resistance -what Al Qaeda really is and what Mohammed Atta's function was, his opinion will make a lot of sense as to Atta's behavior.
This is all for the same video, I gave different links in case some didn't work:
http://www.wkjo.com
http://whokilledjohnoneill.com
Movie Downloads:
http://www.wkjo.com/downloads.html
Mirrors:
http://video.google.com/videoplay?docid=-47554496271731...
http://www.archive.org/details/Who_Killed_John_ONeill
al-Cokeda
Iran-Contra II
How the 9/11 flight schools were being used for narcotics trafficing to finance
black operations like 9/11
which was covered up by labeling the drug dealers, terrorists. The drug import just continued after 9/11 as if nothing happened and were involved in the biggest cocaine shipment ever...

Mohammed Atta's girlfriend
Learn about drug planes being used also for illegal CIA rendition, the (hidden) owner of the flight school committing insider trading on 9/11, scams with non-existing companies which miraculously produce DC-9s, and much more...
In dedication of the top anti-terrorism expert of the Federal Bureau of Investigation, John O'Neill
Summary:Ownership:
American International Group = Maurice "Hank" Greenberg
Marsh & McLennan = Jeffrey Greenberg
Ace = Evan Greenberg
Bear Stearns = Alan Greenberg
Kroll always had AIG as shareholder and is currently part of Marsh.
Greenberg-Traurig is now an "independent" law firm, but was started by Maurice.
Possible teams for 9/11:
October 11, 2001 Marsh established specialized terrorism team called Marsh Crisis Consultancy
The following teams were added to it: Control Risks Group, a British ex-SAS team and Versar, bio-terrorism and homeland defense team. The same group could have known each other from 9/11.
Kroll has military team in their company and merged with Armor Holdings on August 23rd thus adding Defence Systems Limited, another Private Military Corporation, to their operations, an ex-KGB team called Alpha Firm was earlier acquired by Defence Systems Limited.
That makes
at least four teams
which could have been used on 9/11.
Additional teams from the military could have been used as well.
They had the means to do this.
Marsh had full control on WTC1 where they occupied all floors.

Marsh had the top floor of the WTC2 "impact" and could have worked their way down, however the main occupant was Fuji bank with whom AIG did a lot of work and also featured in Iran-Contra and 78th floor had Baseline Financial who also did business with Rupert Murdoch.

WTC7 contained a CIA office and Kroll and AIG are very closely related to the CIA and it is very likely that Kroll is the privatized version of the CIA

The Pentagon was of course under their own control.

Mass Electric Construction Co, a company specializing in wiring, was on the 84th floor of WTC2.

They had the opportunity to do this.


AIG/Kroll/Marsh are closely connected to the Bush administration, to Henry Kissinger.

AIG/Kroll/Marsh are also closely related to the Intelligence Community.

AIG/Kroll/Marsh capitalized on 9/11 and it was good for their business.

AIG was laundering drug money for al-Cokeda.

AIG was involved in the oil and gas line to Afghanistan

There is reason to believe that the Taliban either cut back on the drug trade or that they went into business for themselves. Either way the flow of heroin from Afghanistan was drastically limited.

Greenberg and Khasshogi had a business relation and benefited for the narcotics from Afghanistan and had interest in the oil and gas line as well

The Greenberg family and the Bush family are partners in fraud.

Greenberg-Traurig played a major role in both the Election Fraud 2000, Election Fraud 2004 and is the personal law firm for Jeb Bush.

The Office of Emergency Management was needed according to Rudolph Giuliani, so it could have been used for other purposes.

They had motive to do this.

Objectives:
There are main objectives to 9/11 and additional subgoals persuded that day. The main objectives are:
1. Enabling the war in Afghanistan for oil and drugs.
2. Bush administration gets an enormous popularity gain.
3. Enabling Homeland security.
4. Passing the Patriot Act.
5. Massive insurance fraud.
6. The missing trillions of the Pentagon.
7. Added later: War in Iraq (not part of the original plan)

Sub goals:
1. Elimination of competitors: Better position for Silverstream and Marsh in risk management by inviting all experts over the whole world to Windows of the World and eliminating some competitors in WTC.
2. Downsizing of Cantor/eSpeed.
3. Solve some "minor" problems for companies either in WTC or by inside trading.
4. Massive destruction of evidence in the Enron scandal, price inflation fraud for Silverstream, WorldCom, Global Crossing and many other scandals.

9/11 and Iran-Contra
There are many similarities between 9/11 and Iran-Contra. One could even say that the same blue print was used and the terror event added as a quick justification of their goals

Objectives of Iran-Contra:
1. October Surprise: President Ronald Reagan and Vice President George H.W. Bush
2. Guerrilla warfare in Central and South America
3. A war between Iraq and Iran

Objectives of 9/11:
1. Butterfly ballots, Vote spoilage, Greenberg-Traurig: President George W. Bush and Vice President Richard Cheney
2. A war with Afghanistan
3. Guerrilla warfare in Venezuela and Lebanon?

Bonuses (W. tries to double H.W.)
4. A war with Iraq


Not in the original plan, however on September 12, 2001, George W. Bush told Richard A. Clarke: "Go back over everything, everything. See if Saddam did this. See if he's linked in any way"

http://www.sourcewatch.org/index.php?title=Richard_A._C...

This is the probably reason why Germany, France and Canada bailed out, because they had given approval for Afghanistan and at least Germany played a part in the Venice scheme.


5. If you can rig one election, might as well take the next one also.
6. Iran? (option or coming soon...)

Why the Pentagon had to be included as well


By Minstrel Boy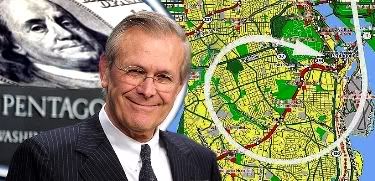 They say I shot a man named Gray and took his wife to Italy.
She inherited a million bucks and when she died it came to me.
I can't help it if I'm lucky. - Bob Dylan

(...) At least among those with a mind for such things, it's fairly well- remembered that on September 10, 2001, Donald Rumsfeld made the shocking announcement that the Pentagon "couldn't track"

$2.3 trillion

of its transactions. "Iroquois" observes, "What's interesting to me is that he made his press release on a Monday. In DC, I always see bad news given on a Friday, usually late in the afternoon on Friday. The exception, of course, would be when someone happens to know that there is a far bigger story coming out."

And we know that Flight 77, allegedly piloted by an incompetent, made an aerobatic, spiralling descent over Washington, effecting a 270-degree turn to strike the Pentagon from a western approach at ground level. The side struck was the only one with an exterior wall hardened against attack, and was relatively empty while renovation continued. (...)

http://rigint.blogspot.com/2006/06/flight-of-capital.ht...



WTC building insurance and ownership
What were the 3 companies who insured the WTC?

AIG, Marsh and ACE. All run by Greenbergs at the time.

They then sold stakes of the original contract to their competition, a process called reinsuring. Once the towers came down, the reinsurers got caught holding the bag.

Who mortgaged the WTC? The Blackstone Group, headed by Peter J. Peterson, current head of the CFR. The Blackstone Group bought into Kroll in 1993 at the same time as AIG took majority control. Henry Kissinger sits on the board of the Blackstone Group.

On July 24, 2001, 6 weeks prior to 9/11 Silverstein took control of the lease of all the WTC buildings following the Port Authority decision on April 26. Silverstein owned all the buildings. Later he wanted to collect twice on $3.6 billion of policies because it were two seperate events. Only ACE, XL Reach - strategic partners of AIG and currently owned by AIG - included a WilProp in their clauses, so Silverstein "only" got $5 billion.

Larry Silverstein

Larry "Pull It" Silverstein


"I remember getting a call from the, er, fire department commander, telling me that they were not sure they were gonna be able to contain the fire, and I said, 'We've had such terrible loss of life, maybe the smartest thing to do is pull it.' And they made that decision to pull and we watched the building collapse."

- World Trade Center lease holder, Larry Silverstein, commenting on the collapse of Building 7 in the PBS documentary "America Rebuilds" that aired in September of 2002.

Or watch a video clip of them here:

Indira Sangh (Windows on the World meeting)
http://www.democraticunderground.com/discuss/duboard.ph...
http://www.democraticunderground.com/discuss/duboard.ph...

Twin Tower Corporation Index

This is an overview of the companies with links to the different pages. Companies with were considered of little or no relevance are not listed. And the lower floors of both buildings were considered less relevant. The same applied to very small companies. A listing here does in no way imply that the company was involved in 9/11.

The index has been created from various sources and there does not seem to be an official and concise overview of the Twin Towers.

Bold = Inside trader
Italic = Victim
?? = Interesting, but too little is known.



Main companies in WTC1


Floor # - Company (tot/vict) - Comment
107 -
World Trade Club = Windows on the World
(75/66) - Owned several bars/restaurants
107 -
Hotel and Restaurant Employees International
(277/77)
106 -
Windows on the World
(75/66)
106 -
Hotel and Restaurant Employees International
(277/77)
105 - Genuity =
L-3 Communications
(10/1)
105 -
Cantor Fitzgerald / ESpeed
(1000/685+125)
104 -
Cantor Fitzgerald / ESpeed
(1000/685+125)
103 -
Cantor Fitzgerald / ESpeed
(1000/685+125)
102 -
Cantor Fitzgerald / ESpeed
(1000/685+125)
102 - Alliance Consulting Group (22/7) ??
101 -
Cantor Fitzgerald / ESpeed
(1000/685+125)
100 -
Marsh USA
(1900/295)
99 - Marsh USA (1900/295)
98 - Marsh USA (1900/295)
97 - Marsh USA (1900/295)
96 - Marsh USA (1900/295)
95 - Marsh USA (1900/295)
94 - Marsh USA (1900/295)
93 - Marsh USA (1900/295)
93 - Fred Alger Management (36/36) - Used eSpeed
92 -
CARR Futures
(141/69)
91 -
American Bureau of Shipping
(22/0)
90 - Dun & Bradstreet (80/0) - Silverstream
89 -
Metropolitan Life Insurance Company
(52/2) - Inside trader
89 - Banco LatinoAmericano de Exportaciones Sud America (20/0) ??
86 - Trading Technologies (7/0) -
Deutsche Bank
83 - Global Crossing Holdings - Destruction of evidence
81 -
Bank of America
(400/2)
79 - Virtual suite 7967 with for example
Buttonwood
78 - Korea Local Government Center (8/0) - Must have told South-Korea. Just imagine the scandal if they didn't
77 -
Martin Progressive
(80/0)
65 -
Boeing
62 - CARR Futures (see above. This lower floor survived)
59 -
Sidley Austin Brown & Wood
(600/1)
58 -
Sidley Austin Brown & Wood
(600/1)
57 -
Sidley Austin Brown & Wood
(600/1)
56 -
Sidley Austin Brown & Wood
(600/1)
54 -
Sidley Austin Brown & Wood
(600/1)
53 -
AIG Aviation Brokerage
part of AIG
53 - French Embassy Financial Services - See South-Korea
50 - Dai-Ichi Kangyo Bank (unk/0) ??
49 - Dai-Ichi Kangyo Bank (unk/0) ??
48 - Dai-Ichi Kangyo Bank (unk/0) ??
40 -
Lehman Brothers
(618/1)
39 -
Lehman Brothers
(618/1)
38 -
Lehman Brothers
(618/1)
37 - Government of Thailand (>9/0) - See South-Korea
36 -
Kemper Insurance Companies
part of Marsh
35 -
Kemper Insurance Companies
part of Marsh
34 - Royal Thai Embassy Office - See South-Korea
34 -
Port Authority
3000/74)
33 - China Daily Distribution Corporation - Nothing is known about the company ??
32 - Cantor Fitzgerald - See above
31 - Port Authority - See above
31 - Empire Blue (1914/5) - Sad story of Abe Zelmanowitz who stayed behind with his friend in the wheel chair.
29 - ZimAmerican Israeli Shipping Company - Moved out Sept 4. Left some equipment though
28 - Port Authority
28 - Empire Blue
27 - Empire Blue
26 - Garban Intercapital (675/1) - ??
25 - Garban Intercapital (675/1)
24 - Port Authority - See above
24 - Empire Health Choice = Empire Blue
23 - Empire Health Choice
22 - Virtual suite 2201
20 - Empire Health Choice
19 - Empire Health Choice
19 - Port Authority
17 - Empire Health Choice
17 - ZimAmerican Israeli Shipping Company
16 - ZimAmerican Israeli Shipping Company
14 - Dun & Bradstreet
14 - Port Authority
11 -
Bank of America
10 -
Bank of America
9 -
Bank of America
3 - Port Authority
Main companies in WTC2
Floor # - Company (tot/vict) - Comment
Other subjects