49%
16%
8%
8%
6%
Thu Mar 14, 2019, 09:09 AM
bigtree (73,756 posts)
Kamala Harris makes news on NPR's Morning Edition [View all]
Steve Inskeep
@NPRinskeep 1h1 hour ago
What would @KamalaHarris do as president? In her Opening Argument on @MorningEdition she makes news: Nobody would receive the federal death penalty. She also mulls taxes, immigration enforcement, and reparations for slavery...
Q. Should there be a moratorium on the federal death penalty?
Kamala Harris: "I think there should be."
Q. No one would be executed?
A. Correct.
Q. Not even for treason... there's nothing that rises to that level?
A. Not in the United States.
more:
Link to tweet
listen to interview:
(7m)
https://t.co/QSEgbGCv2F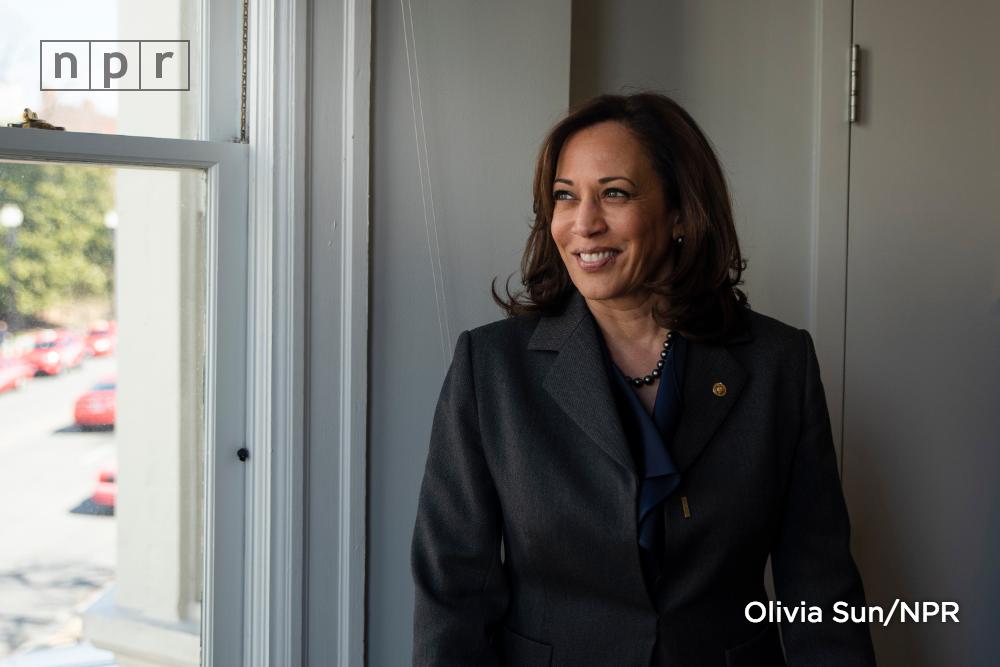 If I were to vote in a presidential
primary today, I would vote for:
Kamala Harris
67 replies, 3421 views
Replies to this discussion thread
67 replies
Author
Time
Post

Kamala Harris makes news on NPR's Morning Edition

[View all]

bigtree
Thursday
OP
still_one
Thursday
#1
bigtree
Thursday
#4
chimpymustgo
Thursday
#2
Renew Deal
Thursday
#3
bigtree
Thursday
#5
Renew Deal
Thursday
#6
bigtree
Thursday
#7
Renew Deal
Thursday
#10
bigtree
Thursday
#12
NacLeeFF
Thursday
#38
ehrnst
Friday
#51
thesquanderer
Friday
#53
ehrnst
Friday
#54
thesquanderer
Friday
#56
ehrnst
Friday
#57
thesquanderer
Friday
#59
ehrnst
Friday
#60
NacLeeFF
Thursday
#35
bigtree
Thursday
#36
ehrnst
Friday
#50
InAbLuEsTaTe
Friday
#52
LovingA2andMI
Thursday
#13
Renew Deal
Thursday
#16
LovingA2andMI
Thursday
#19
Renew Deal
Thursday
#23
bigtree
Thursday
#28
LovingA2andMI
Thursday
#39
Renew Deal
Thursday
#42
LovingA2andMI
Thursday
#44
Renew Deal
Thursday
#45
LovingA2andMI
Thursday
#46
Renew Deal
Thursday
#49
whathehell
Thursday
#18
LovingA2andMI
Thursday
#20
whathehell
Thursday
#25
LovingA2andMI
Thursday
#40
whathehell
Friday
#63
tonedevil
Thursday
#27
whathehell
Thursday
#30
tonedevil
Thursday
#31
whathehell
Thursday
#32
tonedevil
Thursday
#37
LovingA2andMI
Thursday
#41
whathehell
Friday
#64
tonedevil
Friday
#65
thesquanderer
Friday
#55
tonedevil
Friday
#67
LovingA2andMI
Thursday
#43
thesquanderer
Friday
#58
LovingA2andMI
Friday
#61
Politicub
Thursday
#22
Renew Deal
Thursday
#24
Politicub
Thursday
#26
thesquanderer
Friday
#62
MoonRiver
Thursday
#8
donkeypoofed
Thursday
#9
Andy823
Thursday
#17
ZeroSomeBrains
Thursday
#11
JohnnyRingo
Thursday
#14
SKKY
Friday
#66
George II
Thursday
#15
-Steph-
Thursday
#21
Funtatlaguy
Thursday
#29
bigtree
Thursday
#33
Maru Kitteh
Thursday
#34
Name removed
Thursday
#47
ehrnst
Thursday
#48