Sat Nov 7, 2015, 03:27 PM
kpete (65,074 posts)
Bernie Sanders Slams GOP On Voting Rights: 'They're Political Cowards!' [View all]
IF YOU HAVE TO CHEAT TO WIN, WHAT DO YOU REALLY HAVE TO OFFER?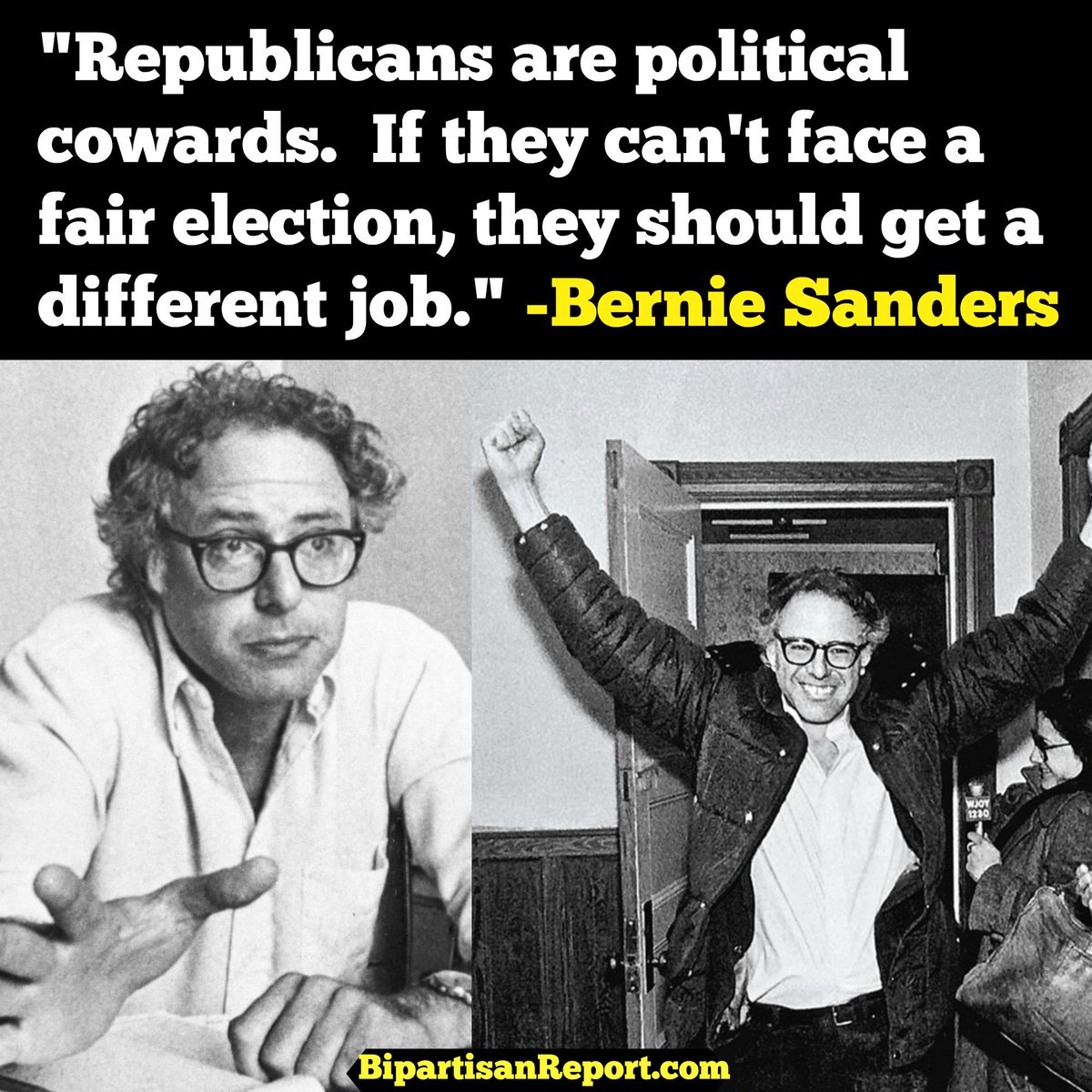 http://a2.img.talkingpointsmemo.com/image/upload/c_fill,fl_keep_iptc,g_faces,h_254,w_459/ynp2lb3ijldwp7hw2nnl.jpg
Sen. Bernie Sanders (I-VT) called Republicans "political cowards" for their efforts to restrict voting rights and suggested a constitutional amendment might be necessary to protect the franchise.
"Maybe this is personal because I run for office. Sometimes you lose, sometimes you win," Sanders said, when Rachel Maddow brought the topic up at Friday's MSNBC Democratic 2016 Forum."It has never occurred to me as a candidate to figure out a way to deny the vote to people because they might vote against me. People who do that are political cowards. They're afraid of a fair election."
He said the push for voting restrictions was a "a real crisis in this country" and said legislation or "maybe a constitutional amendment" was needed to guarentee that everyone 18 years of age is registered to vote.
"What Republican are doing is so un-American, so outrageous. It is literally beyond belief," Sanders said. "They're political cowards and if they can't face a free election, they should get another job."
http://talkingpointsmemo.com/livewire/bernie-sanders-voting-rights-dem-forum?utm_content=bufferd65a7&utm_medium=social&utm_source=twitter.com&utm_campaign=buffer
16 replies, 1006 views
Replies to this discussion thread
16 replies
Author
Time
Post

Bernie Sanders Slams GOP On Voting Rights: 'They're Political Cowards!'

[View all]

kpete
Nov 2015
OP
Eric J in MN
Nov 2015
#1
daleanime
Nov 2015
#2
BlueCaliDem
Nov 2015
#3
Qutzupalotl
Nov 2015
#9
BlueCaliDem
Nov 2015
#14
Faux pas
Nov 2015
#4
NYCButterfinger
Nov 2015
#5
Ed Suspicious
Nov 2015
#7
SmittynMo
Nov 2015
#11
Dodo
Nov 2015
#6
FairWinds
Nov 2015
#8
Plucketeer
Nov 2015
#10
erronis
Nov 2015
#12
lindysalsagal
Nov 2015
#13
Enthusiast
Nov 2015
#15
LWolf
Nov 2015
#16