Tue Oct 6, 2015, 02:32 AM
madfloridian (88,114 posts)
PolitiFact agrees Bernie was "there" on gay marriage 20 yrs ago. AND Hillary's words from 2004 [View all]
The recent attacks by Slate and some at DU regarding Bernie Sanders' support for same sex marriage...are just too much. It's expected due to his rise in the polls and the huge crowds he is drawing...but it is not a valid criticism.
Tampa Bay Times Pundit Fact examines Chuck Todd's recent words about Bernie Sanders and his support for same sex marriage.
NBC's Chuck Todd: Bernie Sanders was 'there' on same-sex marriage 20 years ago
Vermont Sen. Bernie Sanders and his presidential campaign serve as an almost constant reminder that Hillary Clinton has not always taken the lead on issues near and dear to the more liberal members of the Democratic Party. She only recently declared that she opposed the Keystone XL pipeline that would link oil from the tar sand fields of Canada to refineries on the Gulf Coast. On same-sex marriage, Clinton's views evolved.

As PolitiFact has described, in 1999, Clinton both supported the 1996 Defense of Marriage Act (DOMA), which defined marriage as between a man and woman, and legal recognition of civil unions. By 2007, she opposed DOMA, but fell short of backing same-sex marriage. Then in 2013, she came out in favor of same-sex marriage pure and simple.

Chuck Todd, the host of NBC's Meet the Press, focused on same-sex marriage during an interview with Clinton on Sept. 27, 2015.

"Bernie Sanders has been where you are on these issues," Todd said. "Bernie Sanders was there when it came to marriage 20 years ago. Do you think one of the reasons he's doing well right now is some progressives think, 'Well, you know what? He was there when it wasn't popular.'"
PolitiFact called it

Just a reminder of Hillary's words on the topic in 2004. She evolved much later than Bernie Sanders.
And a further reminder of how very far Bernie Sanders, even as Mayor, had evolved in 1985.
From the desk of Mayor Sanders: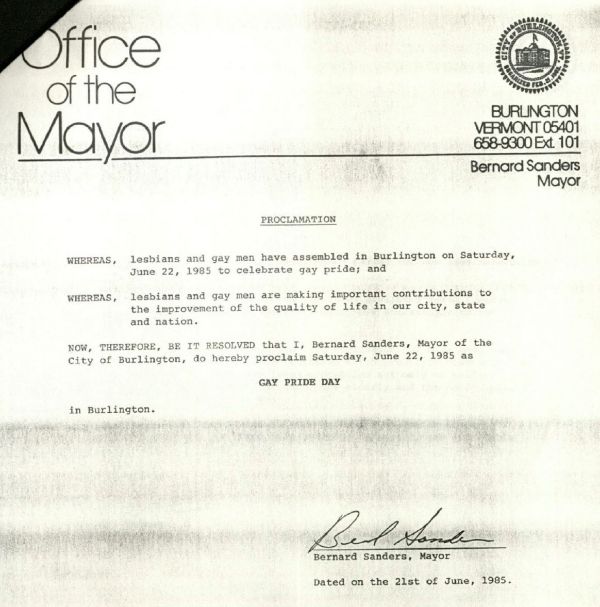 104 replies, 5427 views
Replies to this discussion thread
104 replies
Author
Time
Post

PolitiFact agrees Bernie was "there" on gay marriage 20 yrs ago. AND Hillary's words from 2004

[View all]

madfloridian
Oct 2015
OP
beam me up scottie
Oct 2015
#1
moobu2
Oct 2015
#16
Fawke Em
Oct 2015
#17
moobu2
Oct 2015
#24
madfloridian
Oct 2015
#26
moobu2
Oct 2015
#28
beam me up scottie
Oct 2015
#50
Warren DeMontague
Oct 2015
#59
beam me up scottie
Oct 2015
#62
HooptieWagon
Oct 2015
#68
beam me up scottie
Oct 2015
#69
HooptieWagon
Oct 2015
#78
moobu2
Oct 2015
#79
DisgustipatedinCA
Oct 2015
#81
dorkzilla
Oct 2015
#101
Warren DeMontague
Oct 2015
#85
beam me up scottie
Oct 2015
#86
Warren DeMontague
Oct 2015
#91
beam me up scottie
Oct 2015
#92
Warren DeMontague
Oct 2015
#93
beam me up scottie
Oct 2015
#94
Warren DeMontague
Oct 2015
#72
Armstead
Oct 2015
#21
moobu2
Oct 2015
#23
Armstead
Oct 2015
#25
merrily
Oct 2015
#35
merrily
Oct 2015
#33
Report1212
Oct 2015
#34
merrily
Oct 2015
#36
Report1212
Oct 2015
#42
merrily
Oct 2015
#43
Aerows
Oct 2015
#51
moobu2
Oct 2015
#52
beam me up scottie
Oct 2015
#53
moobu2
Oct 2015
#55
beam me up scottie
Oct 2015
#57
Aerows
Oct 2015
#58
moobu2
Oct 2015
#60
Aerows
Oct 2015
#65
madfloridian
Oct 2015
#2
Fearless
Oct 2015
#3
brooklynite
Oct 2015
#4
MADem
Oct 2015
#10
DURHAM D
Oct 2015
#12
jeff47
Oct 2015
#15
beam me up scottie
Oct 2015
#45
beam me up scottie
Oct 2015
#56
MADem
Oct 2015
#61
beam me up scottie
Oct 2015
#63
MADem
Oct 2015
#73
beam me up scottie
Oct 2015
#76
MADem
Oct 2015
#95
beam me up scottie
Oct 2015
#96
MADem
Oct 2015
#97
beam me up scottie
Oct 2015
#98
MADem
Oct 2015
#100
madfloridian
Oct 2015
#14
whatchamacallit
Oct 2015
#18
MyNameGoesHere
Oct 2015
#5
sabrina 1
Oct 2015
#7
beam me up scottie
Oct 2015
#9
Bluenorthwest
Oct 2015
#13
sabrina 1
Oct 2015
#6
Live and Learn
Oct 2015
#8
beam me up scottie
Oct 2015
#11
Live and Learn
Oct 2015
#22
moobu2
Oct 2015
#19
jeff47
Oct 2015
#20
moobu2
Oct 2015
#27
jeff47
Oct 2015
#29
moobu2
Oct 2015
#31
jeff47
Oct 2015
#32
moobu2
Oct 2015
#38
jeff47
Oct 2015
#39
moobu2
Oct 2015
#40
jeff47
Oct 2015
#41
TDale313
Oct 2015
#71
merrily
Oct 2015
#37
moobu2
Oct 2015
#47
beam me up scottie
Oct 2015
#44
moobu2
Oct 2015
#48
beam me up scottie
Oct 2015
#49
azmom
Oct 2015
#30
beam me up scottie
Oct 2015
#46
LonePirate
Oct 2015
#54
madfloridian
Oct 2015
#64
beam me up scottie
Oct 2015
#66
MADem
Oct 2015
#67
beam me up scottie
Oct 2015
#70
MADem
Oct 2015
#75
beam me up scottie
Oct 2015
#77
MADem
Oct 2015
#82
beam me up scottie
Oct 2015
#84
MADem
Oct 2015
#88
beam me up scottie
Oct 2015
#89
MADem
Oct 2015
#90
sadoldgirl
Oct 2015
#74
treestar
Oct 2015
#83
bowens43
Oct 2015
#80
riversedge
Oct 2015
#87
beam me up scottie
Oct 2015
#99
CharlotteVale
Oct 2015
#102
TheKentuckian
Oct 2015
#103
madfloridian
Oct 2015
#104