---
Response to DanTex (Reply #50)
Tue Sep 29, 2015, 12:34 PM
polly7 (20,582 posts)
53. What???
Last edited Tue Nov 3, 2015, 01:50 PM - Edit history (3)
You make no sense at all.
Here - for starters.
Exposed: The "Humanitarian" War In Libya
Check this out - 'The Humanitarian War' =
http://www.laguerrehumanitaire.fr/english
It's horrifying.
A bunch of LIES submitted to the ICC ..... by the UN - who got their 'numbers and crimes' from the NTC Prime Minister - 'word to ear'. Pages and pages redacted.
No Evidence? No Problem!!
How the CIA Used "Libyan Expatriates" To Engineer Consent For Regime Change
One of the main sources for the claim that Qaddafi was killing his own people is the Libyan League for Human Rights (LLHR), an organization linked to the International Federation of Human Rights (FIDH). On Feb. 21, 2011, LLHR General Secretary Dr. Sliman Bouchuiguir initiated a petition in collaboration with the organization U.N. Watch and the National Endowment for Democracy. This petition was signed by more than 70 NGOs.
Then a few days later, on Feb. 25, Dr. Bouchuiguir went to the U.N. Human Rights Council in order to expose the allegations concerning the crimes of Qaddafi's government. In July 2011 we went to Geneva to interview Dr. Sliman Bouchuiguir.
"How to circumvent international law and justice 101.
" - originally published by
http://laguerrehumanitaire.fr
A film by Julien Teil
Official Website:
http://laguerrehumanitaire.fr
Official web:
http://thehumanitarianwar.com
Official TV:
http://laguerrehumanitaire-film.rutube.ru/
Videos now here (I watched them on the original site when all of it was happening and posted these here at DU)
http://www.informationclearinghouse.info/article29428.htm
Must watch videos, the western trained NTC 'Prime Minister' - 'word to ear!' was the source of the 'data (all unofficial and lies, of course) that led to the UN resolution.
*************************************************************************************************
What you don't know about the Libyan crisis:
...
*************************************************************************************************
The horror of Libya - to fulfill the PNAC objective of overthrowing yet another country. "7 countries in 5 years!" This was NO "Humanitarian Intervention", and certainly not for all those migrants Qaddafi had allowed in over decades, Qaddafi loyalists and others who were raped, tortured, mutilated, hung, burned to death .... all known of by the NATO 'humanitarian team'.

It was a bullshit, self-serving, western funded and backed coup against yet another sovereign nation not yet indebted to the IMF and controlling its own resources, not to mention not allowing U.S. bases 'Africom' into all of Africa.

Some of these links don't work anymore, but read and discover just what a sham this was and why. The video at the end is particularly interesting.
The Untold Story in Libya
Posted by polly7 in General Discussion
Tue Oct 18th 2011, 10:06 AM
In May 2010, Libya was voted on to the UN Human Rights Council by a huge majority. The UN Watch's campaign to remove Libya from the Human Rights Council began immediately.

In March, 2011, a report, containing positive quotes from UN diplomatic delegations in many countries, was due to be presented by the UN Human Rights Council, leading to a Resolution commending Libya's progress in a wide aspect of human rights (listed in the article). March 19, 2011, the attack on Libya began.

Libya was one of only five countries without a Rothschild model central bank, Quaddafi openly discussed, in 2009, the nationalization of US, UK, Germany, Spain, Norway, Canada and Italy's oil companies, switching to the gold dinar - a single African currency that would serve as an alternative to the U.S. dollar and allow African nations to share the wealth. Libya has an abundance of water - Gaddafi's Great Man-Made River Project project offers limitless amounts of water for Libyans and would allow them to be totally self-sufficient. In the near-future, water will be the next resource equated with money and power, other countries may be dependent on its reserves. A self-sufficient, dictator-ruled nation with control over some of the world's most precious resource waves a big red warning flag.

In 2010 Gaddafi made a motion to the UN General Assembly to investigate the circumstances of the invasion of Iraq. He was also wasting the west's ....... 'libya's' oil on free education, housing, tolerance of immigrants, raising the standard of living in Africa, lowering infant mortality while raising life expectancy.

Many of these things are completely similar to what we learned of Iraq.
*************************************************************************************************
Yes, simply put, Nato's member nations are trying to steer back Libya Central Bank into the mainstream financial structure, under the watching eyes of the World Bank and the International Monetary Funds, to provide (reconstruction) funds to Libya with hefty interests payments - and transform a country which was free of debts into a heavily indebted country - as done everywhere else in sub-Saharan African countries.
http://businessafrica.net/africabiz/graphs...
http://businessafrica.net/africabiz/arcvol...
*************************************************************************************************
From a 'no fly zone to all out bombing of targets called out by rebels'. NATO's high-precision bombing preceeded 'rebel' incursions.
http://antemedius.com/content/libya-r2p-no...
"It's now common knowledge that British SAS, French intelligence, US Central Intelligence Agency assets, Qatar special forces and mercenaries of all stripes were parachuted as boots on the ground for months, planning and training the "rebels" and in close coordination with that philanthropic prodigy, NATO.
That was never the UN mandate - but who cares? NATO/GCC paid the bills, NATO conducted the bombing and NATO/GCC will "stabilize" the mess, according to a 70-page plan leaked by the British to Rupert Murdoch'sz Times of London."
"Expect local - and global - fireworks as far as grabbing the loot is concerned. Without even considering the (still unexplored) oil and gas wealth, Libya's foreign assets are worth at least $150 billion. Libya's central bank, now about to be privatized, has no less than 143.8 tons of gold. Then there's at least a millennium supply of fresh water, which had started to be harnessed by Gaddafi via the spectacular, multibillion dollar Great Man-Made River (GMR) project."
*************************************************************************************************
"Oil-rich but with a relatively small population of 6.6. million, Gadhafi's Libya welcomed hundreds of thousands of black Africans looking for work in recent decades. "
http://www.huffingtonpost.com/2011/09/01/l...
*************************************************************************************************
NATO's War on Libya is an Attack on African Development–Dan Glazebrook
6 09 2011
http://globalciviliansforpeace.com/tag/afr...
/
To prevent this 'threat of African development', the Europeans and the USA have responded in the only way they know how – militarily. Four years ago, the US set up a new "command and control centre" for the military subjugation of the Africa, called AFRICOM. The problem for the US was that no African country wanted to host them; indeed, until very recently, Africa was unique in being the only continent in the world without a US military base. And this fact is in no small part, thanks to the efforts of the Libyan government.
Before Gaddafi's revolution deposed the British-backed King Idris in 1969, Libya had hosted one of the world's biggest US airbases, the Wheelus Air Base; but within a year of the revolution, it had been closed down and all foreign military personnel expelled.
More recently, Gaddafi had been actively working to scupper AFRICOM. African governments that were offered money by the US to host a base were typically offered double by Gaddafi to refuse it, and in 2008 this ad-hoc opposition crystallised into a formal rejection of AFRICOM by the African Union.
*************************************************************************************************
The force used by the occupier to displace the old regime always makes sure the new regime is supine and complaint. The National Transitional Council, made up of former Gadhafi loyalists, Islamists and tribal leaders, many of whom detest each other, will be the West's vehicle for the reconfiguration of Libya. Libya will return to being the colony it was before Gadhafi and the other young officers in 1969 ousted King Idris, who among other concessions had let Standard Oil write Libya's petroleum laws. Gadhafi's defiance of Western commercial interests, which saw the nationalization of foreign banks and foreign companies, along with the oil industry, as well as the closure of U.S. and British air bases, will be reversed. The despotic and collapsed or collapsing regimes in Tunisia, Libya, Egypt and Syria once found their revolutionary legitimacy in the pan-Arabism of Egypt's Gamal Abdel Nasser. But these regimes fell victim to their own corruption, decay and brutality. None were worth defending. Their disintegration, however, heralds a return of the corporate and imperial power that spawned figures like Nasser and will spawn his radical 21st century counterparts.
Libya: Here We Go Again
Monday 5 September 2011
by: Chris Hedges, Truthdig | Op-Ed
http://www.truthout.com/libya-here-we-go-a...
*************************************************************************************************
LIBYA: Rebels execute black immigrants while forces kidnap others
http://somalilandpress.com/libya-rebels-ex...
"Many Africans have virtually nothing after years in Libya, many have been looted, robbed, while others saw their living quarters and apartments go in flames. Now they are praying to God to send them home.
While the international leaders are busy drafting resolutions to dismantle Muammar Gaddafi, the African Union has not yet commented on the situation in Libya.
Meanwhile, the International Criminal Court is said to have started a formal inquiry into possible crimes against humanity in Libya that will investigate the Libyan regime."
*************************************************************************************************
JohnPilger.com
8 September 2011
http://johnpilger.com/articles/hail-to-the...
..."I quote that not so much for its Orwellian quality but as a model of journalism's role in justifying "our" bloodbaths in advance.
This is Rupert's Revolution, after all. Gone from the Murdoch press are pejorative "insurgents". The action in Libya, says The Times, is "a revolution... as revolutions used to be". That it is a coup by a gang of Muammar Gaddafi's ex cronies and spooks in collusion with Nato is hardly news.
The self-appointed "rebel leader", Mustafa Abdul Jalil, was Gaddafi's feared justice minister. The CIA runs or bankrolls most of the rest, including America's old friends, the Mujadeen Islamists who spawned al-Qaeda.
They told journalists what they needed to know: that Gaddafi was about to commit "genocide", of which there was no evidence, unlike the abundant evidence of "rebel" massacres of black African workers falsely accused of being mercenaries. European bankers' secret transfer of the Central Bank of Libya from Tripoli to "rebel" Benghazi by European bankers in order to control the country's oil billions was an epic heist of little .
*************************************************************************************************
Sirte a 'living hell,' says aid group
http://www.morningstaronline.co.uk/news/co...
Tuesday 04 October 2011 by Our Foreign Desk Printable Email
A Red Cross team finally entered the besieged Libyan town of Sirte yesterday and delivered urgently needed surgical supplies to treat about 200 wounded people.
Nato has repeatedly targeted Sirte in its seven-month bombing campaign that enabled armed rebels to topple the government of Muammar Gadaffi and gain control of most of the oil-rich state.
*************************************************************************************************
Absolutely horrible to use
rape
as a propaganda weapon for war, while ignoring the
reality
of it for all those brutalized, raped and some, murdered by the NATO supported 'rebels' - just one example of their many atrocities.
********* http://www.democraticunderground.com/discuss/duboard.php?az=view_all&address=439x2174087 **********
http://andrewgavinmarshall.com/2011/08/26/lies-war-and-empire-nato
's-"humanitarian-imperialism"-in-libya
In early March of 2011, news headlines in Western nations reported that Gaddafi would kill half a million people.
<1> On March 18, as the UN agreed to launch air strikes on Libya, it was reported that Gaddafi had begun an assault against the rebel-held town of Benghazi. The Daily Mail reported that Gaddafi had threatened to send in his African mercenaries to crush the rebellion.<2> Reports of Libyan government tanks sitting outside Benghazi poised for an invasion were propagated in the Western media.<3> In the lead-up to the United Nations imposing a no-fly zone, reports spread rapidly through the media of Libyan government jets bombing the rebels.<4> Even in February, the New York Times – the sacred temple for the 'stenographers of power' we call "journalists" – reported that Gaddafi was amassing "thousands of mercenaries" to defend Tripoli and crush the rebels.<5>
Italy's Foreign Minister declared that over 1,000 people were killed in the fighting in February, citing the number as "credible."<6> Even a top official with Human Rights Watch declared the rebels to be "peaceful protesters" who "are nice, sincere people who want a better future for Libya."<7> The UN High Commissioner for Human Rights declared that "thousands" of people were likely killed by Gaddafi, "and called for international intervention to protect civilians."<8> In April, reports spread near and far at lightning speed of Gaddafi's forces using rape as a weapon of war, with the first sentence in a Daily Mail article declaring, "Children as young as eight are being raped in front of their families by Gaddafi's forces in Libya," with Gaddafi handing out Viagra to his troops in a planned and organized effort to promote rape.<9>
As it turned out, these claims – as posterity notes – turned out to be largely false and contrived. Doctors Without Borders and Amnesty International both investigated the claims of rape, and "have found no first-hand evidence in Libya that rapes are systematic and being used as part of war strategy," and their investigations in Eastern Libya "have not turned up significant hard evidence supporting allegations of rapes by Qaddafi's forces."
Yet, just as these reports came out, Hillary Clinton declared that the U.S. is "deeply concerned by reports of wide-scale rape
" in Libya.<10> Even U.S. military and intelligence officials had to admit that, "there is no evidence that Libyan military forces are being given Viagra and engaging in systematic rape against women in rebel areas"; at the same time Susan Rice, U.S. Ambassador to the United Nations, "told a closed-door meeting of officials at the UN that the Libyan military is using rape as a weapon in the war with the rebels and some had been issued the anti-impotency drug. She reportedly offered no evidence to backup the claim."<
Untrue, says US
US says Gadhafi troops issued Viagra, raping victims
Allegation suggests troops encouraged to turn to sexual violence, envoys say
By Louis Charbonneau
updated 4/28/2011 9:31:26 PM ET
UNITED NATIONS — The U.S. envoy to the United Nations told the Security Council Thursday that troops loyal to Libyan leader Moammar Gadhafi were increasingly engaging in sexual violence and some had been issued the impotency drug Viagra, diplomats said.
Several U.N. diplomats who attended a closed-door Security Council meeting on Libya told Reuters that U.S. Ambassador Susan Rice raised the Viagra issue in the context of increasing reports of sexual violence by Gadhafi's troops.
"Rice raised that in the meeting but no one responded," a diplomat said on condition of anonymity. The allegation was first reported by a British newspaper.
http://www.msnbc.msn.com/id/42809612/ns/world_news-mideastn_africa#.TqXeG96ImU8
US intel: No evidence of Viagra as weapon in Libya
http://www.msnbc
.msn.com/id/42824884/ns/world_news-mide...
UN Ambassador Rice reportedly had said drug was being used in systematic rapes
NBC News and news services updated 4/29/2011 1:52:00 PM ET
UNITED NATIONS — There is no evidence that Libyan military forces are being given Viagra and engaging in systematic rape against women in rebel areas, US military and intelligence officials told NBC News on Friday.
Diplomats said Thursday that US Ambassador Susan Rice told a closed-door meeting of officials at the UN that the Libyan military is using rape as a weapon in the war with the rebels and some had been issued the anti- impotency drug. She reportedly offered no evidence to backup the claim.
While rape has been a weapon of choice in many other African conflicts, the US officials say they've seen no such reports out of Libya.
[URL=
.html][IMG]
[/IMG][/URL]
lead inL Opponents of Libyan leader Moammar Gadhafi protesters shout anti-Gadhafi slogans during a protest after the Friday prayer at the court square, in Benghazi, eastern Libya, on Friday March 11, 2011. French President Nicolas Sarkozy faced increasing pressure from fellow leaders Friday who complained he was out of line to suddenly give a Libyan opposition group diplomatic recognition. Rebels held out Friday in part of a strategic oil port after fierce fighting with Moammar Gadhafi loyalists waging a heavy counteroffensive trying to push the opposition further east away from the capital. (AP Photo/Hussein Malla) (Associated Press photographs)
[URL=
.html][IMG]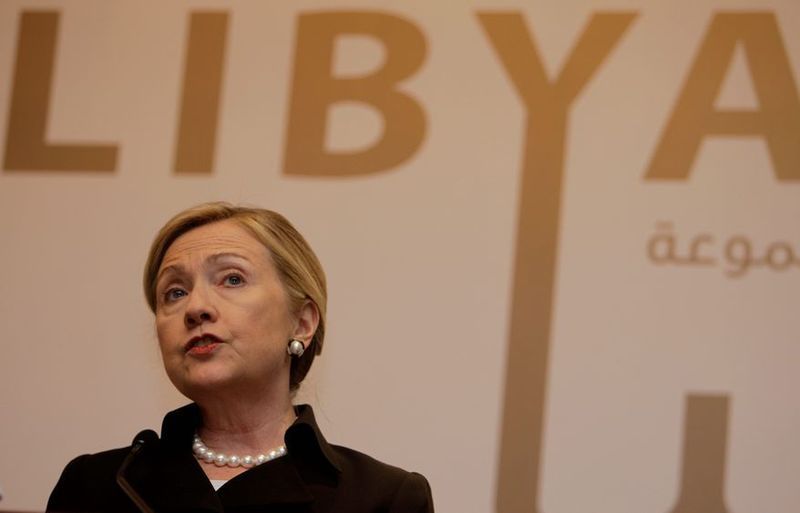 [/IMG][/URL]
The gap between Hillary Rodham Clinton's rhetoric warning of a Rwanda-like slaughter of civilians in Libya and the facts gathered by career intelligence staff is taking on significance as the former secretary of state prepares another bid for the White House and her national security credentials are re-examined. (Associated Press)

*************************************************************************************************
http://www.democraticunderground.com/discu...
bvar22:
The Untold Story in Libya:

How The West Cooked Up The People's Uprising
http://whowhatwhy.com/2011/08/31/now-that-...
... /
The Global Disaster Capitalists never let a good disaster go to waste.
In the case of Libya, they used their Enforcement Arm (NATO & The US Military) to CREATE a disaster where there was none.
" For all his dictatorial megalomania, Gaddafi is a committed pan-African - a fierce defender of African unity. Libya was not in debt to international bankers. It did not borrow cash from the International Monetary Fund for any "structural adjustment". It used oil money for social services - including the Great Man Made River project, and investment/aid to sub-Saharan countries. Its independent central bank was not manipulated by the Western financial system. All in all a very bad example for the developing world."
http://www.atimes.com/atimes/Middle_East/M...
*************************************************************************************************
Libya: Oil, Banks, Water, the United Nations, and America's Holy Crusade by Felicity Arbuthnot
Posted on April 5, 2011 by dandelionsalad
.."The country was commended: "for the progress made in the achievement of the Millennium Development Goals, namely universal primary education (and) firm commitment (to) health care." There was "praise" for "cooperation with international organizations in combating human trafficking and corruption .." and for cooperation with "the International Organization for Migration."
"Progress in enjoyment of economic and social rights, including in the areas of education, health care, poverty reduction and social welfare" with "measures taken to promote transparency", were also cited. Malaysia: "Commended the Libyan Arab Jamahiriya for being party to a significant number of international and regional human rights instruments." Promotion: "of the rights of persons with disabilities" and praise for "measures taken with regard to low income families", were cited...
.."So how does the all tie together? Libya, in March being praised by the Majority of the UN., for human rights progress across the board, to being the latest, bombarded international pariah? A nation's destruction enshrined in a UN., Resolution?
The answer lies in part with the Geneva based UN Watch.(vii) UN Watch is : "a non-governmental organization whose mandate is to monitor the performance of the United Nations." With Consultative Status to the UN Economic and Social Council, with ties to the UN Department of Public Information, "UN Watch is affiliated with the American Jewish Committee." (AJC.)"
http://dandelionsalad.wordpress.com/2011/0...
/
Interesting ..... the involvement in HR Watch of persons
whose core values include securing energy resources.
************************************************************************************************
Colonel Muammar Gaddafi died after being stabbed with a bayonet in the anus and not in a firefight as originally claimed by Libyan authorities, according to a report on the Libyan dictator's last hours.

Two Nato missiles forced the group to leave the cars and escape on foot, seeking shelter in a drainage ditch. A bodyguard hurled grenades at approaching militiamen but one grenade "hit the concrete wall and bounced back to fall between Muammar Gaddafi and Abu Bakr Younis", Younis junior said.

"The shrapnel hit my father and he fell down to the ground. Muammar Gaddafi was also injured by the grenade, on the left side of his head," he said.

New York-based Human Rights Watch said Gaddafi was already bleeding from head wounds caused by blast shrapnel as he tried to flee Sirte, his hometown.

The charity obtained unedited mobile footage that showed militia fighters abusing Gaddafi as they took him into custody in October 2011.

"As he was being led on to the main road, a militiaman stabbed him in his anus with what appears to have been a bayonet, causing another rapidly bleeding wound," the report said.

http://www.ibtimes.co.uk/gaddafi-killed-bayonet-stab-anus-libya-395224
The Grand finale
- sodomized with a bayonet, beaten, tortured and murdered in the street - "We came, we saw ....... he died, lol".
**************************************************************************************************
The campaign in Libya began with an innocent sounding UN Security Council Resolution calling for the protection of civilians. Both China and Russia abstained rather than voting to veto the resolution. Then they realized they had been tricked. In her book, Clinton describes how Russia "chafed as the NATO-led mission to protect civilians accelerated the fall of Qaddafi". In reality the NATO led mission "to protect civilians" resulted in vastly more civilian deaths than had occurred before it began.
Horace Campbel
l and
Maximilian Forte
have written two solid accounts describing the reality versus myths of regime change in Libya. Clinton's characterization of "accelerating" the fall of Qaddafi is a cynical understatement, like her self congratulatory comment that "we came, we saw, he died" after rebels killed Qaddafi on the street. Many of the refugees drowning in the Mediterannean Sea or reaching the shores of Italy today are a direct consequence of that operation. Yet who has been held to account?
Full article:
http://dissidentvoice.org/2015/09/the-wicked-war-on-syria/
************************************************************************************************
Britain, Libya and the Mediterranean - The Creation of a Humanitarian Emergency
by Dan Glazebrook / May 1st, 2015
Last week's drownings in the Mediterranean were the foreseeable, and indeed deliberate, a result of the anti-human policies of strategic violence by a dying neo-colonial empire. They were the consequence, firstly, of a series of wars of aggression that have made life intolerable across vast swathes of Africa and West Asia, and, secondly, of the fateful EU decision last November to end Italy's search-and-rescue programme, Mare Nostrum. This much has been admitted by politicians and commentators from across the entire British political establishment, from
Nigel Farage
and the
Daily Telegraph
to
David Cameron
and
Ed Miliband
. Whilst these admissions have often been tempered with caveats, denials, distortions and half-truths, the hideous reality behind them is increasingly impossible to deny.
NATO's war of aggression against Libya in 2011 turned the country over to
racist death squads
, with hundreds of sub-Saharan migrant workers and black Libyans beaten and burnt to death by the 'revolutionaries' and tens of thousands illegally detained
and tortured
by the militias. Tawergha, the only black African town on the Mediterranean, and formerly home to around 30,000 people, is
now a ghost town
after NATO's shock troops – militias with names like the 'Brigades for the purging of black skins' – 'ethnically cleansed' the region. Last week's
butchering of 30 Ethiopian workers
by ISIS is but the latest chapter in the anti-African pogroms that have characterised the Libyan insurgency from the very start. This is the reality of NATO's 'Libyan revolution' (led by AbdulHakim BelHaj, now
leader of ISIS
in Libya) and it is precisely this from which black Africans in Libya are now fleeing. As Italian Prime Minister Matteo Renzi put it, "a person has to risk his life because he needs to escape from a situation where they are chopping off the heads of those near him".
And this head-chopping has not been restricted to Libya's borders. NATO's war has boosted head-choppers across the entire region, from Tunisia and Algeria to Mali, Nigeria and Cameroon. Before 2011, Boko Haram barely existed. Today, thanks to NATO opening up Libya's arsenals to them and their friends, they are killing hundreds every week, often burning them alive in churches and mosques. As one Nigerian told a reporter last week, "We prefer to die trying (to migrate) than stay back there and die….Stay at home and get shot dead or maybe burnt to death; I just prefer to die while trying or survive."
Yet the Libyan war itself is only the latest in a long series of acts of aggression launched by the British state and its allies, all of which continue to have disastrous consequences across the entire Middle East and North Africa region. A look at the list of where the migrants come from makes this devastatingly clear. The majority of the world's refugees
come from one of three countries
: Afghanistan, Somalia and Syria. What all have in common is that they have all been subject to vicious terror campaigns by Britain, the USA and their allies: whether directly, as in Afghanistan; through allied states, as with the US-backed Ethiopian invasion of Somalia in 2006 (which toppled the first stable government the country had had in decades); or through the provision of cash, weapons and diplomatic cover to sectarian death squads, as in the case of Syria. Yemen is the latest additional source of refugees, with the Saudi bombing campaign bringing new arrivals to almost
10,000 per week
.
Full article:
http://dissidentvoice.org/2015/05/britain-libya-and-the-mediterranean/
Behind Every Refugee Stands an Arms Trader
http://dissidentvoice.org/2015/04/behind-every-refugee-stands-an-arms-trader/
**************************************************************************************************
Trapped in Libya: the flotsam of the West's wars
By Vijay Prashad
Source: al-Araby
May 14, 2015
Next week, the EU will launch work on its plan to tackle the Mediterranean migrant crisis. The EU foreign policy chief Federica Mogherini has asked the UN for help to dismantle the smuggling networks.

European ambassadors have drafted a UN resolution, under chapter VII (which allows use of force), to tackle the crisis. For them the military option is the brightest light. As Mogherini said, the EU wants the authority to "use all necessary means to seize and dispose of the [smugglers'] vessels.

"Thus far in 2015, over 60,000 people have tried to cross from Libya to Europe. Of them, close to two thousand have died – a death toll 20 times higher than in 2014," it continues.
Since 2011, Libya has been ripped apart, its social fabric torn asunder and its state structure largely absent. Nato's bombardment precipitously destroyed the state and handed over the country to warring militias.

The threat to the refugees is a direct outcome of UN Security Council Resolution 1973, ironically under the Responsibility to Protect (R2P) banner. A new UNSC resolution is not going to be about the protection of the refugees, but to use force to destroy their lifeline. R2P has been ground under by the West's behavior in Libya.
Full article:
https://zcomm.org/znetarticle/trapped-in-libya-the-flotsam-of-the-wests-wars/
On Monday, a New York Times story demonstrated more specifically why Clinton's interactions with Blumenthal may have been a bad idea. Blumenthal, the Times reports via solid sources, was advising the Secretary of State both before and after former Libyan autocrat Muammar Qaddafi's death while also advising a group of private individuals who hoped to make money by obtaining reconstruction-type contracts in a post-Qaddafi Libya.
Much of the Libya intelligence that Mr. Blumenthal passed on to Mrs. Clinton appears to have come from a group of business associates he was advising as they sought to win contracts from the Libyan transitional government. The venture, which was ultimately unsuccessful, involved other Clinton friends, a private military contractor and one former C.I.A. spy seeking to get in on the ground floor of the new Libyan economy ...
http://www.slate.com/blogs/the_slatest/2015/05/18/hillary_clinton_sidney_blumenthal_libya_unofficial_adviser_represented_business.html
The detritus of regime change in Libya
By Vijay Prashad
Source: al-Araby
November 1, 2015
.......In Iraq, parts of the deposed army and some Baath Party members linked up with al-Qaeda in Iraq, and then later the Islamic State of Iraq. It was these motivated and trained men that formed the backbone of the IS advance on Fallujah and Ramadi in 2014.

Much the same story is being repeated with the emergence of IS in Libya. Adversaries of Gaddafi in the 1990s took refuge in the Libyan Islamic Fighting Group; one of whose strongholds was the town of Derna.

These fighters fled the country to join the Jihad International in Afghanistan, Chechnya, Iraq, Yemen and Syria.

It had become a familiar matter to meet an al-Libi in the redoubts of the jihadis. Studies show that Libya provided per capita the highest number of jihadis to this global campaign.
The lesson of Iraq was not learned. It was repeated in Libya. Both countries still hang by a thread. Their people suffer painfully. They have been sacrificed to a theory that is arrogant and erroneous. It deserves a place only in the dustbin of history.
Full article:
https://zcomm.org/znetarticle/the-detritus-of-regime-change-in-libya/
Just as much a fucking sham as Iraq, with the exact same results. And on ........ to Syria.
Replies to this discussion thread
| | | | |
| --- | --- | --- | --- |
| 69 replies | Author | Time | Post |
| | DisgustipatedinCA | Sep 2015 | OP |
| | delrem | Sep 2015 | #1 |
| | truedelphi | Sep 2015 | #2 |
| | delrem | Sep 2015 | #3 |
| | Hortensis | Sep 2015 | #42 |
| | dae | Sep 2015 | #58 |
| | msongs | Sep 2015 | #5 |
| | delrem | Sep 2015 | #12 |
| | truedelphi | Sep 2015 | #18 |
| | delrem | Sep 2015 | #31 |
| | uponit7771 | Sep 2015 | #36 |
| | FlatBaroque | Sep 2015 | #40 |
| | Tierra_y_Libertad | Sep 2015 | #4 |
| | tecelote | Sep 2015 | #10 |
| | hifiguy | Sep 2015 | #61 |
| | liberal_at_heart | Sep 2015 | #6 |
| | DisgustipatedinCA | Sep 2015 | #7 |
| | FlatBaroque | Sep 2015 | #41 |
| | Kelvin Mace | Sep 2015 | #52 |
| | KoKo | Sep 2015 | #64 |
| | jfern | Sep 2015 | #8 |
| | Stevepol | Sep 2015 | #15 |
| | Martin Eden | Sep 2015 | #20 |
| | KingCharlemagne | Sep 2015 | #38 |
| | Kelvin Mace | Sep 2015 | #54 |
| | Spitfire of ATJ | Sep 2015 | #9 |
| | Skittles | Sep 2015 | #11 |
| | neverforget | Sep 2015 | #13 |
| | Major Hogwash | Sep 2015 | #14 |
| | Catherina | Sep 2015 | #21 |
| | Fawke Em | Sep 2015 | #24 |
| | Catherina | Sep 2015 | #30 |
| | delrem | Sep 2015 | #37 |
| | Major Hogwash | Sep 2015 | #35 |
| | Catherina | Sep 2015 | #51 |
| | Major Hogwash | Sep 2015 | #69 |
| | Scuba | Sep 2015 | #16 |
| | hifiguy | Sep 2015 | #62 |
| | Dems to Win | Sep 2015 | #17 |
| | nichomachus | Sep 2015 | #19 |
| | RufusTFirefly | Sep 2015 | #22 |
| | nichomachus | Sep 2015 | #25 |
| | RufusTFirefly | Sep 2015 | #26 |
| | cheapdate | Sep 2015 | #29 |
| | Vattel | Sep 2015 | #32 |
| | cheapdate | Sep 2015 | #33 |
| | hifiguy | Sep 2015 | #63 |
| | dionysus | Sep 2015 | #68 |
| | restorefreedom | Sep 2015 | #23 |
| | cheapdate | Sep 2015 | #27 |
| | jkbRN | Sep 2015 | #28 |
| | Hell Hath No Fury | Sep 2015 | #34 |
| | delrem | Sep 2015 | #39 |
| | DanTex | Sep 2015 | #43 |
| | polly7 | Sep 2015 | #44 |
| | DanTex | Sep 2015 | #45 |
| | polly7 | Sep 2015 | #46 |
| | DanTex | Sep 2015 | #47 |
| | polly7 | Sep 2015 | #48 |
| | DanTex | Sep 2015 | #50 |
| What??? | polly7 | Sep 2015 | #53 |
| | DanTex | Sep 2015 | #56 |
| | polly7 | Sep 2015 | #57 |
| | Comrade Grumpy | Sep 2015 | #59 |
| | Avalux | Sep 2015 | #49 |
| | upaloopa | Sep 2015 | #55 |
| | Comrade Grumpy | Sep 2015 | #60 |
| | hifiguy | Sep 2015 | #65 |
| | upaloopa | Sep 2015 | #67 |
| | Kelvin Mace | Sep 2015 | #66 |
Edit History
Please
login
to view edit histories.