Wed Jun 1, 2016, 09:45 PM
brooklynite (55,769 posts)
Obama Says The Democratic Nominee Will Be Clear Next Week [View all]
Huffington Post
:
ELKHART, Ind (Reuters) - President Barack Obama said on Wednesday he expected the winner of the Democratic presidential nominating race would be clear next week after Hillary Clinton and Bernie Sanders compete in races in California and New Jersey.

"I think that there has been a healthy debate in the Democratic Party, and it's almost over," Obama said during a town hall-style event broadcast by PBS.

People will "probably have a pretty good sense next week," of who the nominee will be, Obama said.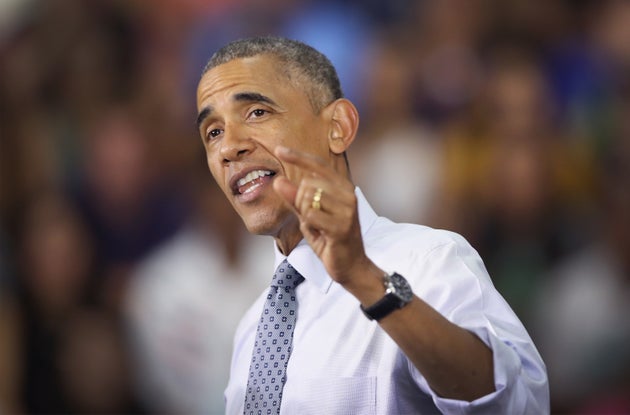 I wonder who it could be.....
108 replies, 8292 views
Replies to this discussion thread
108 replies
Author
Time
Post

Obama Says The Democratic Nominee Will Be Clear Next Week

[View all]

brooklynite
Jun 2016
OP
SFnomad
Jun 2016
#1
uponit7771
Jun 2016
#2
Skid Rogue
Jun 2016
#11
DemocratSinceBirth
Jun 2016
#26
JimDandy
Jun 2016
#37
uponit7771
Jun 2016
#50
JimDandy
Jun 2016
#55
saidsimplesimon
Jun 2016
#76
Number23
Jun 2016
#47
uponit7771
Jun 2016
#51
Renew Deal
Jun 2016
#6
Cali_Democrat
Jun 2016
#7
democrattotheend
Jun 2016
#91
Lord Magus
Jun 2016
#98
George II
Jun 2016
#63
MineralMan
Jun 2016
#65
democrattotheend
Jun 2016
#90
SFnomad
Jun 2016
#92
democrattotheend
Jun 2016
#94
SFnomad
Jun 2016
#95
BeyondGeography
Jun 2016
#3
SFnomad
Jun 2016
#4
okasha
Jun 2016
#5
Cha
Jun 2016
#27
rhett o rick
Jun 2016
#35
zappaman
Jun 2016
#45
bettyellen
Jun 2016
#48
DesertRat
Jun 2016
#66
bettyellen
Jun 2016
#74
DesertRat
Jun 2016
#77
rhett o rick
Jun 2016
#75
DesertRat
Jun 2016
#80
rhett o rick
Jun 2016
#86
zappaman
Jun 2016
#87
okasha
Jun 2016
#36
Cha
Jun 2016
#39
okasha
Jun 2016
#44
JimDandy
Jun 2016
#82
George II
Jun 2016
#62
JimDandy
Jun 2016
#84
hopemountain
Jun 2016
#34
okasha
Jun 2016
#38
hopemountain
Jun 2016
#40
okasha
Jun 2016
#43
DesertRat
Jun 2016
#67
Lil Missy
Jun 2016
#54
JimDandy
Jun 2016
#78
JimDandy
Jun 2016
#81
okasha
Jun 2016
#83
JimDandy
Jun 2016
#85
B Calm
Jun 2016
#96
hopemountain
Jun 2016
#97
Renew Deal
Jun 2016
#8
Skink
Jun 2016
#9
DemocratSinceBirth
Jun 2016
#12
bravenak
Jun 2016
#16
Maru Kitteh
Jun 2016
#22
JimDandy
Jun 2016
#61
geek tragedy
Jun 2016
#10
DemocratSinceBirth
Jun 2016
#13
geek tragedy
Jun 2016
#14
DemocratSinceBirth
Jun 2016
#15
Maru Kitteh
Jun 2016
#24
redstateblues
Jun 2016
#17
CorkySt.Clair
Jun 2016
#25
MFM008
Jun 2016
#33
geek tragedy
Jun 2016
#70
redstateblues
Jun 2016
#88
geek tragedy
Jun 2016
#89
aikoaiko
Jun 2016
#18
brooklynite
Jun 2016
#19
aikoaiko
Jun 2016
#20
Maru Kitteh
Jun 2016
#21
DesertRat
Jun 2016
#28
Maru Kitteh
Jun 2016
#30
Cheese Sandwich
Jun 2016
#23
mythology
Jun 2016
#29
Garrett78
Jun 2016
#42
JimDandy
Jun 2016
#59
Garrett78
Jun 2016
#69
anotherproletariat
Jun 2016
#31
BootinUp
Jun 2016
#32
jfern
Jun 2016
#41
bettyellen
Jun 2016
#49
jimw81
Jun 2016
#52
jfern
Jun 2016
#53
uponit7771
Jun 2016
#57
bettyellen
Jun 2016
#72
bettyellen
Jun 2016
#71
Lord Magus
Jun 2016
#100
jfern
Jun 2016
#102
Lord Magus
Jun 2016
#105
jfern
Jun 2016
#106
uponit7771
Jun 2016
#56
Lord Magus
Jun 2016
#99
jfern
Jun 2016
#101
Lord Magus
Jun 2016
#103
jfern
Jun 2016
#104
Number23
Jun 2016
#46
SidDithers
Jun 2016
#64
Vattel
Jun 2016
#58
Orsino
Jun 2016
#60
NCTraveler
Jun 2016
#68
Nonhlanhla
Jun 2016
#73
realmirage
Jun 2016
#79
DesMoinesDem
Jun 2016
#93
Skwmom
Jun 2016
#107
AzDar
Jun 2016
#108