Welcome to DU!
The truly grassroots left-of-center political community where regular people, not algorithms, drive the discussions and set the standards.
Join the community:
Create a free account
Support DU (and get rid of ads!):
Become a Star Member
233. As compared to Bill's 11 trips on the Lolita Express
Tue May 3, 2016, 04:26 AM
May 2016
The taxpayer watchdog group Judicial Watch announced Tuesday that it filed suit for the costs of U.S. Secret Service protection of former President Bill Clinton when he rode on convicted sex offender Jeffrey Epstein's private jet, dubbed the "Lolita Express."

The group filed suit after the Department of Homeland Security failed to comply with a prior Freedom of Information Act request from earlier this year.

According to news reports, the former president took several flights on the jet to the Epstein's island, and at least on one was accompanied by "4 secret service," according to a flight logbook first reported on by Gawker.com.

http://i.kinja-img.com/gawker-media/image/upload/s--8lxTGpfN--/c_fit,fl_progressive,q_80,w_636/wvoyfgwzetlpbojxt8l1.jpg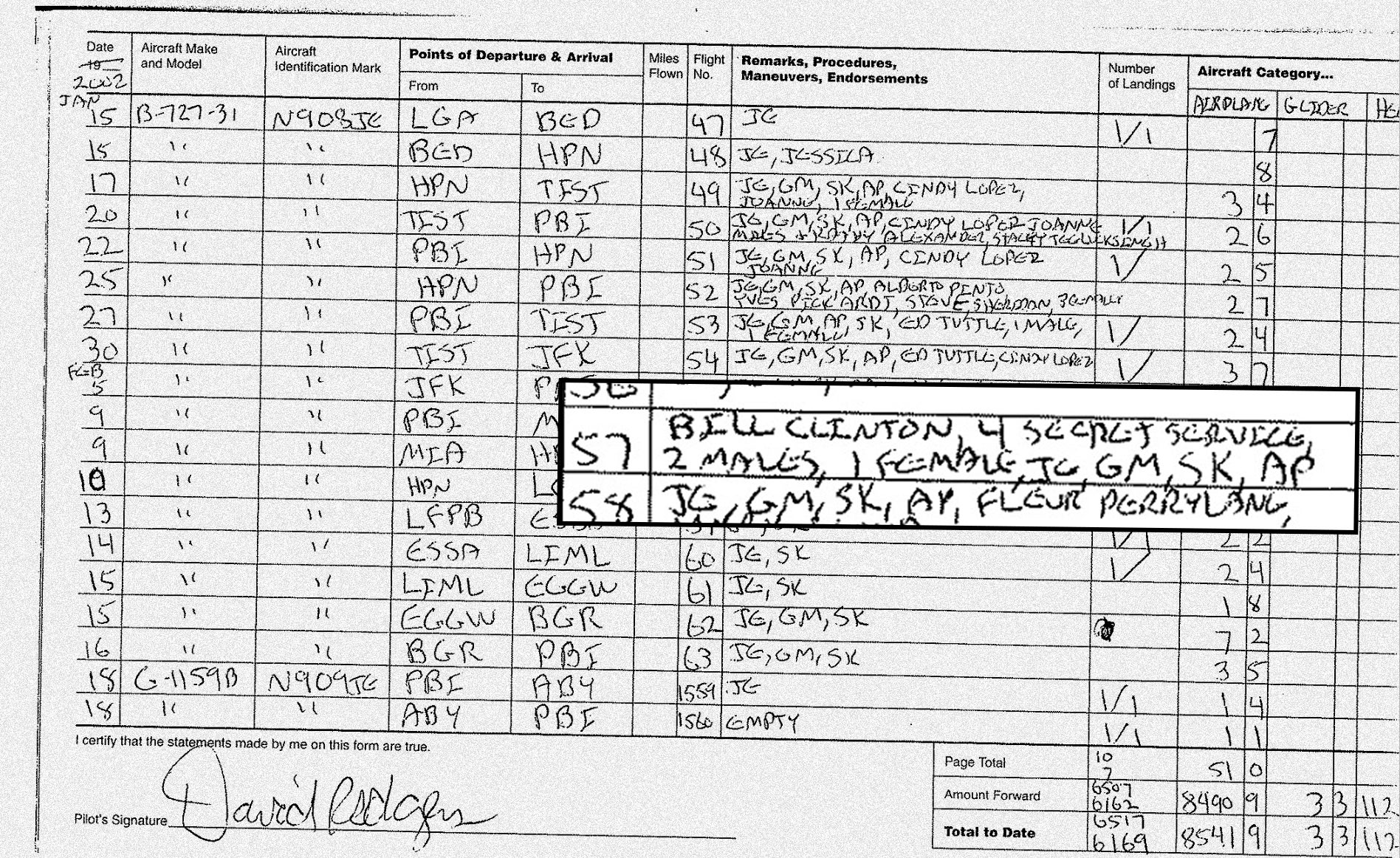 "Flight logs on pedophile Jeffrey Epstein's private jet puts Bill Clinton sharing a ride with a pornstar, as well as a woman who procured underage hookers for the billionaire."




Bill Clinton has been snared in the Jeffrey Epstein pedophile sex scandal. Flight logs from Epstein's private jet, dubbed the "Lolita Express," showed Clinton to be a frequent flyer along with a madame who allegedly hooked up Epstein with underage girls.

Clinton allegedly was on board at least a dozen flights with a woman whom federal prosecutors believe procured underage girls to sexually service Epstein and his friends, according to Gawker, which unearthed the flight logs.

Among other names unearthed in the flight logs are former Treasury Secretary and Harvard president Larry Summers, supermodel Naomi Campbell and scientist Stephen Pinker, according to Gawker.

If Clinton had sexual relations with an underage girl he could face severe penalties, even if the sex act took place outside the United States.
Photo caption: Former President Bill Clinton spent five days with Chantae Davies (inset) flying on the 'Lolita Express,' Epstein's private plane. She was described as a masseuse. (Photos: Getty/Facebook)
Edit history
Please
sign in
to view edit histories.
309 replies
= new reply since forum marked as read
Highlight:
None

Don't highlight anything
5 newest

Highlight 5 most recent replies
Recommended

Highlight replies with 5 or more recommendations