Thu May 27, 2021, 08:58 PM
Judi Lynn (149,825 posts)
Fluffy ball of darkinos could be lurking at the center of the Milky Way [View all]
By Paul Sutter - Astrophysicist about 12 hours ago
Our galaxy's black hole may be something else entirely.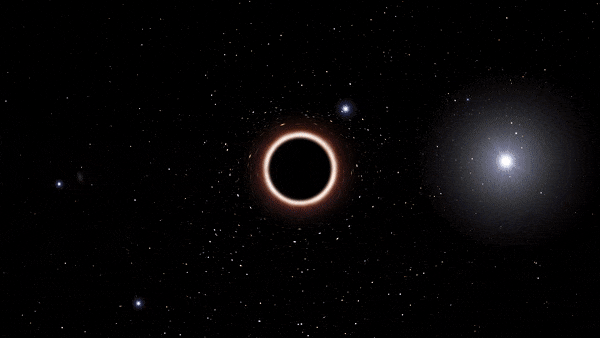 This artist's impression video shows the path of the star S2 as it passes very close to the supermassive "black hole" at the center of the Milky Way. (Image credit: ESO/M. Kornmesser)
In the summer of 2014, astronomers watched with giddy anticipation as a cloud of gas, known as G2, swung dangerously close to a supermassive black hole at the center of the Milky Way. Sparks didn't fly, nor did a feeding frenzy ensue. Instead, G2 zipped by unscathed, surviving what astronomers thought would be a near-death experience.
But black holes are big bullies, so the fact that the gravity well ignored the gassy passerby was more than surprising. It seemed impossible. Now, astronomers are saying that the supermassive black hole in the center of our galaxy is not a black hole at all, but rather a fluffy ball of dark matter. New research suggests this strange hypothesis is able to account for the "impossible" encounter as well as all observations of the galactic center — and then some.
Icarus and the black hole
Astronomers have long thought that at the very core of the Milky Way, known as Sagittarius A*, sits a supermassive black hole. Of course, they can't see the black hole itself, because it doesn't give off any light of its own. Instead, they infer its existence by watching the movements of a cluster of stars known as the S-stars. The S-stars orbit around a hidden, unseen central object, and by charting their orbits over the years, astronomers can deduce the mass and size of that central object.
The most likely candidate for that hidden central object is, of course, a black hole, with an estimated mass more than 4 million times that of the sun. But the S-stars aren't the only thing to hang around our galactic downtown. Clumps of gas also lurk there, and one in particular, dubbed G2, drew special attention. Soon after astronomers discovered the clump decades ago, they realized that the orbit of G2 would bring it perilously close to the black hole — close enough that the intense gravity of the black hole should tear that gas cloud apart.
More:
https://www.livescience.com/fluffy-ball-darkinos-center-milky-way.html
2 replies, 742 views
Replies to this discussion thread
2 replies
Author
Time
Post

Fluffy ball of darkinos could be lurking at the center of the Milky Way

[View all]

Judi Lynn
May 2021
OP
Twoflower
May 2021
#1
jeffreyi
May 2021
#2