Thu Nov 15, 2012, 10:21 AM
cbayer (146,218 posts)
The dictionary is wrong – science can be a religion too [View all]
http://www.guardian.co.uk/commentisfree/andrewbrown/2012/nov/15/dictionary-wrong-religion
Contrary to the popular definition, too many modes of belief and behaviour can function as 'religious' for it to be a simple category
Andrew Brown
guardian.co.uk, Thursday 15 November 2012 07.30 EST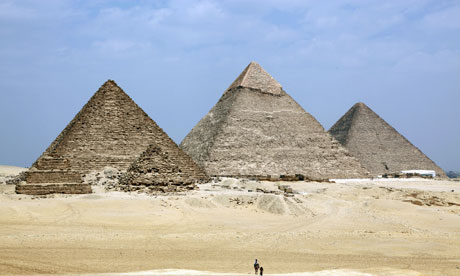 Would a hypothetical future alien race view the Great Pyramids of Giza in the same way as the Large Hadron Collider? Photograph: Paul Brown/Rex Features

John Sulston is one of the smartest men I know – well, he ought to be, as a Nobel prize winner – and last week I got him talking about religion in front of an audience for the Westminster faith interviews.
One of the things that came up in this, as so often before, was the definition of "religion". Sulston was brought up as a low church Anglican, and still feels that religion must involve God and a belief in the supernatural, and that ritual is secondary to theology.
I came up with my usual counter to this – that there are atheistic religions; that there was ritual long before there could be theology and that we ought to take scientists – even social scientists – more seriously than dictionaries. This last point because Sulston had gone to the trouble of looking up and printing out one of the OED definitions of religion, which he felt proved his point.
"Belief in or acknowledgement of some superhuman power or powers (esp a god or gods) which is typically manifested in obedience, reverence, and worship; such a belief as part of a system defining a code of living, esp as a means of achieving spiritual or material improvement."

I can see that it must be frustrating, if you have such a definition in front of you to get some slippery Durkheimian answer about religion being actually the way that society understands and defines itself. You might, if pressed, agree that Americans treat their constitution as a sacred scripture, of universal application to the world. But it doesn't seem properly supernatural.
more at link
147 replies, 19843 views
Replies to this discussion thread
147 replies
Author
Time
Post

The dictionary is wrong – science can be a religion too

[View all]

cbayer
Nov 2012
OP
cleanhippie
Nov 2012
#1
patrice
Nov 2012
#30
cleanhippie
Nov 2012
#31
patrice
Nov 2012
#36
bowens43
Nov 2012
#2
cbayer
Nov 2012
#4
patrice
Nov 2012
#14
patrice
Nov 2012
#22
Warpy
Nov 2012
#3
cbayer
Nov 2012
#5
trotsky
Nov 2012
#6
TalkingDog
Nov 2012
#15
trotsky
Nov 2012
#43
SheilaT
Nov 2012
#102
trotsky
Nov 2012
#104
SheilaT
Nov 2012
#105
trotsky
Nov 2012
#106
skepticscott
Nov 2012
#108
Warren Stupidity
Nov 2012
#147
DonCoquixote
Nov 2012
#128
skepticscott
Nov 2012
#131
DonCoquixote
Nov 2012
#140
skepticscott
Nov 2012
#141
DonCoquixote
Nov 2012
#144
trotsky
Nov 2012
#133
DonCoquixote
Nov 2012
#138
trotsky
Nov 2012
#139
patrice
Nov 2012
#18
patrice
Nov 2012
#23
rexcat
Nov 2012
#34
trotsky
Nov 2012
#44
rexcat
Nov 2012
#55
skepticscott
Nov 2012
#60
skepticscott
Nov 2012
#111
TalkingDog
Nov 2012
#9
cbayer
Nov 2012
#11
Confusious
Nov 2012
#51
skepticscott
Nov 2012
#61
skepticscott
Nov 2012
#64
trotsky
Nov 2012
#69
skepticscott
Nov 2012
#71
skepticscott
Nov 2012
#96
muriel_volestrangler
Nov 2012
#136
skepticscott
Nov 2012
#142
DetlefK
Nov 2012
#7
cbayer
Nov 2012
#8
TalkingDog
Nov 2012
#10
patrice
Nov 2012
#17
patrice
Nov 2012
#19
AlbertCat
Nov 2012
#77
bananas
Nov 2012
#99
rrneck
Nov 2012
#12
patrice
Nov 2012
#32
rrneck
Nov 2012
#37
cbayer
Nov 2012
#38
patrice
Nov 2012
#41
longship
Nov 2012
#13
cbayer
Nov 2012
#16
longship
Nov 2012
#21
cbayer
Nov 2012
#24
longship
Nov 2012
#45
cbayer
Nov 2012
#46
longship
Nov 2012
#47
cbayer
Nov 2012
#48
longship
Nov 2012
#50
Humanist_Activist
Nov 2012
#52
trotsky
Nov 2012
#59
patrice
Nov 2012
#39
longship
Nov 2012
#49
On the Road
Nov 2012
#20
patrice
Nov 2012
#25
cbayer
Nov 2012
#27
patrice
Nov 2012
#35
On the Road
Nov 2012
#62
cbayer
Nov 2012
#26
Phillip McCleod
Nov 2012
#28
cbayer
Nov 2012
#29
patrice
Nov 2012
#33
Phillip McCleod
Nov 2012
#40
patrice
Nov 2012
#42
Phillip McCleod
Nov 2012
#57
Confusious
Nov 2012
#53
TrogL
Nov 2012
#54
Phillip McCleod
Nov 2012
#56
Phillip McCleod
Nov 2012
#58
Bradical79
Nov 2012
#63
humblebum
Nov 2012
#65
TrogL
Nov 2012
#66
humblebum
Nov 2012
#67
Phillip McCleod
Nov 2012
#68
humblebum
Nov 2012
#70
skepticscott
Nov 2012
#73
cleanhippie
Nov 2012
#75
skepticscott
Nov 2012
#76
humblebum
Nov 2012
#80
skepticscott
Nov 2012
#81
humblebum
Nov 2012
#84
skepticscott
Nov 2012
#85
humblebum
Nov 2012
#88
AlbertCat
Nov 2012
#78
humblebum
Nov 2012
#79
skepticscott
Nov 2012
#82
humblebum
Nov 2012
#83
skepticscott
Nov 2012
#86
humblebum
Nov 2012
#87
skepticscott
Nov 2012
#89
humblebum
Nov 2012
#90
AlbertCat
Nov 2012
#92
humblebum
Nov 2012
#93
skepticscott
Nov 2012
#94
humblebum
Nov 2012
#95
AlbertCat
Nov 2012
#97
humblebum
Nov 2012
#98
AlbertCat
Nov 2012
#100
humblebum
Nov 2012
#101
AlbertCat
Nov 2012
#109
skepticscott
Nov 2012
#110
AlbertCat
Nov 2012
#112
humblebum
Nov 2012
#115
skepticscott
Nov 2012
#117
humblebum
Nov 2012
#121
skepticscott
Nov 2012
#116
humblebum
Nov 2012
#122
skepticscott
Nov 2012
#132
humblebum
Nov 2012
#137
humblebum
Nov 2012
#114
AlbertCat
Nov 2012
#119
humblebum
Nov 2012
#113
AlbertCat
Nov 2012
#120
humblebum
Nov 2012
#123
AlbertCat
Nov 2012
#124
humblebum
Nov 2012
#125
AlbertCat
Nov 2012
#126
humblebum
Nov 2012
#127
Humanist_Activist
Nov 2012
#72
skepticscott
Nov 2012
#74
skepticscott
Nov 2012
#118
humblebum
Nov 2012
#130
Humanist_Activist
Nov 2012
#134
humblebum
Nov 2012
#135
2ndAmForComputers
Nov 2012
#145
LeftishBrit
Nov 2012
#91
SheilaT
Nov 2012
#103
cbayer
Nov 2012
#107
DonCoquixote
Nov 2012
#129
Taverner
Nov 2012
#143
intaglio
Nov 2012
#146