Mon Jan 19, 2015, 12:19 AM
rocktivity (44,294 posts)
Pro Golfer Robert Allenby: I was abducted, robbed [View all]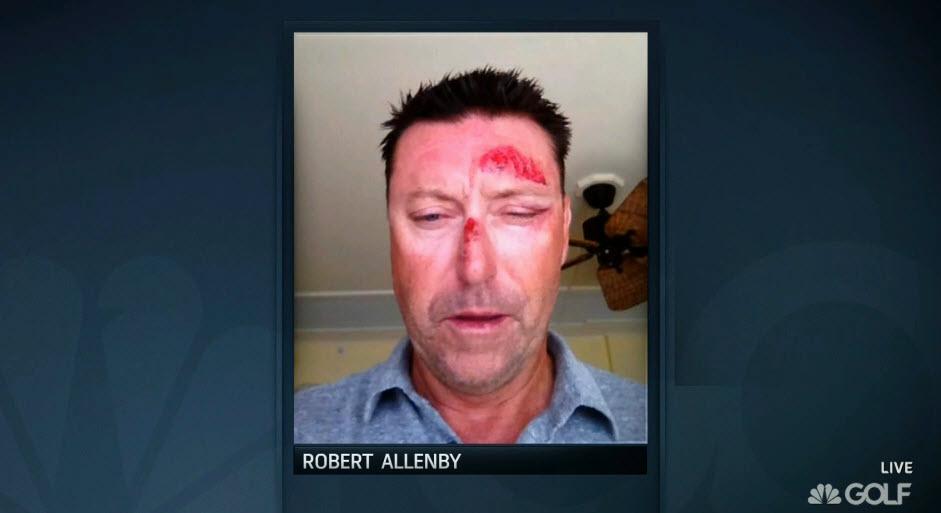 ESPN:
PGA Tour player Robert Allenby said he was kidnapped and robbed Friday night after missing the cut at the Sony Open in Hawaii...(H)e was at a wine bar in Waikiki when he was abducted at around 11 p.m. local time, placed in a car, driven 6½ miles away and robbed...Honolulu television station KHON2 said police were investigating it as second-degree robbery...
Allenby told the Australian Associated Press..."I was separated from my friend [Anthony Puntoriero] in the bar after we had paid the tab at 10:48 p.m., and he went to the bathroom and next thing you know I'm being dumped in a park miles away. I only know this part because a homeless woman found me and told me she saw a few guys pull up and throw me out of the car. That is where I got the scrapes above my eye from the sidewalk."
Michael "Mick" Middlemo, Allenby's caddie, told Australia's 9 News in a phone interview Saturday that he was also at the establishment with the golfer on Friday night, but left around 10:30..."(Allenby said he) didn't remember leaving," Middlemo told (a) TV station from a Honolulu police station..."He has no recollection of leaving that bar, which was ridiculous because I saw him 10 minutes earlier and he was fine...
None of us were (drunk)...I have no doubt that something was put in one of his drinks."
Middlemo, who was staying at a different hotel, said he didn't find out what had happened until...Saturday morning...
He misses the cut, goes to a wine bar with a friend, pays the tab, waits for his friend to make a potty stop, then lights out? If something weird had happened before he left the bar, surely it would have been noticed. How about, he was drowning his sorrows in more ways than one BECAUSE he missed the cut?
rocktivity
10 replies, 2761 views
Replies to this discussion thread
10 replies
Author
Time
Post

Pro Golfer Robert Allenby: I was abducted, robbed

[View all]

rocktivity
Jan 2015
OP
hughee99
Jan 2015
#1
rocktivity
Jan 2015
#2
RockaFowler
Jan 2015
#3
rocktivity
Jan 2015
#4
rocktivity
Jan 2015
#5
rocktivity
Jan 2015
#9
rocktivity
Jan 2015
#6
rocktivity
Jan 2015
#7
rocktivity
Jan 2015
#8
rocktivity
Feb 2015
#10