Wed Nov 30, 2022, 10:57 AM
mnhtnbb (30,854 posts)
Black Turnout in Midterms One of Low Points for Democrats [View all]
From an NY Times Subscriber Only Newsletter. Archive link to avoid the paywall
We won't get conclusive numbers on this for months, but the evidence so far raises the distinct possibility that the Black share of the electorate sank to its lowest level since 2006. It certainly did in states like Georgia and North Carolina, where authoritative data is already available.
Still, relatively low Black turnout is becoming an unmistakable trend in the post-Obama era, raising important — if yet unanswered — questions about how Democrats can revitalize the enthusiasm of their strongest group of supporters.
Is it simply a return to the pre-Obama norm? Is it yet another symptom of eroding Democratic strength among working-class voters of all races and ethnicities? Or is it a byproduct of something more specific to Black voters, like the rise of a more progressive, activist — and pessimistic — Black left that doubts whether the Democratic Party can combat white supremacy?
Georgia and North Carolina are two of the states where voters indicate their race when they register to vote, offering an unusually authoritative look at the racial composition of the electorate. In both states — along with Louisiana — the Black share of the electorate fell to its lowest levels since 2006.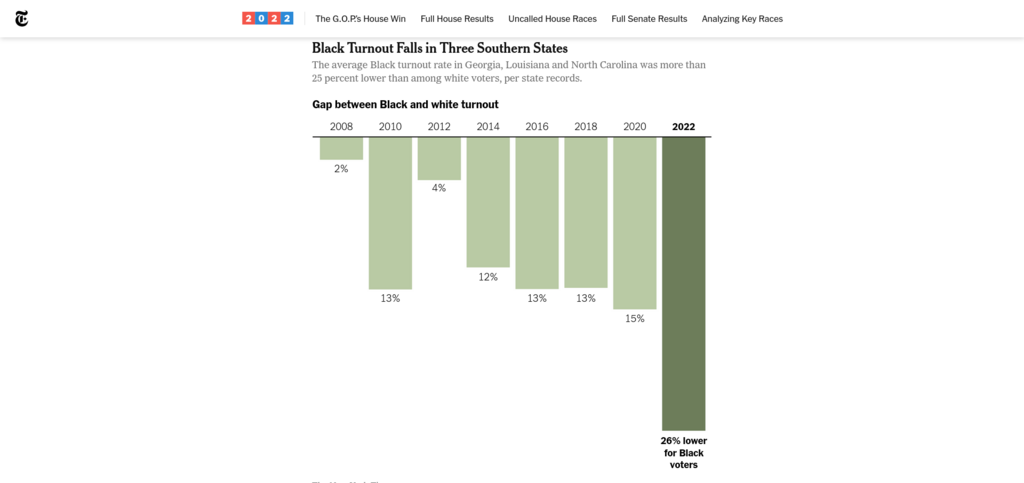 In all three states, the turnout rate among Black voters was far lower than among white voters. In North Carolina, for example, 43 percent of Black registered voters turned out, compared with 59 percent of white registered voters — roughly doubling the difference from 2018 and tripling the racial turnout gap from 2014.
Perhaps more remarkable is that Raphael Warnock, the Democratic senator from Georgia, and Ms. Beasley fared so well, even with Black voters representing such a low share of the electorate. Mr. Warnock and Ms. Beasley appear to have fared better among non-Black voters than any Democrats in recent memory in either state.
The entire article here:
https://archive.ph/wGkKk
As a senior citizen white female resident of North Carolina, I don't understand it. I thought Beasley had an excellent chance to beat her Trump supported opponent. Even without name recognition, or a charismatic personality, she had the resume and the gravitas to make an excellent Senator. I was excited to see her more than 300,000 votes ahead on Election night when the Early voting/Absentee ballot returns were coming in. That put her 150,000 votes AHEAD of where Hillary was compared to Trump in 2016 at the same point in time. I just don't understand why--when given the opportunity to elect the first Black Senator from North Carolina--the Black turnout was worse than white support for her.
The Democratic Party has to get this figured out. I had thought maybe it was an NC state thing, but apparently, this is a nationwide issue.
6 replies, 2411 views
Replies to this discussion thread
6 replies
Author
Time
Post

Black Turnout in Midterms One of Low Points for Democrats

[View all]

mnhtnbb
Nov 2022
OP
Walleye
Nov 2022
#1
Magoo48
Nov 2022
#2
mnhtnbb
Nov 2022
#3
TigressDem
Nov 2022
#4
mnhtnbb
Nov 2022
#6
Merlot
Nov 2022
#5