Thu Sep 6, 2012, 06:45 PM
gejohnston (17,120 posts)
what is an assault weapon? [View all]
and what isn't? This is a Benelli MP95e semi automatic pistol. It is commonly used in the Olympics and ISSF competitions. Since the magazine is outside the grip, it is legally an "assault weapon" in California and would be banned in many of the proposed federal laws. Ironic thing is, it can be purchased in most of Europe and Canada.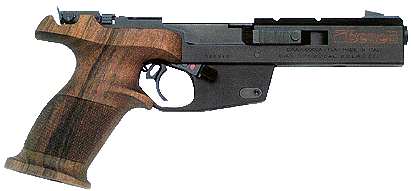 This is a Walter GSP, same thing.
How would you write a AWB? How "reasonable" and "common sense" is that?
67 replies, 10448 views
Replies to this discussion thread
67 replies
Author
Time
Post

what is an assault weapon?

[View all]

gejohnston
Sep 2012
OP
upaloopa
Sep 2012
#1
oneshooter
Sep 2012
#12
rfranklin
Sep 2012
#2
gejohnston
Sep 2012
#3
Missycim
Sep 2012
#7
holdencaufield
Sep 2012
#9
rfranklin
Sep 2012
#10
ellisonz
Sep 2012
#20
Clames
Sep 2012
#54
rfranklin
Sep 2012
#58
Clames
Sep 2012
#59
rfranklin
Sep 2012
#62
spin
Sep 2012
#19
socialindependocrat
Sep 2012
#4
oneshooter
Sep 2012
#11
Simo 1939_1940
Sep 2012
#55
slackmaster
Sep 2012
#5
gejohnston
Sep 2012
#6
slackmaster
Sep 2012
#15
ManiacJoe
Sep 2012
#8
rDigital
Sep 2012
#13
ileus
Sep 2012
#14
trouble.smith
Sep 2012
#23
ileus
Sep 2012
#27
Euromutt
Sep 2012
#16
holdencaufield
Sep 2012
#17
Reasonable_Argument
Sep 2012
#21
holdencaufield
Sep 2012
#24
Marinedem
Sep 2012
#22
Euromutt
Sep 2012
#25
gejohnston
Sep 2012
#18
JustABozoOnThisBus
Sep 2012
#26
oneshooter
Sep 2012
#29
Clames
Sep 2012
#60
littlewolf
Sep 2012
#28
SecularMotion
Sep 2012
#30
Remmah2
Sep 2012
#31
SecularMotion
Sep 2012
#32
Remmah2
Sep 2012
#35
SecularMotion
Sep 2012
#36
hack89
Sep 2012
#38
DonP
Sep 2012
#39
Remmah2
Sep 2012
#41
SecularMotion
Sep 2012
#43
hack89
Sep 2012
#44
MercutioATC
Sep 2012
#46
oneshooter
Sep 2012
#47
ManiacJoe
Sep 2012
#50
discntnt_irny_srcsm
Sep 2012
#52
PavePusher
Sep 2012
#53
discntnt_irny_srcsm
Sep 2012
#56
Dr_Scholl
Sep 2012
#49
derby378
Sep 2012
#57
Euromutt
Sep 2012
#61
gejohnston
Sep 2012
#34
SecularMotion
Sep 2012
#37
X_Digger
Sep 2012
#40
SecularMotion
Sep 2012
#42
X_Digger
Sep 2012
#45
ManiacJoe
Sep 2012
#51
Straw Man
Sep 2012
#67
Euromutt
Sep 2012
#63
SecularMotion
Sep 2012
#64
gejohnston
Sep 2012
#65
Euromutt
Sep 2012
#66
4th law of robotics
Sep 2012
#33
discntnt_irny_srcsm
Sep 2012
#48