Wed Oct 24, 2012, 12:00 AM
cpwm17 (3,829 posts)
Osama Confession Video [View all]
There's a thread in General Discussion where someone questions the authenticity of the "Osama Confession Video."
http://www.democraticunderground.com/10021587491
Some point to this picture taken from the video of Osama's conversation about his foreknowledge of 9-11:
[IMG]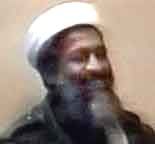 [/IMG]
That looks fat for Osama. I haven't seen any frame in the "Confession Video" where Osama looks like that. I think there are other versions of the video where Osama may look fat. Here's some evidence that the video is genuine.
They may have used a cheap subtitle editing program on the video that seems to have created a variable appearing Osama in the "Confession Video." That may be what altered the aspect ratio. But there seems to be different copies with some videos showing Osama particularly fat in parts. There are also scenes in the better videos where Osama looks perfectly like himself.
It seems to have been, at the minimum, a deliberate attempt to mislead by choosing the worst moment in the video where Osama looks the least like himself.
From same video, compared with known Osama pictures:
[IMG]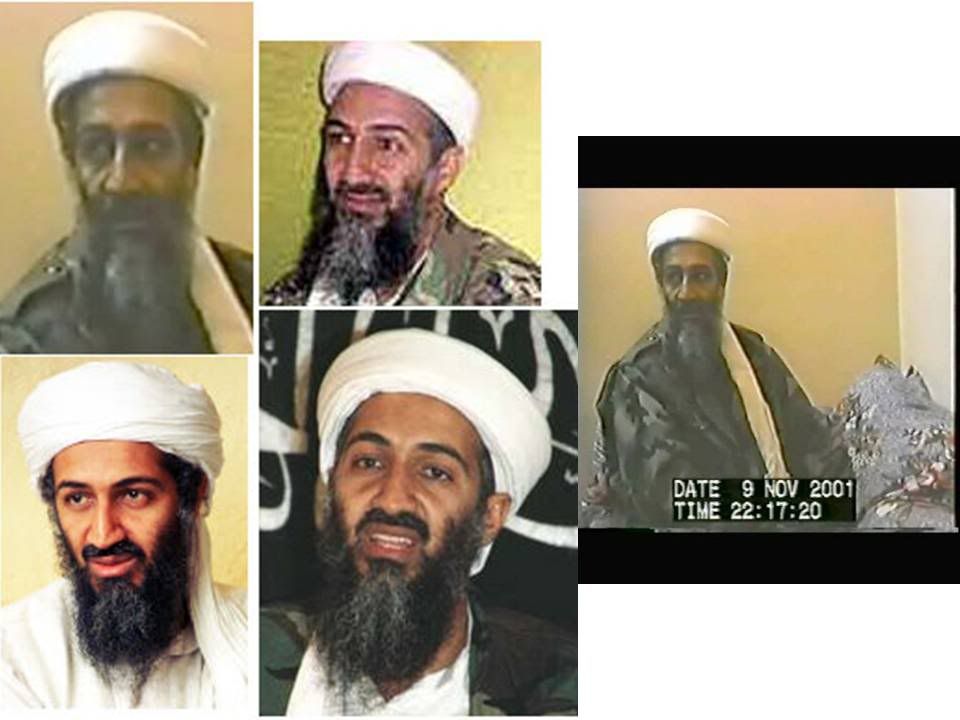 [/IMG]
That sure looks like Osama to me, and he talks about his foreknowledge of 9-11 in the video.
More info here:
http://www.911myths.com/index.php/Confession_video
97 replies, 13561 views
Replies to this discussion thread
97 replies
Author
Time
Post

Osama Confession Video

[View all]

cpwm17
Oct 2012
OP
The Doctor.
Oct 2012
#1
cpwm17
Oct 2012
#2
The Doctor.
Oct 2012
#3
cpwm17
Oct 2012
#6
The Doctor.
Oct 2012
#8
cpwm17
Oct 2012
#10
The Doctor.
Oct 2012
#11
zappaman
Oct 2012
#12
The Doctor.
Oct 2012
#13
zappaman
Oct 2012
#14
The Doctor.
Oct 2012
#41
William Seger
Oct 2012
#16
The Doctor.
Oct 2012
#19
William Seger
Oct 2012
#20
The Doctor.
Oct 2012
#22
William Seger
Oct 2012
#29
The Doctor.
Oct 2012
#31
William Seger
Oct 2012
#34
The Doctor.
Oct 2012
#37
William Seger
Oct 2012
#42
The Doctor.
Oct 2012
#47
William Seger
Oct 2012
#48
The Doctor.
Oct 2012
#51
William Seger
Oct 2012
#55
The Doctor.
Oct 2012
#65
William Seger
Oct 2012
#69
The Doctor.
Nov 2012
#74
William Seger
Nov 2012
#81
The Doctor.
Oct 2012
#9
William Seger
Oct 2012
#17
The Doctor.
Oct 2012
#18
William Seger
Oct 2012
#21
The Doctor.
Oct 2012
#23
cpwm17
Oct 2012
#24
The Doctor.
Oct 2012
#25
cpwm17
Oct 2012
#30
William Seger
Oct 2012
#27
The Doctor.
Oct 2012
#33
William Seger
Oct 2012
#35
The Doctor.
Oct 2012
#38
William Seger
Oct 2012
#43
The Doctor.
Oct 2012
#45
William Seger
Oct 2012
#49
The Doctor.
Oct 2012
#53
William Seger
Oct 2012
#56
The Doctor.
Oct 2012
#66
William Seger
Oct 2012
#72
Post removed
Nov 2012
#75
William Seger
Nov 2012
#80
Quantess
Dec 2012
#88
Frank_Norris_Lives
Dec 2012
#89
Quantess
Dec 2012
#90
Frank_Norris_Lives
Dec 2012
#91
cpwm17
Dec 2012
#93
Frank_Norris_Lives
Dec 2012
#92
William Seger
Oct 2012
#5
The Doctor.
Oct 2012
#7
William Seger
Oct 2012
#15
The Doctor.
Oct 2012
#26
William Seger
Oct 2012
#28
The Doctor.
Oct 2012
#32
William Seger
Oct 2012
#36
The Doctor.
Oct 2012
#39
William Seger
Oct 2012
#44
The Doctor.
Oct 2012
#46
William Seger
Oct 2012
#59
The Doctor.
Oct 2012
#67
Bolo Boffin
Oct 2012
#68
The Doctor.
Nov 2012
#76
William Seger
Oct 2012
#4
The Doctor.
Oct 2012
#40
cpwm17
Oct 2012
#50
The Doctor.
Oct 2012
#52
Spoopy
Oct 2012
#54
The Doctor.
Oct 2012
#58
William Seger
Oct 2012
#60
The Doctor.
Oct 2012
#64
AZCat
Oct 2012
#70
William Seger
Oct 2012
#71
The Doctor.
Nov 2012
#73
William Seger
Nov 2012
#82
cpwm17
Oct 2012
#61
The Doctor.
Nov 2012
#77
cpwm17
Nov 2012
#83
cpwm17
Oct 2012
#57
The Doctor.
Nov 2012
#79
cpwm17
Nov 2012
#85
Frank_Norris_Lives
Oct 2012
#62
cpwm17
Oct 2012
#63
The Doctor.
Nov 2012
#78
cpwm17
Nov 2012
#84
Frank_Norris_Lives
Nov 2012
#86
cpwm17
Nov 2012
#87
Spoopy
Dec 2012
#94
cpwm17
Dec 2012
#95
KDLarsen
Dec 2012
#96
cpwm17
Dec 2012
#97