Mon Jan 16, 2012, 08:43 PM
Tansy_Gold (15,606 posts)
STOCK MARKET WATCH - Tuesday, 17 January 2012 [View all]
STOCK MARKET WATCH, Tuesday, 17 January 2012
SMW for 16 January 2012
AT THE CLOSING BELL ON 13 January 2012
Dow Jones 12,422.06 -48.96 (-0.39%)
S&P 500 1,289.09 -6.41 (-0.49%)
Nasdaq 2,710.67 -14.03 (-0.51%)
10 Year 1.86% -0.02 (-1.06%)
30 Year 2.91% -0.02 (-0.68%)
Market Conditions During Trading Hours
Euro, Yen, Loonie, Silver and Gold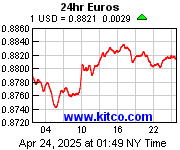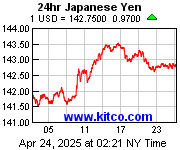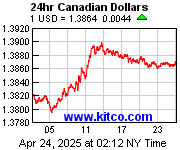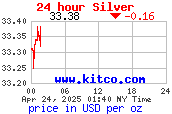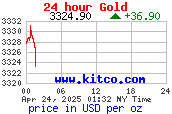 Handy Links - Market Data and News:
Economic Calendar
Marketwatch Data
Bloomberg Economic News
Yahoo Finance
Google Finance
Bank Tracker
Credit Union Tracker
Daily Job Cuts
Handy Links - Economic Blogs:
The Big Picture
Financial Sense
Calculated Risk
Naked Capitalism
Credit Writedowns
Brad DeLong
Bonddad
Atrios
goldmansachs666
The Stand-Up Economist
Handy Links - Government Issues:
LegitGov
Open Government
Earmark Database
USA spending.gov
Handy Links - Videos:
Charlie Rose talks with Roubini
Charlie Rose talks with Krugman
William Black: This Economic Disaster
Bill Moyers with Kevin Drum and David Corn
Financial Sector Officials Convicted since 1/20/09 = 12
This thread contains opinions and observations. Individuals may post their experiences, inferences and opinions on this thread. However, it should not be construed as advice. It is unethical (and probably illegal) for financial recommendations to be given here.
78 replies, 11693 views
Replies to this discussion thread
78 replies
Author
Time
Post

STOCK MARKET WATCH - Tuesday, 17 January 2012

[View all]

Tansy_Gold
Jan 2012
OP
Demeter
Jan 2012
#1
Roland99
Jan 2012
#47
Roland99
Jan 2012
#64
Demeter
Jan 2012
#2
Demeter
Jan 2012
#3
dixiegrrrrl
Jan 2012
#57
Demeter
Jan 2012
#4
jtuck004
Jan 2012
#11
newfie11
Jan 2012
#17
Demeter
Jan 2012
#18
jtuck004
Jan 2012
#68
Tansy_Gold
Jan 2012
#75
Po_d Mainiac
Jan 2012
#46
Demeter
Jan 2012
#5
Demeter
Jan 2012
#6
Demeter
Jan 2012
#7
Demeter
Jan 2012
#8
Tansy_Gold
Jan 2012
#9
dixiegrrrrl
Jan 2012
#58
xchrom
Jan 2012
#13
westerebus
Jan 2012
#10
xchrom
Jan 2012
#12
xchrom
Jan 2012
#14
xchrom
Jan 2012
#15
Ghost Dog
Jan 2012
#16
Demeter
Jan 2012
#19
DemReadingDU
Jan 2012
#30
xchrom
Jan 2012
#20
Demeter
Jan 2012
#21
Demeter
Jan 2012
#22
Demeter
Jan 2012
#23
dixiegrrrrl
Jan 2012
#59
Demeter
Jan 2012
#72
Demeter
Jan 2012
#24
Demeter
Jan 2012
#25
Demeter
Jan 2012
#26
Tansy_Gold
Jan 2012
#40
dixiegrrrrl
Jan 2012
#61
Demeter
Jan 2012
#27
Demeter
Jan 2012
#28
Demeter
Jan 2012
#34
Demeter
Jan 2012
#35
Demeter
Jan 2012
#37
Demeter
Jan 2012
#52
Demeter
Jan 2012
#38
Demeter
Jan 2012
#39
Demeter
Jan 2012
#29
Demeter
Jan 2012
#31
Demeter
Jan 2012
#32
Demeter
Jan 2012
#33
Loge23
Jan 2012
#55
Fuddnik
Jan 2012
#71
Demeter
Jan 2012
#73
Demeter
Jan 2012
#36
xchrom
Jan 2012
#41
xchrom
Jan 2012
#42
xchrom
Jan 2012
#43
xchrom
Jan 2012
#44
xchrom
Jan 2012
#45
Roland99
Jan 2012
#48
xchrom
Jan 2012
#49
DemReadingDU
Jan 2012
#50
dixiegrrrrl
Jan 2012
#62
Tansy_Gold
Jan 2012
#78
Demeter
Jan 2012
#51
dixiegrrrrl
Jan 2012
#63
Ghost Dog
Jan 2012
#66
Demeter
Jan 2012
#74
dixiegrrrrl
Jan 2012
#76
Demeter
Jan 2012
#53
Demeter
Jan 2012
#54
Ghost Dog
Jan 2012
#56
AnneD
Jan 2012
#60
Ghost Dog
Jan 2012
#67
AnneD
Jan 2012
#69
xchrom
Jan 2012
#65
Demeter
Jan 2012
#70
Tansy_Gold
Jan 2012
#77