Wed Jul 22, 2020, 01:15 PM
Judi Lynn (150,198 posts)
Mexico archaeology: Pre-Hispanic ruins found on mountaintop [View all]
6 hours ago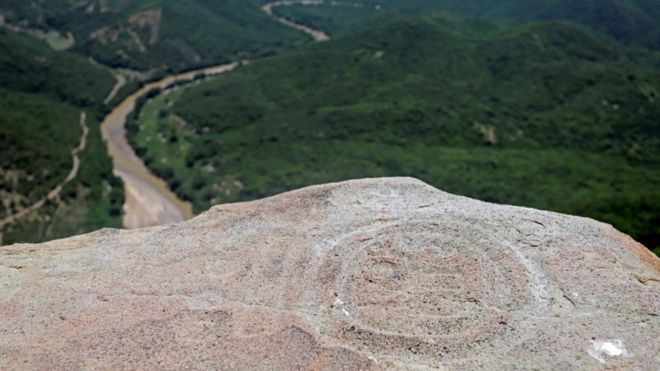 EPA
Those living at the mountaintop site had a commanding view
Two pre-Hispanic carved stone monuments believed to date back more than 1,500 years have been uncovered on a mountaintop in central Mexico.
Archaeologists say the site - which in its heyday would have had seven pyramids, a ceremonial area and a games court - was found by villagers.
It is thought to have been built by the Zapotecs, who lived in the southern highlands of what is now Mexico.
The carvings suggest it may have been dedicated to the god of the underworld.
More:
https://www.bbc.com/news/world-latin-america-53498110
Also posted in Anthropology:
https://www.democraticunderground.com/12295852
The site is at a strategic point on top of the Cerro de Peña mountain in Puebla state at a height of 1,845m (6,000ft).
More:
https://www.bbc.com/news/world-latin-america-53498110
~ ~ ~
Google translated:
Pre-Hispanic pieces of the classical period discovered in Axutla, Puebla (PHOTOS)
Posted on July 10, 2020 by MTP News
'Cerro de la Peña', located in the municipality of Axutla , almost three hours from the city of Puebla, has an archaeological site on its mountain that requires two hours of walking to enjoy.
It is about 87 glyphs, two structures and pre-Hispanic pieces that date from the classical period, that is, from the year 500 after Christ, and that until a few days ago, was only known to the inhabitants of this area of ​​the Mixteca of Puebla.
José Alfredo Arellanes, chronicler of Puebla, realizes that this mountain - Cerro de la Peña - was located a ceremonial center made up of seven pyramids and a ball game, where a mixture of Teotihuacan and Zapotec cultures settled .
Now, the idea of ​​the authorities is to detonate the area as a tourist spot at the end of the coronavirus pandemic .
The concern of the municipal president, Marco Antonio Monge, is to avoid looting of the historical pieces in which the intervention of the National Institute of Anthropology and History (INAH) is expected.
Two hours of walking to reach the 'Cerro de la Peña'
The hill where these vestiges were located is located 1,845 meters above sea level, in the community of Huehuepiaxtla , and these are the pieces that await:
The Stone of the Eagle: it has a bird with a speech virgula and under the bird, a glyph with the year sign with numeral 9, on the right side a kind of lizard engraved in the corner of the stone.
Basaltic rock stele: it has a bas-relief carving with anthropozoomorphic motifs, representing a character standing, facing, zoomorphic head, with feline claws, its legs are open, semi-flexed and its tail is suspended.
Similarly there are remains of fractured sculptures with scrolls, frets, forked tongues and chalchihuites.
https://mtpnoticias.com/destacadas/descubren-piezas-prehispanicas-del-periodo-clasico-en-axutla-puebla-fotos/
7 replies, 749 views
Replies to this discussion thread
7 replies
Author
Time
Post

Mexico archaeology: Pre-Hispanic ruins found on mountaintop

[View all]

Judi Lynn
Jul 2020
OP
niyad
Jul 2020
#1
Judi Lynn
Jul 2020
#2
jpak
Jul 2020
#3
Judi Lynn
Jul 2020
#6
jpak
Jul 2020
#7
Judi Lynn
Jul 2020
#4
Judi Lynn
Jul 2020
#5