Wed Oct 12, 2016, 12:00 AM
forest444 (5,902 posts)
Argentina commemorates centennial of swearing-in of first democratically elected president [View all]
Argentina today marks the 100th anniversary of the swearing-in of its first democratically elected leader, President
Hipólito Yrigoyen
.
The anniversary was celebrated last Thursday in a Buenos Aires rally addressed by among others writer Mempo Giardinelli, former House Speaker Leopoldo Moreau, and former President Cristina Fernández de Kirchner. The rally was organized by MNA/FORJA, a faction that broke with Yrigoyen's party, the UCR, over its decision to back the hard-right candidate Mauricio Macri in last year's election.
Macri was narrowly elected in November partly as a result, and has moved quickly -
often by decree
- to rescind the populist policies of his predecessor, Cristina Fernández de Kirchner. MNA/FORJA, led by Moreau (MNA) and former Kirchner Deputy Chief of Staff Gustavo López (FORJA), formed an alliance with fellow center-leftist Mrs. Kirchner despite her being a Peronist - the UCR's traditional political rivals since the 1940s.
Yrigoyen had co-founded the UCR, the country's oldest political party still in existence, in 1891. Historically centrist, the UCR has lurched steadily to the right since 1999.
A number of speakers at the rally compared Mrs. Kirchner's 2007-15 administration with that of Yrigoyen, whose two terms from 1916 to 1922 and from 1928 to 1930 were marked by significant strides in economic independence, labor rights, pensions, education, and living standards. Like Kirchner, Yrigoyen was opposed and even personally despised by conservative factions controlled by Argentina's small but powerful landowning clique.
These factions took advantage of the Great Depression to prevail on the Army to overthrow Yrigoyen in 1930 - ushering an era of right-wing military intervention in Argentine politics that culminated in a brutal and disastrous 1976-83 dictatorship.
"Whereas conservatives overthrew Yrigoyen and Juan Perón (the populist leader toppled in 1955) by force,
in recent years they've opted for economic coups
," Moreau noted. "They did so against Raúl Alfonsín (in 1989) and certainly tried with Cristina. They failed; but not out of a lack of trying, given the financial runs they attempted to provoke while she was in office."
About Yrigoyen
Hipólito Yrigoyen, born to a middle class Buenos Aires family in 1852, became a lawyer in 1874 and later a leading local Free Mason. He co-founded the UCR with his uncle, Leandro Alem, and other lawyers in 1891, and the UCR quickly became the most vocal advocate of electoral reform in Argentina.
The country's electoral system, dominated at the time by the landowner-controlled PAN, was popularly known as the "vote song" on account of its reliably predetermined script and outcome. Yrigoyen's efforts led to the enactment of the universal (male citizen) secret ballot in 1912 by President
Roque Sáenz Peña
, a friend of Yrigoyen's and fellow Free Mason who signed the bill into law despite his own elite background.
The introverted, melancholy Yrigoyen was elected by a 25% margin on April 2, 1916, and sworn in as president on October 12. He presided over an economic boom with 40% GDP growth in six years and a doubling of real wages from 1918 to 1922. A construction boom transformed downtown and uptown Buenos Aires into the "Paris of South America," as well as improving most other cities, as Argentines came to have the highest living standard in the region.
He had 3,000 schools built in a country of just 9 million, nationalized the universities, and established YPF - the first state oil firm in the world. Despite staunch obstructionism by the conservative-dominated Senate (whose members were selected by provincial legislatures) Yrigoyen practically introduced labor unions; pension funds; mortgages; workplace and product safety regulations; and small business/farm lending in Argentina.
He was, however, quick to remove opposition governors and was particularly intolerant of Anarchist activity, being slow to intervene in a right-wing massacre against them in 1919 and giving the Army
carte blanche
to quash a lengthy strike by sheephands in Patagonia in 1921.
Yrigoyen feuded with his successor, who led a more conservative faction of the same party; his reforms, however, were largely continued. He was overwhelmingly returned to office in 1928; but the sudden onset of the Great Depression allowed conservatives, with support from Standard Oil (
which wanted YPF dissolved
), to prevail on the Army to topple the aging leader on September 6, 1930.
Yrigoyen was detained in an island garrison for 18 months, during which his health deteriorated, and he was allowed to return to his ransacked home in February 1932. He was again detained from January to May 1933, and died that July at age 80.
At:
http://www.buenosairesherald.com/article/222684/%E2%80%98an-electoral-scam-has-taken-place%E2%80%99
[center]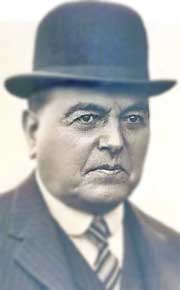 "Democracy doesn't consist simply of political freedoms; but also of the freedom for all to pursue at least some happiness."
Hipólito Yrigoyen[/center]
1 replies, 846 views
Replies to this discussion thread
1 replies
Author
Time
Post

Argentina commemorates centennial of swearing-in of first democratically elected president

[View all]

forest444
Oct 2016
OP
Judi Lynn
Oct 2016
#1