---
Response to joshcryer (Original post)
Sun Jun 23, 2013, 01:09 AM
ocpagu (1,954 posts)
4. You're again using fallacies. Disgusting lies against a country in such a critical moment.
Yes! This group you've portrayed are progressive people, most of them leftists! Take a look at your own picture. Carefully.
You see that website in the first sign?
http://www.juntos.org.br
Juntos is a NGO, who helped organize the protests. It was founded by Luciana Genro, daughter of Tarso Genro, former minister of Lula and mayor of Porto Alegre by the Workers' Party. The Free Pass Movement that originally led the protests is in great part funded by members of the Workers' Party and other parties as well. These movements have always been active in making protests in favor of the masses.
You also see in the images flags written PSTU. PSTU is the Unified Socialist Workers' Party, they defend an electoral platform that is at the left of any of the leftist governments currently in Latin America. It is at the left of the Workers' Party, and classifies itself as opposition. It doesn't have any governmental jobs, it doesn't have any space on private media, it survives of donations from its members and is very active at grass roots movements and was very active organizing the protests as well. It is a very small party, but very respected. I've never heard about a single member of them being accused of corruption, for example.
This is what they are saying at their website:
Rio de Janeiro: Neonazis attack social movements and left-wing organizations
http://www.pstu.org.br/node/19493
Would you care to research a little before making such stupid generalizations. The left-wing is being attacked by right-wing thugs and you're distorting the whole thing to make this look like Dilma - who welcomed the protests, called the movements do negotiate and propose actions that meet their demands - is the one repressing the left!
The social movements and left-wing parties that organized the protests are being expelled by thugs! People from the Landless Workers Movement were spanked! Homeless people movements! No left-wing organization is blaming Dilma for being repressed! Groups WITHIN the protesters are doing it.
Burning flags of leftist political parties and impeding their members also social movements of demonstrating because of ideological reasons like some groups among the protesters are doing, under the applause of the big media, is Fascism! ALL movements that have marched against political parties turned into totalitarian regimes. From Italy and Germany to Brazil in 1964.
Do these people who are trying to take control of the protests look like leftists to you?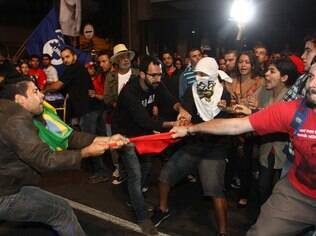 Look HOW PROGRESSIVE:
Supporters of the Unified Workers' Central attacked and expelled from protests in Rio
http://www.tribunahoje.com/noticia/67382/brasil/2013/06/20/militantes-da-cut-so-agredidos-e-expulsos-de-protesto-no-rio.html
Ciro Garcia denounces presence of neonazi groups in huge protests
http://odia.ig.com.br/noticia/rio-de-janeiro/2013-06-21/cyro-garcia-denuncia-presenca-de-grupos-neonazistas-em-megaprotesto.html
Replies to this discussion thread
| | | | |
| --- | --- | --- | --- |
| 7 replies | Author | Time | Post |
| | joshcryer | Jun 2013 | OP |
| | dipsydoodle | Jun 2013 | #1 |
| | joshcryer | Jun 2013 | #5 |
| | blkmusclmachine | Jun 2013 | #2 |
| | Arctic Dave | Jun 2013 | #3 |
| You're again using fallacies. Disgusting lies against a country in such a critical moment. | ocpagu | Jun 2013 | #4 |
| | joshcryer | Jun 2013 | #6 |
| | flamingdem | Jun 2013 | #7 |
Edit History
Please
login
to view edit histories.