Fri Mar 11, 2016, 01:00 AM
Cha (271,049 posts)
@HillaryClinton's idea of #CastroBros w/ VALUES we believe in: [View all]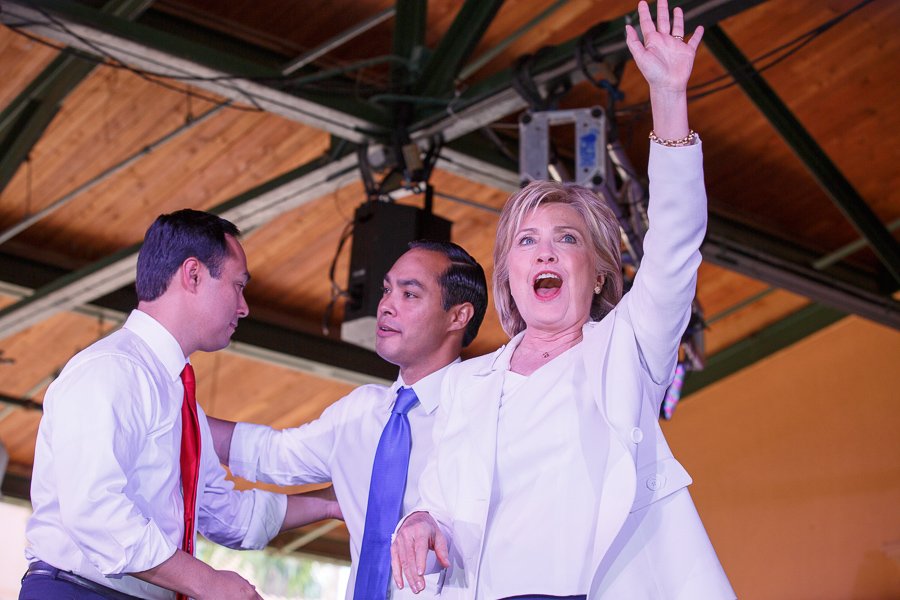 Only4RM ‎‎@Only4RM
@HillaryClinton's idea of #CastroBros w/ VALUES we believe in: @SecretaryCastro & Rep @JoaquinCastrotx! #DemDebate
7:42 PM - 9 Mar 2016
55 55 Retweets 80 80 likes
http://theobamadiary.com/2016/03/09/the-state-dinners/#comments
HUD Secretary Julián Castro Endorses Hillary Clinton
snip//
The endorsement comes the same day as a "Latinos for Hillary" rally in San Antonio, Texas, the city where Castro launched his political career and was a popular mayor until joining the Obama administration.

The Castro endorsement is significant, though not necessarily surprising. His twin brother, Congressman Joaquin Castro, recently campaigned for Clinton in Iowa.

Castro said on MSNBC that his endorsement of Clinton, despite Biden waiting in the wings, has more to do with his long relationship with the Clintons.

http://www.npr.org/sections/itsallpolitics/2015/10/15/448949248/juli-n-castro-endorses-hillary-clinton
Joaquin Castro endorses Clinton
snip//
"There's no doubt about it: Hillary is the best person to be our 45th president," Castro writes in the email.

"Hillary has always been a tireless advocate for working families — she's never ceased to make sure everybody has a fair shot at achieving the American Dream," he writes.

"Hillary's the leader I want to see moving into the White House in two years," he says.

"She hasn't announced yet that she's running in 2016, but Hillary needs to know that if she does, millions of grassroots supporters like you will be standing proudly by her side.
http://www.politico.com/story/2014/09/hillary-clinton-2016-election-endorsement-joaquin-castro-111432
So there you have it.. Hillary's Castro Brothers~
[font color=blue]
Hillary's Group~Mahalo~
37 replies, 2486 views
Replies to this discussion thread
37 replies
Author
Time
Post

@HillaryClinton's idea of #CastroBros w/ VALUES we believe in:

[View all]

Cha
Mar 2016
OP
Cha
Mar 2016
#1
Haveadream
Mar 2016
#2
Cha
Mar 2016
#6
fun n serious
Mar 2016
#3
Cha
Mar 2016
#7
fun n serious
Mar 2016
#8
Cha
Mar 2016
#11
SunSeeker
Mar 2016
#4
Cha
Mar 2016
#12
SunSeeker
Mar 2016
#15
Cha
Mar 2016
#18
UtahLib
Mar 2016
#5
Cha
Mar 2016
#13
still_one
Mar 2016
#9
Cha
Mar 2016
#14
Hekate
Mar 2016
#10
Cha
Mar 2016
#17
Her Sister
Mar 2016
#24
Cha
Mar 2016
#25
Firebrand Gary
Mar 2016
#16
Cha
Mar 2016
#21
KitSileya
Mar 2016
#19
Cha
Mar 2016
#23
Thinkingabout
Mar 2016
#20
Cha
Mar 2016
#27
Thinkingabout
Mar 2016
#29
DemonGoddess
Mar 2016
#22
Cha
Mar 2016
#32
Gothmog
Mar 2016
#26
Cha
Mar 2016
#33
mcar
Mar 2016
#28
Cha
Mar 2016
#35
George II
Mar 2016
#30
Cha
Mar 2016
#37
livetohike
Mar 2016
#31
DemonGoddess
Mar 2016
#34
SharonClark
Mar 2016
#36