Thu Jun 20, 2013, 04:46 PM
NYC_SKP (68,644 posts)
Hi BOG. A post in support of the president and his policies. [View all]
Yes, that's it, not a post about anything else, no sir!
I love that the president is doing so well and anticipate greater things as we struggle toward the midterms and, later, the 2016 season.
Keep in mind that for his policies to work we need a congress that won't be obstructionist, so be sure to put some effort toward making that happen!
Hi, BOG!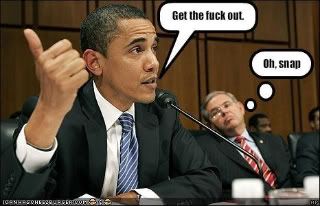 ~~~~~~~~~~~~~~~~~~~~~~~~~~~~~~~~~~~~~~~~~~~~~~~~~~~~~~
52 replies, 9961 views
Replies to this discussion thread
52 replies
Author
Time
Post

Hi BOG. A post in support of the president and his policies.

[View all]

NYC_SKP
Jun 2013
OP
Firebrand Gary
Jun 2013
#1
giftedgirl77
Jun 2013
#2
Cha
Jun 2013
#23
IrishAyes
Jun 2013
#42
Wait Wut
Jun 2013
#3
NYC_SKP
Jun 2013
#4
Wait Wut
Jun 2013
#6
Cha
Jun 2013
#24
ucrdem
Jun 2013
#5
JustAnotherGen
Jun 2013
#12
ucrdem
Jun 2013
#13
JustAnotherGen
Jun 2013
#14
ucrdem
Jun 2013
#16
ucrdem
Jun 2013
#40
IrishAyes
Jun 2013
#43
hopemountain
Jun 2013
#7
sheshe2
Jun 2013
#8
Tarheel_Dem
Jun 2013
#9
byronius
Jun 2013
#10
JustAnotherGen
Jun 2013
#11
calimary
Jun 2013
#15
greatauntoftriplets
Jun 2013
#17
Post removed
Jun 2013
#18
pkdu
Jun 2013
#20
Kolesar
Jun 2013
#34
Cha
Jun 2013
#38
Cha
Jun 2013
#25
Politicub
Jun 2013
#29
Summer Hathaway
Jun 2013
#31
IrishAyes
Jun 2013
#44
Summer Hathaway
Jun 2013
#46
IrishAyes
Jun 2013
#47
handmade34
Jun 2013
#19
BrainMann1
Jun 2013
#21
Cha
Jun 2013
#26
NYC_SKP
Jun 2013
#28
Number23
Jun 2013
#22
Politicub
Jun 2013
#27
Cha
Jun 2013
#30
NYC_SKP
Jun 2013
#33
Cha
Jun 2013
#36
Thinkingabout
Jun 2013
#32
sheshe2
Jun 2013
#35
DevonRex
Jun 2013
#37
IrishAyes
Jun 2013
#45
DevonRex
Jun 2013
#49
IrishAyes
Jun 2013
#51
grantcart
Jun 2013
#39
Hekate
Jun 2013
#41
IrishAyes
Jun 2013
#48
SunSeeker
Jun 2013
#50
Ikonoklast
Jun 2013
#52