Mon Jun 4, 2012, 01:05 PM
Scuba (53,475 posts)
Wisconsin: My predictions for tomorrow. [View all]
In the 16 months since Scott Walker was sworn in as Governor of Wisconsin, there has been a sea change here, an awakening of the decent, honest People who simply refused to allow his raping of our State continue. They may have joined the fray because of Walker's attack on collective bargaining, or his attacks on education, healthcare, women's rights or perhaps the environment. Or maybe it was the corruption that caused them to see the light.
But see the light they have. They know what this fight is about. They know that the right wing is trying to use Wisconsin as yeast for their awful infection. They're trying to dismantle democracy, and it's plain as your face.
They have made it harder to work, harder to get healthcare, harder to educate your children, harder to care for your parents.
They have made it harder to vote.
They have, with supreme arrogance, flaunted their ugliness.
While the outcome of this historic event is uncertain, I will stick my neck out on the following:
---There will some kind of election screwup in Waukesha, Washington or Outagamie County, despite the best efforts of PeaceNikki and others.
---There will be incidents of voter intimidation and ugliness in Milwaukee, and elsewhere in the State.
---Democrats will win two or more of the four State Senate seats up for grabs, giving them control of that chamber (only one win is needed).
---Tom Barrett will beat Scott Walker with a nice margin. The "free press" will be shocked. Walker will cry foul and try to tie things up as long as he can. In the end, he will be out on his ass, awaiting indictment.
Thanks to each and every one of you who has helped in large or small ways. The good People of Wisconsin appreciate your support.
Together, we are making this happen.
Scuba
(seen Friday at the Concert/Rally in Madison:
http://www.democraticunderground.com/10843061
)
[IMG]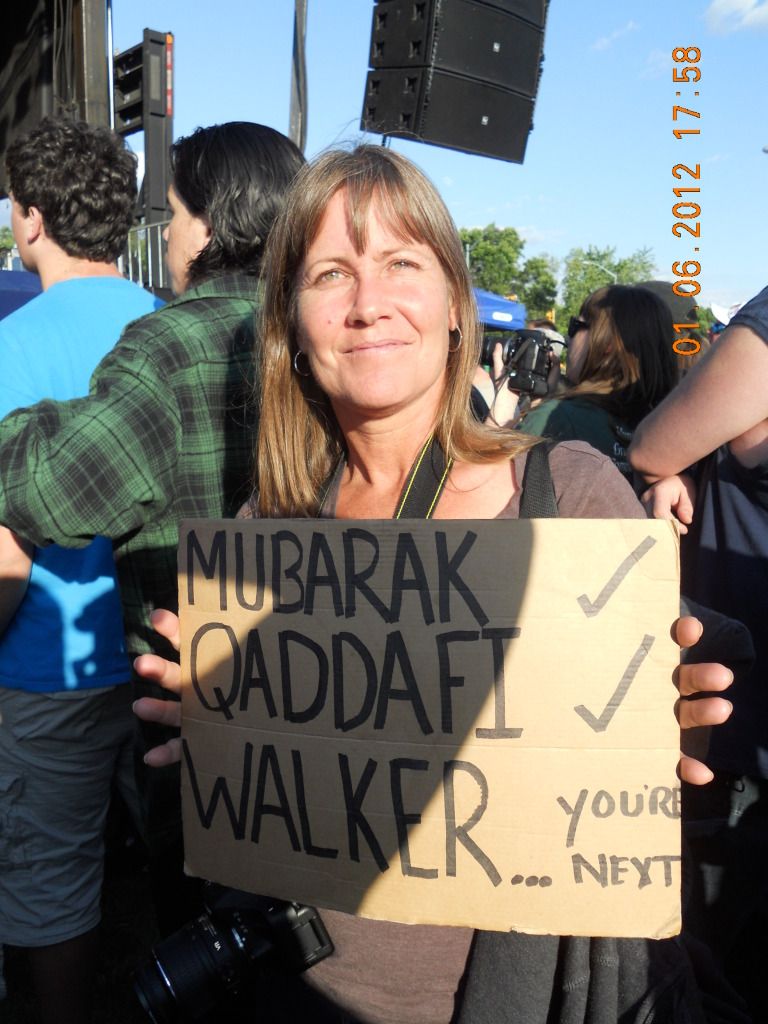 [/IMG]
53 replies, 9851 views
Replies to this discussion thread
53 replies
Author
Time
Post

Wisconsin: My predictions for tomorrow.

[View all]

Scuba
Jun 2012
OP
shcrane71
Jun 2012
#1
CrispyQ
Jun 2012
#2
Gothmog
Jun 2012
#3
madrchsod
Jun 2012
#4
Old and In the Way
Jun 2012
#5
DumbBassRepublicans
Jun 2012
#20
deutsey
Jun 2012
#38
hrmjustin
Jun 2012
#6
madashelltoo
Jun 2012
#7
berni_mccoy
Jun 2012
#8
alterfurz
Jun 2012
#9
lastlib
Jun 2012
#22
zbdent
Jun 2012
#10
Plucketeer
Jun 2012
#11
Cleita
Jun 2012
#12
abelenkpe
Jun 2012
#13
a kennedy
Jun 2012
#14
tabatha
Jun 2012
#15
PlanetBev
Jun 2012
#16
Jimbo S
Jun 2012
#30
geardaddy
Jun 2012
#17
WillParkinson
Jun 2012
#18
liberal from boston
Jun 2012
#19
lastlib
Jun 2012
#21
onlyadream
Jun 2012
#23
AllyCat
Jun 2012
#24
cleansweeper2
Jun 2012
#25
pacalo
Jun 2012
#26
bvar22
Jun 2012
#27
TxVietVet
Jun 2012
#28
progress2k12nbynd
Jun 2012
#29
Jimbo S
Jun 2012
#31
Samantha
Jun 2012
#32
Lifelong Protester
Jun 2012
#33
Iwillnevergiveup
Jun 2012
#34
Scuba
Jun 2012
#37
freshwest
Jun 2012
#35
onethatcares
Jun 2012
#36
eowyn_of_rohan
Jun 2012
#39
BlueIris
Jun 2012
#40
ewagner
Jun 2012
#41
myrna minx
Jun 2012
#42
kag
Jun 2012
#43
corkhead
Jun 2012
#44
Old Codger
Jun 2012
#45
Domingo Tavella
Jun 2012
#46
Scuba
Jun 2012
#47
Domingo Tavella
Jun 2012
#51
Scuba
Jun 2012
#52
L. Coyote
Jun 2012
#48
AllyCat
Jun 2012
#49
sonias
Jun 2012
#50
Rectangle
Jun 2012
#53