Tue Dec 13, 2011, 06:28 PM
Starry Messenger (32,230 posts)
#Dec12 West Coast Port Shut Down--Occupy Oakland [View all]
Last edited Wed Dec 14, 2011, 12:55 AM - Edit history (1)
I didn't get to go for the whole day, because I teach in the mornings over across the Bay from Oakland, but I've been trying to get to marches over there and knew I'd kick myself all year if I didn't at least get over there for even a slice of Shut Down.
I drove up from school to Millbrae Bart Station and caught the train to Oakland. I was tired from kiln loading but fortunately didn't fall asleep on the train. I was too keyed up from reading the tweets from the morning Port Shut Down, which had started before day break and had been successful.
I got off at 12 & Broadway station right in the middle of a sermon by Reverend Billy. Instantly I was hit with the scent I think of as L'Eau De Occupy, which is a combination of weed and burning sage. I looked over the wreckage of Oscar Grant plaza and my heart sank. The last two times I had been there, Occupy was a thriving village of food, good times, children at craft tents and information. Now, with the sprinklers going all over to prevent camping, it is a nasty swamp of mud and dead grass in the middle of a park. Way to go City of Oakland. If you thought Occupy was an eyesore, you really outdid them.
Next came the rally, which was incredible. The energy was amped. People kept gathering and gathering. I took some pictures of the speakers which included injured (by the tear gas shooting maniacs who call themselves law enforcement) Occupy vet Scott Olsen and Angela Davis.
The rally was MC'd by Boots Riley who is a musical artist and leftist. Since I'm an old fart I hadn't heard of him before the last Occupy shut down I went to, where I'd seen him on November 2nd. He must be part cyborg, because I've never seen anyone so tireless. He does a lot of community organizing, and I know from his Twitter posts that he has been bringing in the unions and the groups like Iraq Veterans Against the War in coalition with Occupy. He is also in a band with Tom Morello of Rage Against the Machine, called Street Sweeper Social Club. I googled him.
Good stuff, I'll post a video after this.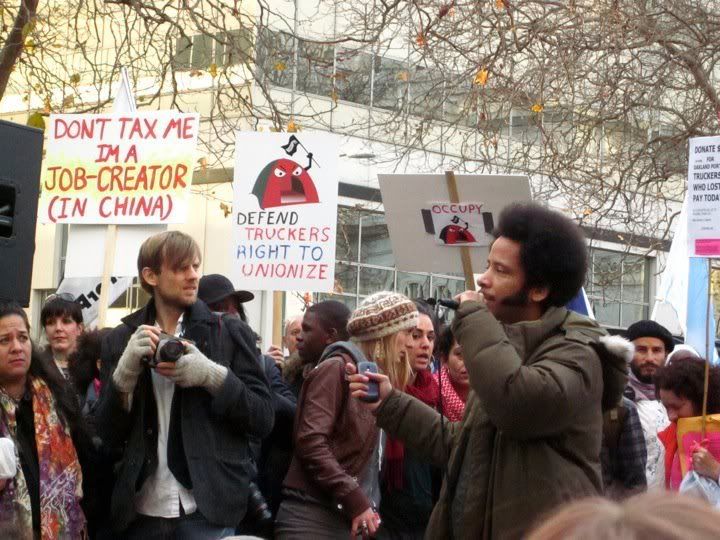 Boots Riley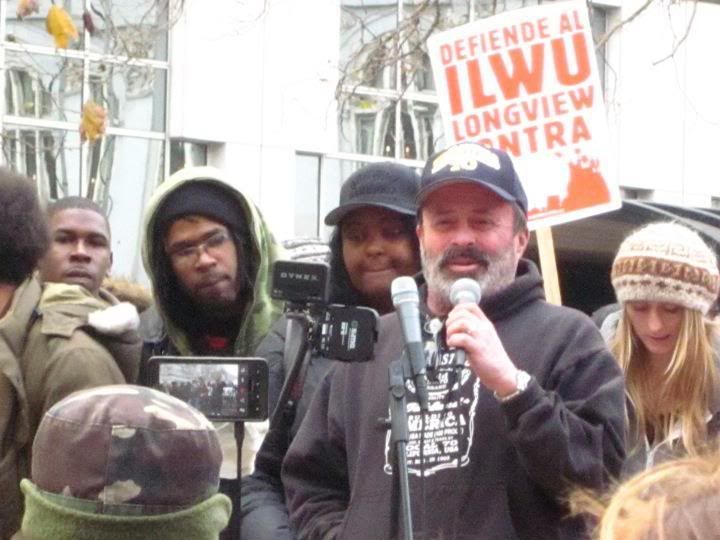 This was the Teamsters head contract negotiator, named Lou. He reported that 70 of his guys had spontaneously joined the AM picket that morning when they saw the cops being dicks to the picketers. They all parked their semitrucks right on the picket line and that was that. They stopped working in solidarity. Code Pink was taking up a collection for them, because unlike the Longshoremen, they don't get paid for the work safety picket time lost. Cal Carpenter posted an open letter from the Port Truckers here, get a read if you haven't already:
http://www.democraticunderground.com/10028251
It puts the lie to the media narrative that Occupy is a bunch of twits that are just keeping people from working. The unions are are not at all against Occupy.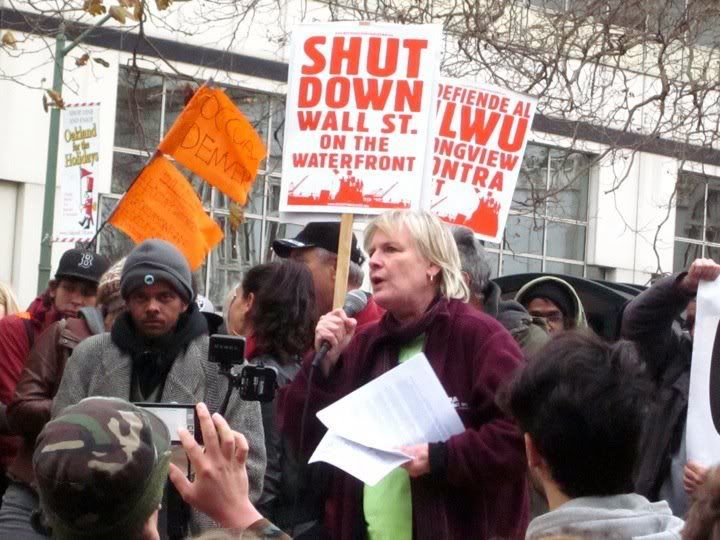 This is Betty Olsen Jones, head of the Oakland Education Association. She is anti-corporate education reform and made a speech on the connection of Occupy with learning and freedom of education. She's every left-wing teacher's dream for a union president.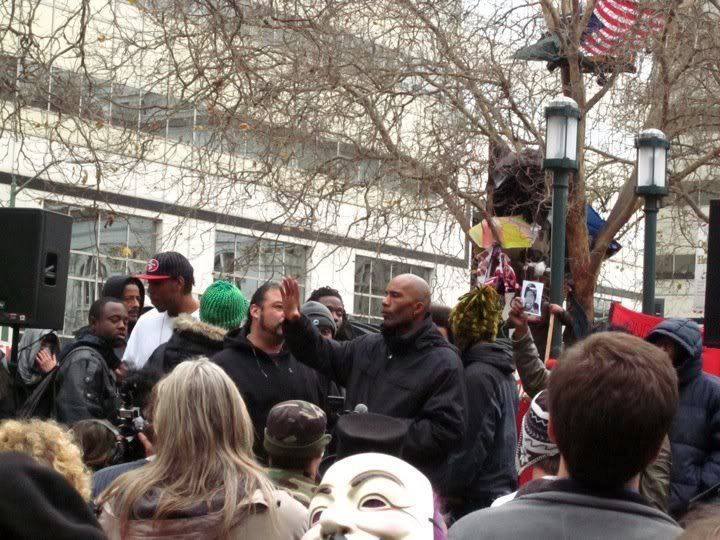 Next was Kenneth Carruthers, who was savagely beaten by Johannes Mehserle a year before Mehserle shot and killed Oscar Grant at Fruitvale BART station in Oakland. He's been fighting for the last few years to get justice for the attack that put him in the hospital. It is thought that if Mehserle had been pulled off the force after the attack on Carruthers, that Oscar Grant might still be alive today.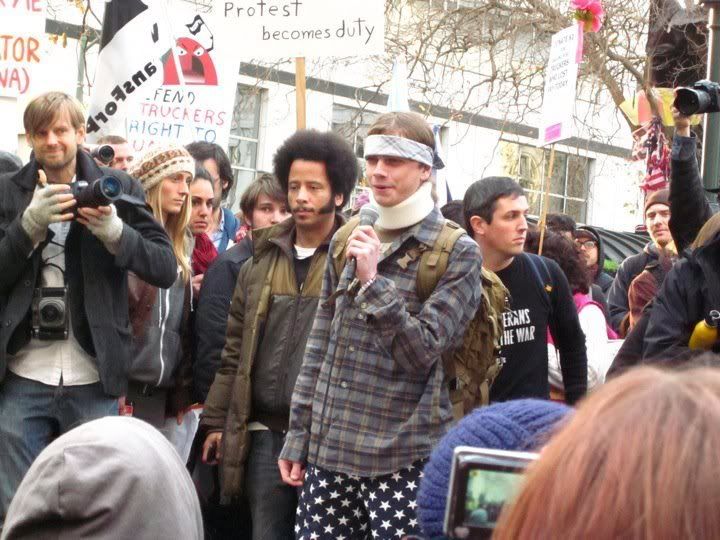 Scott Olsen of IVAW came out, his first public speaking at Occupy since the October 25th police riot that found him shot with a tear gas canister at point blank range. Police fired again on the crowd that sought to bring him medical aid. His speech centers are affected, and his words were halting and slow, but beautiful. I was in tears.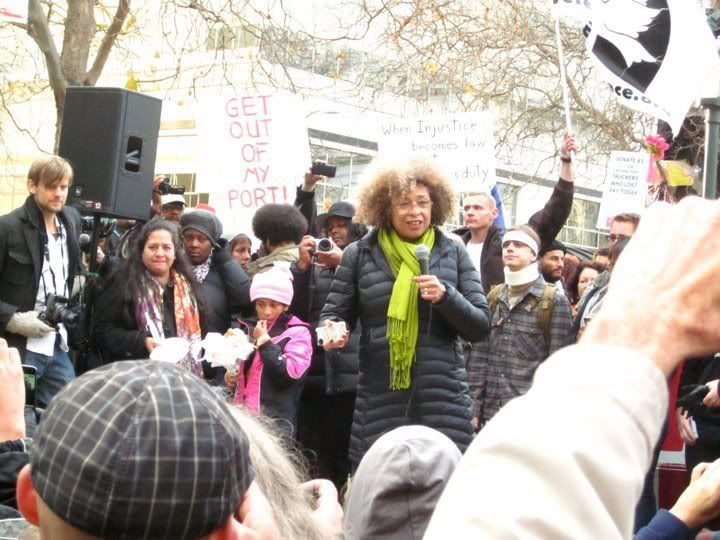 After Scott, Boots introduced Angela Davis, whom he described as "legendary" in tones of deep respect. I love her too and this was the first time I've ever seen her speaking in public. She spoke of the leading role Occupy Oakland has played in the anti-capitalist movement among the Occupy groups. She spoke about the corrosive effect of capitalism on people and public life and ended by saying that now it is time to put people before profits.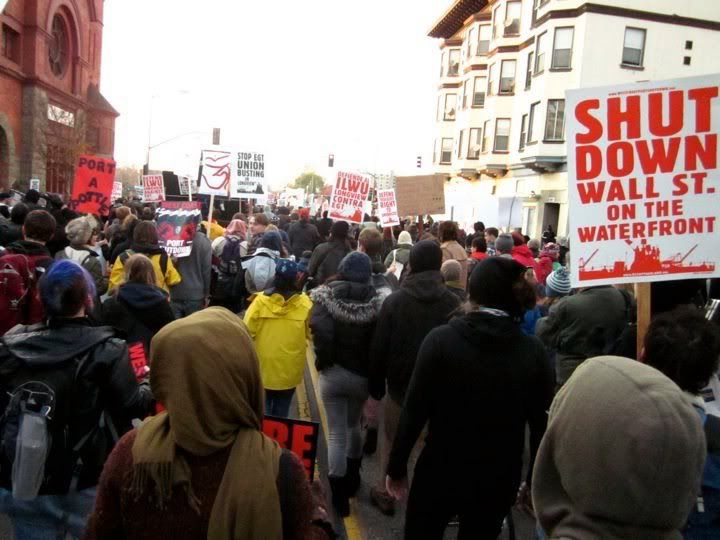 With that, after a short logistical delay, we moved from the plaza onto Broadway, ready to march on the Port. People who live in West Oakland were out on the sidewalks watching and waving and taking pictures. We were about 2000 strong and moved steadily and tight to the overpass that leads to the Port complex. It's about an hour long walk just to the Port from downtown Oakland, but it flies by when you are with a large mass like that.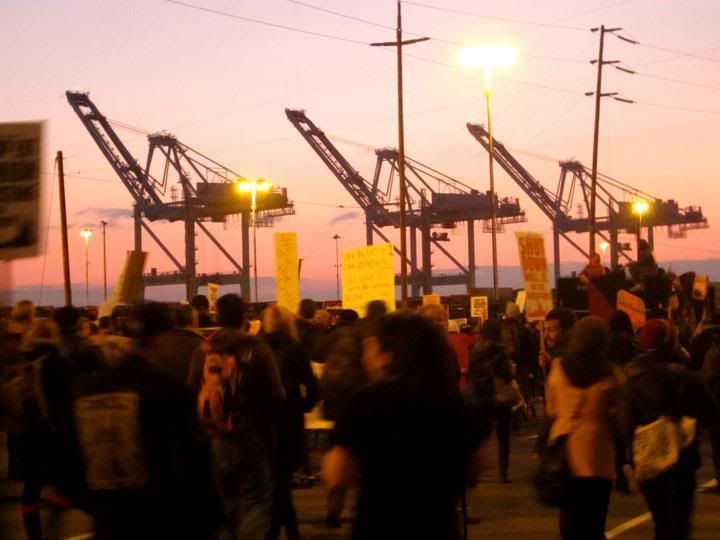 Walking past the famous Oakland Port elevators. (They were George Lucas' inspiration for the At-At's in Empire Strikes Back) It's another 30 minutes to walk the length of the Port.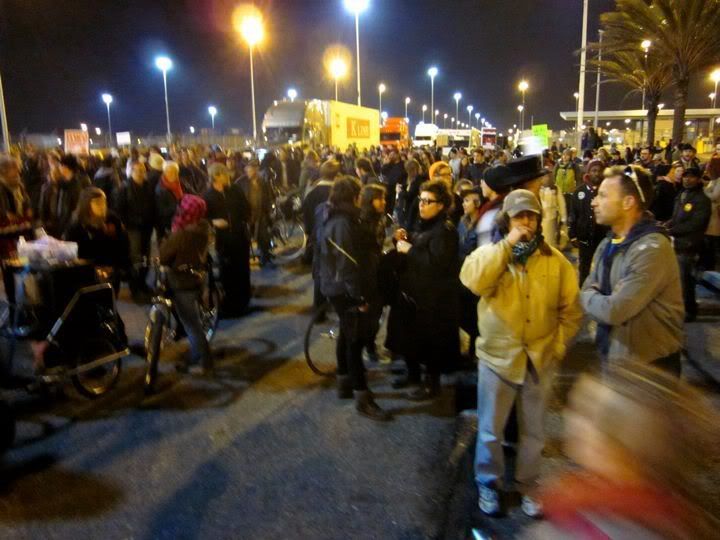 You can see the line of Teamster trucks still lined up at the Port in solidarity. They seemed like big happy bears, part of the crowd. With nightfall's arrival, everyone shone under the lines of tungsten lamps. We got to the end and the sound truck called for our attention and a mic check. The Port was shut down, they announced! There was a GA called, there was to be discussion of whether to stay to shut down the 3 am shift, which had been promised to be performed in the event of police brutality at any of the other Occupy West Coast Shut Downs. Of course, there had been, most notably in Houston, where protesters were arrested in some bizarre inflatable tent that the police covered them with while doing the arrests.
I had to leave unfortunately, since I had class again today. I would love to be out there doing more, but this was all I had time for. It was enough to be a part of the biggest Port shut down in recent history. Even Japan had participated. The power of people to organize an event like this is breathtaking and being in it, even for a small part, is hard to put into words.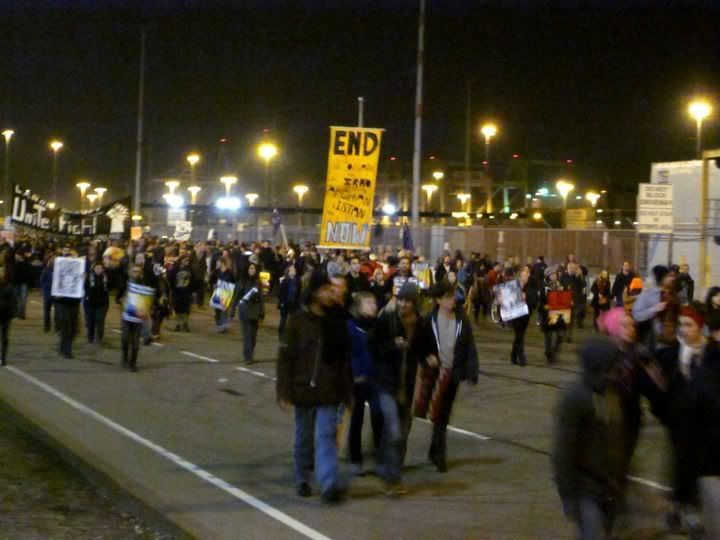 As I was leaving, I ran into the mass crowd that was meeting from their beginning point at West Oakland BART. Another 2000 people strong, they would bring the total Monday night crowd to 4000.
I've already gone on too long, but I want to add some Twitter posts by Boots Riley that shed some light on what has been going on in the much-maligned-in-the-press relationship between the Longshoreman Union, the Teamsters and Occupy.
http://twitter.com/#!/BootsRiley
Boots Riley @BootsRiley 11 Dec
Local10 has texted members- no crossin picket
w/or without police escort.Even they kno the cops arent their friends. #OWS #OccupyOakland
9:33 PM, Dec 11th via web · Details
Boots Riley Boots Riley @BootsRiley 11 Dec
@OccupyFremont @occupyoakland I just talked to the teamsters. They're not working port of oakland tomorrow.
In reply to OccupyFremont
9:30 PM, Dec 11th via web · Details
Boots Riley Boots Riley @BootsRiley 11 Dec
Teamsters who work PortOfOakland are OFFICIALLY not goin2work tomorrow in solidarity
w/the 12/12WestCoastPortShutdown! #OWS #OccupyOakland
9:10 PM, Dec 11th via web · Details
Boots Riley Boots Riley @BootsRiley 11 Dec
@UncleSkillet Their are a lot of quotes from supportive longshoremen-
they don't get printed.
In reply to C.R.
8:02 PM, Dec 11th via web · Details
Boots Riley @BootsRiley 10 Dec
ILWULocal10 sent mass text sayin4their members to NOT cross the picket line on 12/12.
They dont do that. Saw it myself. #OWS #OccupyOakland
He means they don't cross if they've been told on the QT to not cross. The letter that the union headquarters sent out is a legal CYA, but of course it is being flogged in the media like it is the real feelings of the union. It isn't. It's the ass covering that the labor laws require.
I was there on November 2nd for the last Port shut down and also "saw it myself." They were out there on the pickets in front of the Port, wreathed in smiles and talking to protesters. They know the media is not a friend of labor and talked about the real stuff that is going on with them. And ask yourself, why does the mainstream media suddenly give a shit what unions think? I somehow missed that hour of penetrating labor news every other night on TV during the year.
If you have some time, please please please take the opportunity to watch Clarence Thomas of Local 10, explain this all in better detail. This video is stellar and I'm sure you won't see any clips of it on Maddow, et. al.:
And last but not least, Street Sweeper Social Club perform "Paper Planes"
18 replies, 3811 views
Replies to this discussion thread
18 replies
Author
Time
Post

#Dec12 West Coast Port Shut Down--Occupy Oakland

[View all]

Starry Messenger
Dec 2011
OP
unapatriciated
Dec 2011
#1
PETRUS
Dec 2011
#2
LooseWilly
Dec 2011
#3
Justina For Justice
Dec 2011
#4
freshwest
Dec 2011
#5
Cal Carpenter
Dec 2011
#6
Starry Messenger
Dec 2011
#10
a simple pattern
Dec 2011
#7
TBF
Dec 2011
#8
inna
Dec 2011
#9
Luminous Animal
Dec 2011
#11
dana_b
Dec 2011
#12
socialist_n_TN
Dec 2011
#13
sabrina 1
Dec 2011
#14
Starry Messenger
Dec 2011
#16
Fantastic Anarchist
Dec 2011
#18
Zorra
Dec 2011
#15
Fantastic Anarchist
Dec 2011
#17