Sat Oct 6, 2012, 11:22 PM
Dystopian (6,421 posts)
Introducing my new friend and neighbor..Please welcome him...Lynyrd Skynyrd!(long: dial-up & pics) [View all]
Some of you may recall my heart wrenching posts about the loss of my sons dog, Bam...in May.
He was a broken man, and I still weep for him...Bam is my avatar.
Jonas was so overwhelmed with grief...said he would
maybe
think about getting another dog next year.....
Two months later I caught him on the computer ... viewing the shelter where he found Bam.
A couple days later we were in the car with my poor freaked out doggie..she panics in the car.
But all family members and pets were mandated to be at the meeting...
My son lives in the apartment over the garage...Maeve would have to like him.
All went well...Awesome! In spite of her fear, she simply tolerated him. That was good enough in the moment...
I looked at the little dog and told him his head was too big for his body and he had no ears.
Sadly, (unbeknownst to me at the time...I dont know about these things) someone had clipped them. He is about 2-3 years old, and was found traveling with a young female...less than a year old. The people at the shelter thought she must have been his daughter...She was adopted immediately.
This is their first time together and first kiss...
Now my son belongs to the little doggie..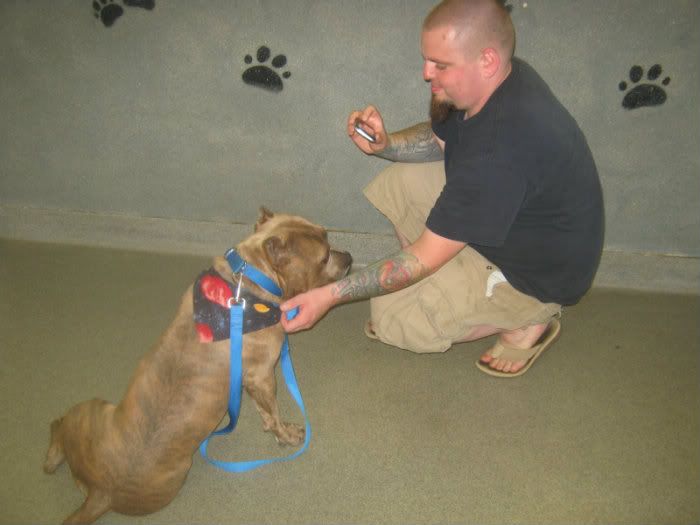 A few days later he came home. Jonas named him Lynyrd Skynyrd! He is a musician and what a funny name! Maeve and Lynyrd puppy fighting on the couch ... on day one:
He is a great pillow: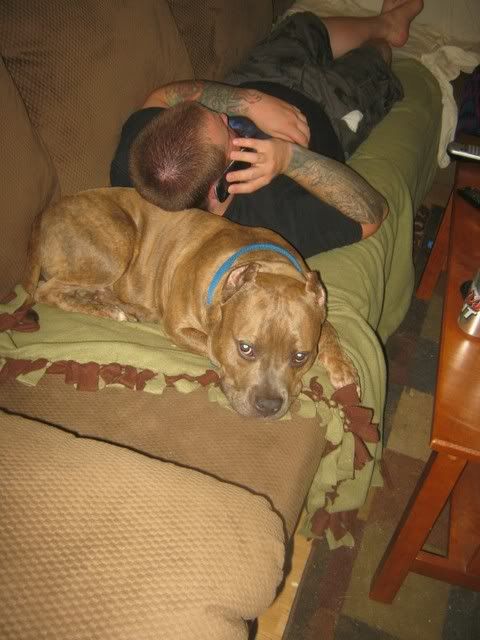 He was lying on my quilt .... I took this photo before he chewed a huge hole in it!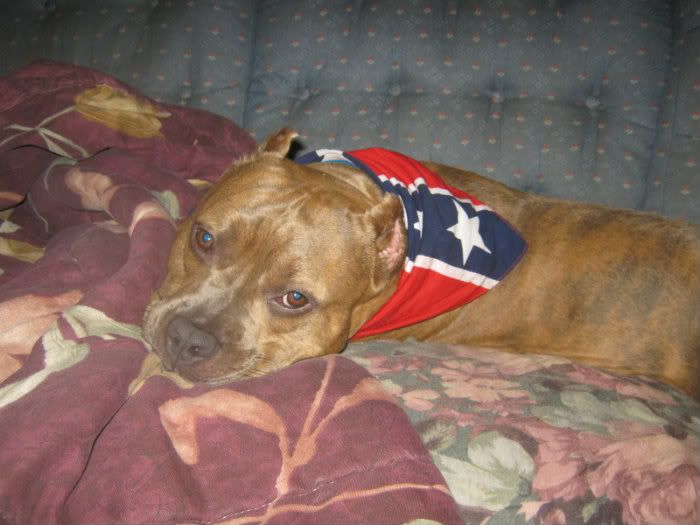 Maeve was also depressed when Bam left us...
She now has her life and spirit of a puppy...Thanks to Lynyrd.
He creates magic when going to the vet...
Everyone cracks up when the receptionist calls: Lynyrd Skynyrd?
The vet asked him... What do you say when you call for him...Freebird?
Jonas said he was still being trained, and usually comes home saying: Lynyrd, whats that smell?
Pit bull. Yes. He was immediately put on meds by the vet because of a rash.
There was major construction going on in the house and Maeve was in a panic.
One morning when Jonas was getting ready to go to work....Maeve was freaking out and I said I would give them both meds. He had an antibiotic...Maeve, a Xanax. I made a peanut butter sandwich with their meds....She was so out of it she just dropped her piece on the floor. Lynyrd, the little piggy, quickly snatched it... I, without thinking (he had just been here for a couple of weeks) grabbed the sandwich from his mouth to save him from sedation. I just took it from him ... my hand in his mouth. No problem. He did not clamp down like any other dog... He let me take it ... looked up at me with sad eyes as if to say:
Why did you do that?
I love him. He is an imp! And has destroyed shoes, my sons Slayer hat from the last concert, my quilt....Maeve is really paranoid..I must be in sight when she goes outside...But now she can be a dog again....They take off and romp in the woods...and she doesnt look back ...
Life is good.
My son is happy...I am happy...Maeve is happy...
As I think about the bulbs I will plant around his grave....I know Bam is resting in peace knowing that Jonas had the heart to rescue another...Jonas and I still tear up when we speak of him....
Thank you for reading...it was long...
peace & love to all~

41 replies, 6275 views
Replies to this discussion thread
41 replies
Author
Time
Post

Introducing my new friend and neighbor..Please welcome him...Lynyrd Skynyrd!(long: dial-up & pics)

[View all]

Dystopian
Oct 2012
OP
onehandle
Oct 2012
#1
Dystopian
Oct 2012
#8
NYC_SKP
Oct 2012
#2
Dystopian
Oct 2012
#9
BlancheSplanchnik
Oct 2012
#12
hlthe2b
Oct 2012
#3
Dystopian
Oct 2012
#10
hlthe2b
Oct 2012
#22
Kali
Oct 2012
#4
Dystopian
Oct 2012
#11
MiddleFingerMom
Oct 2012
#5
Dystopian
Oct 2012
#13
MiddleFingerMom
Oct 2012
#17
Dystopian
Oct 2012
#23
Ghost in the Machine
Oct 2012
#6
Dystopian
Oct 2012
#18
MiddleFingerMom
Oct 2012
#19
Tuesday Afternoon
Oct 2012
#7
Dystopian
Oct 2012
#24
Worried senior
Oct 2012
#14
Dystopian
Oct 2012
#25
bluesbassman
Oct 2012
#15
Dystopian
Oct 2012
#26
ismnotwasm
Oct 2012
#16
Dystopian
Oct 2012
#27
ohiosmith
Oct 2012
#20
Dystopian
Oct 2012
#28
opiate69
Oct 2012
#21
Dystopian
Oct 2012
#29
opiate69
Oct 2012
#30
Phentex
Oct 2012
#31
Dystopian
Oct 2012
#36
myrna minx
Oct 2012
#32
Dystopian
Oct 2012
#37
graywarrior
Oct 2012
#33
Dystopian
Oct 2012
#38
geardaddy
Oct 2012
#34
Dystopian
Oct 2012
#39
driver8
Oct 2012
#35
Dystopian
Oct 2012
#41
hifiguy
Oct 2012
#40