Sat Oct 6, 2012, 02:50 PM
ohiosmith (24,262 posts)
" we came here to play FOOTBALL, we ain't come to play SCHOOL" [View all]
Cardale Jones, the third-string quarterback for the Ohio State Buckeyes, doesn't understand what the heck he's doing going to classes and having to learn things at college.
"Why should we have to go to class if we came here to play FOOTBALL, we ain't come to play SCHOOL classes are POINTLESS," he tweeted.
The tweet was quickly deleted but not before several blogs and media outlets caught it.
The one shown here came via RantSports.com: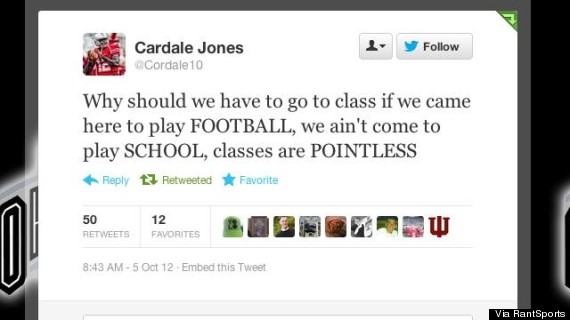 ?6
Link:
http://www.huffingtonpost.com/2012/10/05/cardale-jones-ohio-state-twitter_n_1943977.html
23 replies, 3972 views
Replies to this discussion thread
23 replies
Author
Time
Post

" we came here to play FOOTBALL, we ain't come to play SCHOOL"

[View all]

ohiosmith
Oct 2012
OP
NYC_SKP
Oct 2012
#1
ohiosmith
Oct 2012
#3
Tuesday Afternoon
Oct 2012
#2
ohiosmith
Oct 2012
#9
bluesbassman
Oct 2012
#4
ohiosmith
Oct 2012
#11
LiberalFighter
Oct 2012
#22
Dr. Strange
Oct 2012
#5
ohiosmith
Oct 2012
#12
Ptah
Oct 2012
#6
ohiosmith
Oct 2012
#13
LiberalFighter
Oct 2012
#23
GoCubsGo
Oct 2012
#7
ohiosmith
Oct 2012
#14
pipi_k
Oct 2012
#8
ohiosmith
Oct 2012
#15
trof
Oct 2012
#10
ohiosmith
Oct 2012
#17
Gidney N Cloyd
Oct 2012
#16
kurtzapril4
Oct 2012
#20
Gidney N Cloyd
Oct 2012
#21
Teamster Jeff
Oct 2012
#18
pokerfan
Oct 2012
#19