---
Response to Cha (Reply #6)
Mon Jul 1, 2013, 02:47 AM
freshwest (53,661 posts)
7. From 'Cut the Crap, a common sense look at progressive politics. Truth has a liberal bias. Use it.'
Glenn Greenwald's Anti-Obama Vendetta Continues
May 30, 2013
http://pleasecutthecrap.typepad.com/main/
Mild stuff. I'm not really mad at GG. He's just a tool. Stronger stuff here, even though this is an old story:
Koch Whores

Glenn Greenwald Of The Libertarian Cato Institute Posts His Defense Of Joshua Foust…The Exiled Responds To Greenwald
By Team eXiled, January 3, 2012
A few charges are made about the CATO Institute, which fans have no problem with because XYZ covers all objections? And even though any self-proclaimed should.
Because it was founded and has been used by the Koch brothers for their agenda to slaughter the poor and the civil rights of Americans under the glorious names of liberty and freedom. Animal Farm style.
In the next few paragraphs, GG defends himself. Good defense on drug policy but is that sufficient to give him a pass when so many others support legalization, too? Not unlike a standard liberal. Then the reply:
...Moreover, as Greenwald himself knows better than anyone, his ties to the Cato Institute and the Koch-funded libertarian nomenklatura go deeper than this. For example, Glenn Greenwald was one of the keynote speakers at an elite "Cato Benefit Sponsors" event, featuring Glenn and Cato fellow P.J. O'Rourke and winger Michael Barone. Who among progressives is invited as a top entertainer for the elite Cato Institute Benefit Sponsors event? Glenn Greenwald, that's who.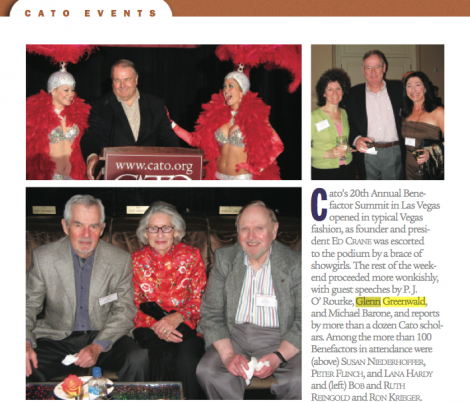 Glenn Greenwald, "freelancer," entertains more than 100 Cato Benefactors
My question is why would anyone want to spend any time with those fuckers? I wouldn't wanna be in the same zipcode. They mean me no fucking good. It's not like they put a gun up to GG's head. No, these are friends and colleagues. And it costs money to gallivant all over the world.
So who's paying the bill? We know who pays a lot of the Kochroaches. We know who pays O'Keefe and Rove and the whole swarm of ratfuckers. Certainly they have the ability to sway the masses, or they wouldn't be in the inner circle. Glib of tongue and able to fashion a tale.
Don't think they are not going to get paid for this. And why would GG stop shilling to get money to pay for his own bills? And who foots his lifestyle? It ain't pennies from heaven and it ain't magic, folks.
Okay, back to the eXiled:

But even if Greenwald's ties to the Cato Institute didn't go deeper, the idea that taking money from the Koch brothers for a one-year drug-decriminalization project shouldn't be disclosed each time Greenwald attacks progressives while defending the Kochs'/libertarians' pet projects—as when Greenwald defended Citizens United, much to progressives' confusion, or when Greenwald attacked our article in The Nation about the Koch-funded libertarians leading the anti-TSA union campaign—is plain wrong and ridiculous. Payoffs and influence-peddling usually come in more subtle forms than payments marked "BRIBE." In Russia, bankers would pay off government ministers not by giving them money earmarked "Vzyatka" but rather by giving them a "book advance" on a completely unrelated, intellectual endeavor. But even in Russia, bribery schemes like that, which clearly tie the recipient of that money to the donor of that money, led to ministers being fired. So when the Koch brothers pay for Greenwald to spend a year on a policy whitepaper, even on something as "benign" as a drug policy whitepaper, we don't see it as benign when Greenwald simultaneously protects libertarians, defends Citizens United, and attacks journalism critical of Koch-funded libertarians.

We find it disturbing that Greenwald never said a single critical word about his benefactors the Koch brothers until a Weekly Standard interview with Charles Koch in March 2011, which finally elicited a mildly critical column (by Greenwald's standards) of his Koch benefactors.
We believe that when you take money from the Koch brothers and a notorious corporate-rightwing libertarian outfit like the Cato Institute, that you should disclose your conflict-of-interest when you attack the credibility of journalists who expose Koch-linked libertarians running the TSA media hype, as we did at The Nation, or when Greenwald defends the Citizens United decision against progressives, as Greenwald did in 2010, much to progressives' confusion.
http://exiledonline.com/glenn-greenwald-of-the-libertarian-cato-institute-posts-his-defense-of-joshua-foust-the-exiled-responds-to-greenwald/
Someone is funding GG. It's not like it's never been done. It's not like they can't afford to pay an infinite variety of stooges to fuck with the minds of the public.
The Koch brothers are a bigger menace to democracy and civil rights than any past or current government program. Anyone who knows what ALEC has done to this nation, is aware that it's the Koch brothers plan.
GG supporting Citizens United supports the Koch brothers. Ratfucking Democrats supports the Koch brothers. GG supported Ron Paul and all the Paulies support Rand, who support the Koch brothers.
You know, Rand, personhood bills, end social security and all those liberal and progressive ideas. That's GG's kindred spirit. Which means GG doesn't give a fuck about me and I take it personally. As Tim Wise said in 2012:
Of Broken Clocks, Presidential Candidates, and the Confusion of Certain White Liberals

...And please, Glenn Greenwald, spare me the tired shtick about how Paul "raises important issues" that no one on the left is raising, and so even though you're not endorsing him, it is still helpful to a progressive narrative that his voice be heard. Bullshit. The stronger Paul gets the stronger Paul gets, period. And the stronger Paul gets, the stronger libertarianism gets, and thus, the Libertarian Party as a potential third party: not the Greens, mind you, but the Libertarians. And the stronger Paul gets, the stronger become those voices who worship the free market as though it were an invisible fairy godparent, capable of dispensing all good things to all comers — people like Paul Ryan, for instance, or Scott Walker. In a nation where the dominant narrative has long been anti-tax, anti-regulation, poor-people-bashing and God-bless-capitalism, it would be precisely those aspects of Paul's ideological grab bag that would become more prominent. And if you don't know that, you are a fool of such Herculean proportions as to suggest that Salon might wish to consider administering some kind of political-movement-related-cognitive skills test for its columnists, and the setting of a minimum cutoff score, below which you would, for this one stroke of asininity alone, most assuredly fall.

I mean, seriously, if "raising important issues" is all it takes to get some kind words from liberal authors, bloggers and activists, and maybe even votes from some progressives, just so as to "shake things up," then why not support David Duke? With the exception of his views on the drug war, David shares every single view of Paul's that can be considered progressive or left in orientation. Every single one. So where do you draw the line? Must one have actually donned a Klan hood and lit a cross before his handful of liberal stands prove to be insufficient? Must one actually, as Duke has been known to do, light candles on a birthday cake for Hitler on April 20, before it no longer proves adequate to want to limit the overzealous reach of the Bureau of Alcohol, Tobacco and Firearms? Exactly when does one become too much of an evil fuck even for you? Inquiring minds seriously want to know.

Meanwhile, at what point do you stop being so concerned about whether a presidential candidate is pushing the issues Paul raises (so many of which do need raising and attention), and realize what every actual leftist in history has realized, but which apparently some liberals and progressives don't: namely, that the real battles are in the streets, and in the neighborhoods, and in movement activism? It isn't a president, whether his name is Ron Paul or Barack Obama who gets good things done. It is us, demanding change and threatening to literally shut the system down (whether we mean Wall Street, the Port of Oakland, the Wisconsin state capitol, Columbia University, a Woolworth's lunch counter, or the Montgomery, Alabama bus system) who force presidents and lawmakers to bend to the public will.

In short, if you're still disappointed in Barack Obama, it's only because you never understood whose job it was to produce change in the first place. But don't take out your own failings in this regard on the rest of us, by giving ideological cover and assorted journalistic love taps to a guy who believes the poor should rely on the charitable impulses of doctors to provide for their medical needs, including, one presumes, chemotherapy; or that America was meant to be a "robustly Christian" nation, but is being currently undermined by "secularists;" or who puts the term gay rights in quotation marks when he writes it, and believes states should be free to criminalize homosexual intercourse, and who is such a homophobe that he won't even use the bathroom in a gay man's house; or who has all but said that he would like to take America back to the early 1800s, in terms of the scope of government: a truly glorious time to be sure, if you were white, male and owned property.

Ya know, like some of the liberal "thinkers" who have, as of late, decided to praise Ron Paul.
http://www.timwise.org/2012/01/of-broken-clocks-presidential-candidates-and-the-confusion-of-certain-white-liberals/
A case can be made that the powerful have associations that don't match up to their highest ideals when they get in office. They have to face the beast in the face to get things done for others. But that's not what's going on between these media figures and the Koch brothers. And you can't run from the deadly stench that comes from hopping in bed with the Koch brothers. No, that doesn't wash off.
I want the Koch brothers and their enablers in media to quit fucking with my life and those of the people I love. They stop doing it and they'll get off my shit list.
Replies to this discussion thread
| | | | |
| --- | --- | --- | --- |
| 19 replies | Author | Time | Post |
| | Galraedia | Jun 2013 | OP |
| | fascisthunter | Jun 2013 | #1 |
| | longship | Jun 2013 | #2 |
| | reusrename | Jun 2013 | #3 |
| | longship | Jun 2013 | #4 |
| | reusrename | Jul 2013 | #11 |
| | OnyxCollie | Jul 2013 | #5 |
| | Cha | Jul 2013 | #6 |
| From 'Cut the Crap, a common sense look at progressive politics. Truth has a liberal bias. Use it.' | freshwest | Jul 2013 | #7 |
| | Cha | Jul 2013 | #8 |
| | Cha | Jul 2013 | #9 |
| | Cha | Jul 2013 | #10 |
| | freshwest | Jul 2013 | #12 |
| | ucrdem | Jul 2013 | #16 |
| | freshwest | Jul 2013 | #18 |
| | sheshe2 | Jul 2013 | #13 |
| | sheshe2 | Jul 2013 | #15 |
| | freshwest | Jul 2013 | #17 |
| | sheshe2 | Jul 2013 | #19 |
| | sheshe2 | Jul 2013 | #14 |
Edit History
Please
login
to view edit histories.