Sat Feb 9, 2019, 10:02 AM
underpants (140,456 posts)
Ducks and How To Make Them Pay (literary funny) [View all]
Saw this on Facebook and had to look it up. Lots of funny creative people out there.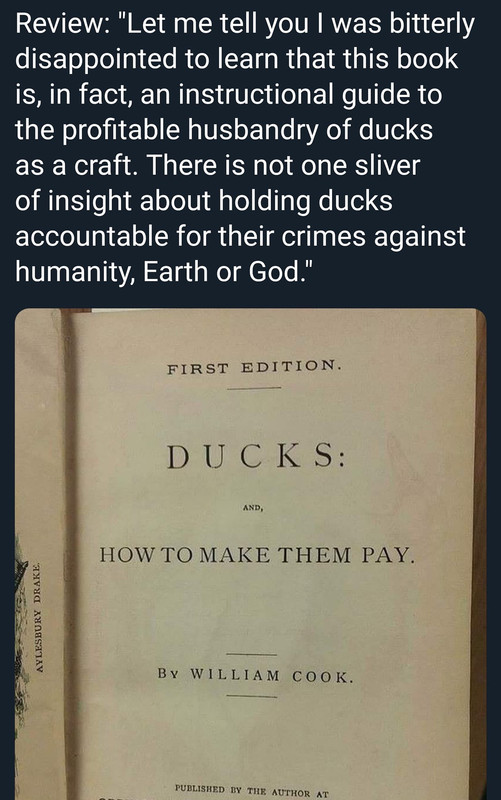 Showing 1-1 of 1 reviews
I was very excited to see this book. I've been keeping ducks in the backyard for several years and they're a lot of work - you have to keep them fed, let them out in the morning, and put them safely into a coop before dark so that predators won't get them. And for all that, they chase you around, bite your legs and toes if you go out without shoes or wearing shorts, and clamp onto your arms and leave bruises. Sometimes they even draw blood.
So I saw this book, and I thought - "here's someone who's had similar experiences with ducks as I have, and he decided to make them pay". Well, I Was sorely disappointed. I was expecting a book explaining the duck mind and how to most effectively exact revenge from them. But no, it's all about raising them as food and for money. Those ducks have been driving me crazy, and I want to make them pay!
https://www.amazon.com/Ducks-how-make-them-pay/dp/1178319296
Ducks have been terrorizing us for centuries. Their distinctive quacking noises are a disgrace, their feathers are awful, and no one has been able to fully convince me that ducks aren't taking our jobs.
William Cook, author of the seminal book Ducks: and, How To Make Them Pay had the right idea: It's clear that we must do something about ducks. Since none of us will ever read Cook's novel because it's not a listicle, here is a listicle of things we can do to lessen the immense harm that ducks cause. We will make them pay.
Make them watch the motion picture film The Mighty Ducks over and over again.
It is a well known fact that ducks hate this movie, regarding it as a misrepresentation of what they're all about. Too bad, ducks, you should have thought of that before you were TERRIBLE.
Play "Bills Bills Bills" by Destiny's Child.
Ducks are super pissed about this song, and for good reason: the terminology of this song led one particularly idiotic duck to attempt to invent "automo-bills," a new method of transportation for the duck on the go. LOL stupid ducks.
Take all the water away.
Ducks are aquatic, so this would really piss them off. We would all die of course, but it would be worth it, TBH.
Send them an invoice.
Ducks don't have any money because they suck, but it's worth a try. Deadbeats.
https://medium.com/
@kristenkarenina/ducks-and-how-to-make-them-pay-328c903bd78b
8 replies, 912 views
Replies to this discussion thread
8 replies
Author
Time
Post

Ducks and How To Make Them Pay (literary funny)

[View all]

underpants
Feb 9
OP
Dennis Donovan
Feb 9
#1
elleng
Feb 9
#2
underpants
Feb 9
#7
efhmc
Feb 9
#3
underpants
Feb 9
#6
Moral Compass
Feb 9
#4
underpants
Feb 9
#5
lambchopp59
Feb 9
#8