Thu Feb 7, 2019, 09:02 PM
underpants (140,453 posts)
Inside Wisconsin's Disastrous $4.5 Billion Deal With Foxconn (Trump-Walker-Ryan) [View all]
A huge tax break was supposed to create a manufacturing paradise, but interviews with 49 people familiar with the project depict a chaotic operation unlikely to ever employ 13,000 workers.
https://www.bloomberg.com/news/features/2019-02-06/inside-wisconsin-s-disastrous-4-5-billion-deal-with-foxconn
"This is the Eighth Wonder of the World."
So declared President Donald Trump onstage last June at a press event at Foxconn's new factory in Mount Pleasant, Wis. He was there to herald the potential of the Taiwanese manufacturing giant's expansion into cheesehead country. He'd joined Foxconn Chairman Terry Gou and then-Wisconsin Governor Scott Walker to celebrate a partnership he'd helped broker—"one of the great deals ever," Trump said. In exchange for more than $4.5 billion in government incentives, Foxconn had agreed to build a high-tech manufacturing hub on 3,000 acres of farmland south of Milwaukee and create as many as 13,000 good-paying jobs for "amazing Wisconsin workers" as early as 2022.
For some Foxconn workers watching who'd labored at the LCD TV factory for months, the president's rhetoric didn't match reality. The LCD components weren't made in the USA, according to sources familiar with the operation. They were shipped from a Foxconn factory in Tijuana. The Wisconsin plant was only handling the last steps of assembly, and some TV displays were still labeled "Made in Mexico." Pay at the factory started at about $14 an hour with no benefits, much less than the $23 average Foxconn promised. Many people weren't hired full time—the company filled positions with temps and interns from a local technical college. And five workers present for Trump's speech say some colleagues from Asia were conspicuously absent from the press event. (Foxconn says it encouraged all employees to attend, and the Mexican TV parts were for testing, not indicative of future production.)
Interviews with 49 people familiar with Foxconn's Wisconsin project, including more than a dozen current and former employees close to its efforts there, show how hollow the boosters' assurances have been all along. While Foxconn for months declined requests to interview executives, insiders describe a chaotic environment with ever-changing goals far different from what Trump and others promised. Walker and the White House declined to comment for this story, although a Trump administration official says the White House would be "disappointed" by any reduced investment. The only consistency, many of these people say, lay in how obvious it was that Wisconsin struck a weak deal. Under the terms Walker negotiated, each job at the Mount Pleasant factory is projected to cost the state at least $219,000 in tax breaks and other incentives. The good or extra-bad news, depending on your perspective, is that there probably won't be 13,000 of them.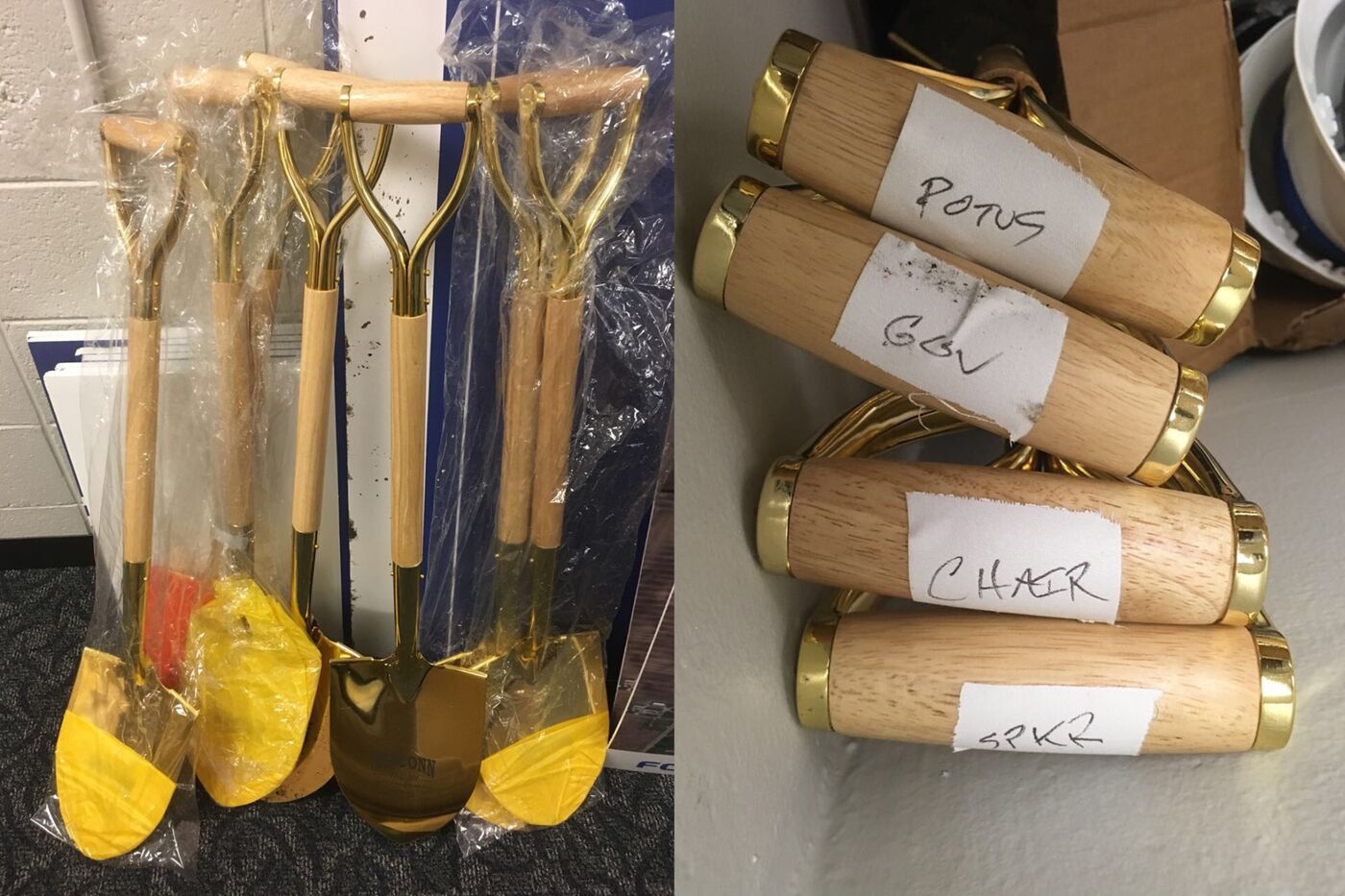 The golden shovels President Trump, Foxconn Chairman Terry Gou, then-House Speaker Paul Ryan, and then-Wisconsin Governor Scott Walker used at the company's June 2018 groundbreaking ceremony in Mount Pleasant.
Even with Walker gone, Wisconsin is unlikely to get better terms. Shortly before Evers was sworn in, the Republican-controlled legislature passed a series of rules that make it difficult for the new governor to tear up the Foxconn deal. Mount Pleasant and surrounding Racine County have invested at least $130 million in Foxconn-related expenses such as land acquisition, and the state has committed an estimated $120 million to related road improvements. In an interview, Evers says he'll push for more transparency and to hold the company to its word, but admits his powers are "significantly constrained." To some extent, Gou is trapped, too. Tying the Wisconsin factory so closely to Trump means he can't just ditch the project and risk hampering Foxconn's U.S. business.
3 replies, 771 views
Replies to this discussion thread
3 replies
Author
Time
Post

Inside Wisconsin's Disastrous $4.5 Billion Deal With Foxconn (Trump-Walker-Ryan)

[View all]

underpants
Feb 7
OP
muntrv
Feb 7
#1
bitterross
Feb 7
#2
Yo_Mama_Been_Loggin
Feb 9
#3