Thu Dec 15, 2011, 07:11 AM
Hissyspit (45,783 posts)
"We Want Your Retina?" My 37 Hours In Police Custody For Protesting Were An Eye Opener [View all]
http://www.alternet.org/occupywallst/153440/%22we_want_your_retina%22_my_37_hours_in_police_custody_for_protesting_were_an_eye_opener/?page=entire
Salon / By John Knefel
"We Want Your Retina?" My 37 Hours in Police Custody for Protesting Were an Eye Opener

Why it's important for occupiers to see the inside of the prison-industrial complex.
December 14, 2011 |
"You got press credentials?"
I barely had time to say no to the mustachioed White Shirt before he grabbed my forearm and threw me to the ground. As he brought me down I transferred my smartphone – which I had been using to document the NYPD's aggressive arrests following the impromptu celebration in the Winter Garden on Dec. 12 – to my left hand and then my pocket. The website Boing Boing posted a very dramatic photograph of me holding my glasses while police pile on top of me. I've been covering Occupy Wall Street as an independent journalist for its entirety as a radio show host, for Salon, and on the ground.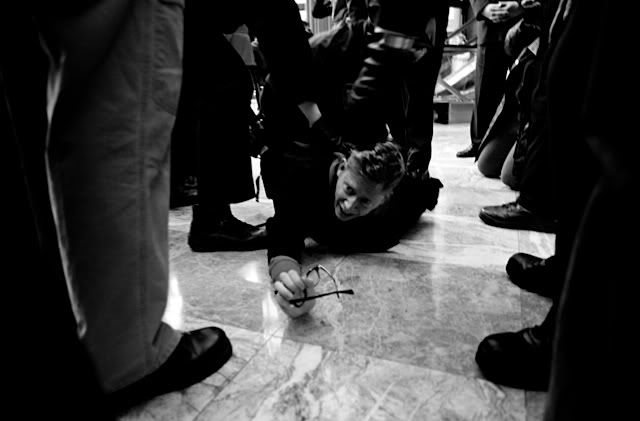 - snip -
We want your retina
When we were finally brought to the final holding area for our arraignment we were informed that if we refused to submit to a retina scan we would likely be held overnight. The retina scan is a voluntary procedure that all 10 of us had already denied earlier that day. According to our lawyers from the National Lawyers Guild – who are heroes – the lieutenant on duty and the judge said that if we continued to refuse the scans we wouldn't get out that night. With only a few exceptions due to personal commitments, we all stood in solidarity and refused to submit to the procedure. This was around 11 p.m. on Tuesday, roughly 36 hours after our arrest. Several of the women arrested and a majority of the men were going to spend another night in prison to protest the ever expanding security state. In many ways, this final hurdle was the most egregious encroachment on our liberties. The retinal scan is a voluntary procedure, but if you don't submit to it, you will be punished.
MORE AT LINK
23 replies, 8691 views
Replies to this discussion thread
23 replies
Author
Time
Post

"We Want Your Retina?" My 37 Hours In Police Custody For Protesting Were An Eye Opener

[View all]

Hissyspit
Dec 2011
OP
Justice wanted
Dec 2011
#1
unionworks
Dec 2011
#2
rfranklin
Dec 2011
#3
SpiralHawk
Dec 2011
#4
Manifestor_of_Light
Dec 2011
#5
sakabatou
Dec 2011
#21
pmorlan1
Dec 2011
#6
ProfessionalLeftist
Dec 2011
#7
progressoid
Dec 2011
#8
Remember Me
Dec 2011
#23
Warren Stupidity
Dec 2011
#9
Bo
Dec 2011
#19
DirkGently
Dec 2011
#10
lonestarnot
Dec 2011
#11
eyewall
Dec 2011
#12
UnrepentantLiberal
Dec 2011
#13
Bozita
Dec 2011
#14
wakemewhenitsover
Dec 2011
#16
caseymoz
Dec 2011
#15
Shining Jack
Dec 2011
#17
JDPriestly
Dec 2011
#18
hack89
Dec 2011
#20
Dawson Leery
Dec 2011
#22