Sun Apr 19, 2015, 08:52 AM
MinM (2,650 posts)
Dodd and Dulles vs. Kennedy in Africa [View all]
Here's a 16-year old piece from a now defunct magazine ..
Dodd and Dulles vs. Kennedy in Africa
During Kennedy's six years in the House, 1947-1952, he concentrated on domestic affairs, bread and butter issues that helped his middle class Massachusetts constituents. As
Henry Gonzalez
noted in his blurb for Donald Gibson's
Battling Wall Street
, he met Kennedy at a housing conference in 1951 and got the impression that young Kennedy was genuinely interested in the role that government could play in helping most Americans. But when Kennedy, his father, and his advisers decided to run for the upper house in 1952, they knew that young Jack would have to educate himself in the field of foreign affairs and gain a higher cosmopolitan profile. After all, he was running against that effete, urbane, Boston Brahmin
Henry Cabot Lodge
. So Kennedy decided to take two seven-week-long trips. The first was to Europe. The second was a little unusual in that his itinerary consisted of places like the Middle East, India, and Indochina. (While in India, he made the acquaintance of Prime Minister Nehru who would end up being a lifelong friend and adviser.) ...
Enter Thomas Dodd
At this point, another figure emerged in opposition to Kennedy and his Congo policy. Clearly, Kennedy's new Congo policy had been a break from Eisenhower's. It ran contra to the covert policy that Dulles and Devlin had fashioned. To replace the Eisenhower-Nixon political line, the Belgian government, through the offices of public relations man Michael Struelens, created a new political counterweight to Kennedy. He was Senator Thomas Dodd of Connecticut. As Mahoney notes, Dodd began to schedule hearings in the senate on the "loss" of the Congo to communism, a preposterous notion considering who was really running the Congo in 1961. Dodd also wrote to Kennedy's United Nations ambassador Adlai Stevenson that the State Department's "blind ambition" to back the UN in Katanga could only end in tragedy. He then released the letter to the press before Stevenson ever got it.
One of the allies that Dodd had in his defense of the Katanga "freedom fighters", was the urbane, supposedly independent journalist William F. Buckley. As
Kwitny
wittily notes, Buckley saw the spirit of Edmund Burke in the face of Moise Tshombe. Dodd was a not infrequent guest on Buckley's television show which was then syndicated by Metromedia. Buckley's supposed "independence" was brought into question two decades ago by the exposure of his employment by the CIA. But newly declassified documents by the Assassination Records Review Board go even further in this regard. When House Select Committee investigator Dan Hardway was going through Howard Hunt's Office of Security file, he discovered an interesting vein of documents concerning Buckley. First, Buckley was not a CIA "agent" per se. He was actually a CIA officer who was stationed for at least a part of his term in Mexico City. Second, and dependent on Buckley's fictional "agent" status, it appears that both Hunt and Buckley tried to disguise Buckley's real status to make it appear that Buckley worked for and under Hunt when it now appears that both men were actually upper level types. Third, when Buckley "left" the Agency to start the rightwing journal National Review, his professional relationship with propaganda expert Hunt continued. These documents reveal that some reviews and articles for that journal were actually written by Hunt, e. g. a review of the book The Invisible Government.
In other words, the CIA was using Buckley's journal as a propaganda outlet. This does much to explain that journal's, and Buckley's, stand on many controversial issues, including the Congo crisis and the Kennedy assassination. It also helps to explain the Republican William F. Buckley allying himself with Democrat Tom Dodd in defending the Katanga "freedom-fighters." ...
http://www.ctka.net/pr199-africa.html
Although this article is worthwhile on it's own merits it has gained new relevance and context given a couple of stories that came out this weekend.
One about the former director of the CIA (Allen W Dulles) quashing a 'scoop' that the Miami Herald was ready to run that may have averted the
Bay of Pigs
..
@MiamiHerald
· CIA stopped Miami Herald scoop on Bay of Pigs invasion
http://hrld.us/1DgoF3y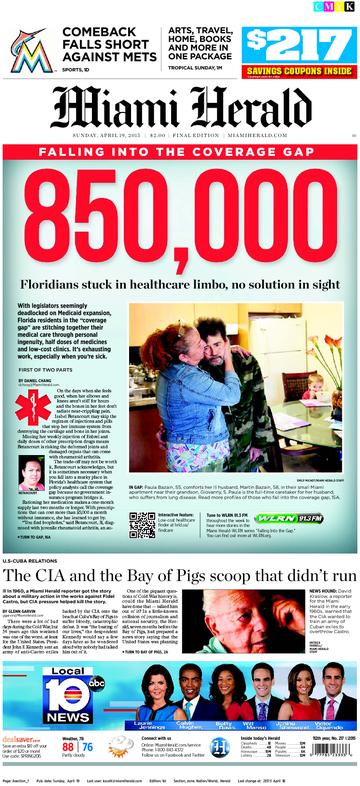 The other pertains to Senator Thomas Dodd's son (Sen Chris Dodd) stemming from Wikileaks' release of the hacked Sony docs as reflected in these DU threads:
FORMER DEM SENATOR CHRIS DODD ADVISED EXECS TO GIVE TO GOP: "FUNDRAISING DOES HAVE AN IMPACT"
REVEALED: Ex-Sen. Chris Dodd HELPED 'Liberal Hollywood' RAISE MONEY FOR THE GOP
5 replies, 1569 views
Replies to this discussion thread
5 replies
Author
Time
Post

Dodd and Dulles vs. Kennedy in Africa

[View all]

MinM
Apr 2015
OP
Octafish
Apr 2015
#1
MinM
Apr 2015
#2
swilton
Apr 2015
#3
MinM
Apr 2015
#4
MinM
Mar 2016
#5