Sat Mar 23, 2013, 01:33 AM
bananas (27,505 posts)
Armed Buddhists, including monks, clash with Muslims in Myanmar [View all]
Source:
CNN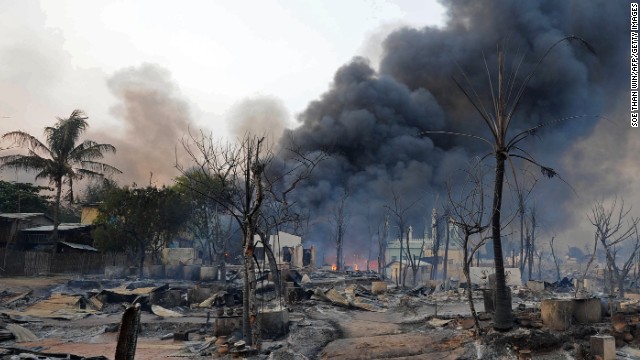 Buddhist monks and others armed with swords and machetes Friday stalked the streets of a city in central Myanmar, where sectarian violence that has left about 20 people dead has begun to spread to other areas, according to local officials.
Members of the Buddhist and Muslim communities in Meiktila township have clashed this week after a dispute between a Muslim gold shop owner and two Buddhist sellers Wednesday ignited simmering communal tensions.
Rioters have set fire to houses, schools and mosques, prompting thousands of residents to flee their homes amid unrest that had echoes of sectarian troubles that killed scores of people in western Myanmar last year.
<snip>
Read more:
http://edition.cnn.com/2013/03/22/world/asia/myanmar-clashes/?hpt=hp_t1
38 replies, 8852 views
Replies to this discussion thread
38 replies
Author
Time
Post

Armed Buddhists, including monks, clash with Muslims in Myanmar

[View all]

bananas
Mar 2013
OP
Lint Head
Mar 2013
#1
DavidG
Mar 2013
#2
jberryhill
Mar 2013
#5
HiPointDem
Mar 2013
#12
defacto7
Mar 2013
#6
ZombieHorde
Mar 2013
#8
gordianot
Mar 2013
#17
Posteritatis
Mar 2013
#25
Ken Burch
Mar 2013
#3
christx30
Mar 2013
#16
geek tragedy
Mar 2013
#18
Jackpine Radical
Mar 2013
#26
Ken Burch
Mar 2013
#29
SylviaD
Mar 2013
#30
jberryhill
Mar 2013
#4
renate
Mar 2013
#7
ZombieHorde
Mar 2013
#9
renate
Mar 2013
#10
ZombieHorde
Mar 2013
#11
HiPointDem
Mar 2013
#13
defacto7
Mar 2013
#32
UnrepentantLiberal
Mar 2013
#14
HiPointDem
Mar 2013
#15
modestybl
Mar 2013
#19
AsahinaKimi
Mar 2013
#20
a la izquierda
Mar 2013
#22
AsahinaKimi
Mar 2013
#23
a la izquierda
Mar 2013
#24
AsahinaKimi
Mar 2013
#28
freshwest
Mar 2013
#36
defacto7
Mar 2013
#34
Violet_Crumble
Mar 2013
#35
TM99
Mar 2013
#37
WHEN CRABS ROAR
Mar 2013
#21
hrmjustin
Mar 2013
#27
cosmicone
Mar 2013
#31
Violet_Crumble
Mar 2013
#33
cosmicone
Mar 2013
#38