Tue Feb 5, 2013, 02:57 PM
backtoblue (2,233 posts)
An asteroid is coming, and scientists are excited. Fear not, Earth is safe [View all]
Source:
CNN
(CNN) -- Look out for Asteroid 2012 DA14.
It is heading toward Earth at 17,450 miles per hour, according to NASA, and the tug of our planet's gravitational field will cause it to accelerate when it gets here.
But it's not going to strike us, when it passes by on February 15. NASA is adamant about this.
"Its orbit is very well-known," said Dr. Don Yeomans, NASA specialist for near-Earth objects. "We know exactly where it's going to go, and it cannot hit the Earth."
But it will give the Blue Planet the closest shave by any object its size in known history, Yeomans said. Gravity will cause it to fly a curved path, tugging it closer to Earth's surface than most GPS or television satellites.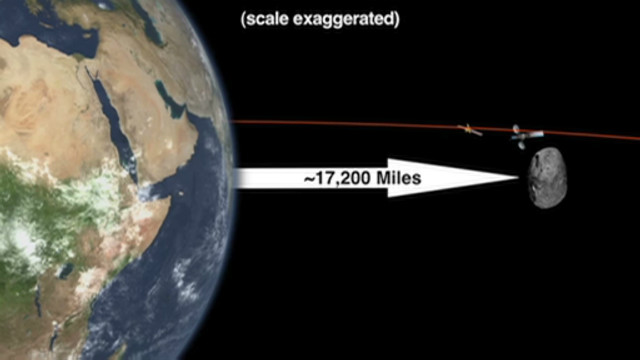 The Number: Hazardous asteroids
While the asteroid is moving at a good clip, space rockets have to accelerate to an even higher speed to escape Earth's gravity and make it into space. Though 2012 DA14 will be flying more slowly, its trajectory will keep it from falling to Earth.
Read more:
http://www.cnn.com/2013/02/05/world/space-asteroid/index.html?hpt=hp_c3
36 replies, 6314 views
Replies to this discussion thread
36 replies
Author
Time
Post

An asteroid is coming, and scientists are excited. Fear not, Earth is safe

[View all]

backtoblue
Feb 2013
OP
bluestateguy
Feb 2013
#1
daleo
Feb 2013
#19
Psephos
Feb 2013
#25
Ter
Feb 2013
#28
daleo
Feb 2013
#34
Psephos
Feb 2013
#36
UncleYoder
Feb 2013
#30
Ter
Feb 2013
#27
Cirque du So-What
Feb 2013
#2
Mnemosyne
Feb 2013
#11
TwilightGardener
Feb 2013
#3
sdfernando
Feb 2013
#4
backtoblue
Feb 2013
#5
TwilightGardener
Feb 2013
#13
kestrel91316
Feb 2013
#15
backtoblue
Feb 2013
#16
TheMadMonk
Feb 2013
#17
FSogol
Feb 2013
#29
whistler162
Feb 2013
#18
onlyadream
Feb 2013
#6
longship
Feb 2013
#7
backtoblue
Feb 2013
#9
Delphinus
Feb 2013
#14
Deep13
Feb 2013
#8
backtoblue
Feb 2013
#10
callous taoboy
Feb 2013
#32
penndragon69
Feb 2013
#12
red dog 1
Feb 2013
#20
elleng
Feb 2013
#21
red dog 1
Feb 2013
#22
CreekDog
Feb 2013
#23
elleng
Feb 2013
#24
Adsos Letter
Feb 2013
#26
jambo101
Feb 2013
#31
Earth_First
Feb 2013
#33
Posteritatis
Feb 2013
#35