Tue Dec 25, 2012, 02:00 PM
Omaha Steve (65,712 posts)
Gunman William Spengler Used Bushmaster, Left Chilling Note [View all]
Source:
ABC
By RUSSELL GOLDMAN
An convicted killer, who shot dead two firefighters with a Bushmaster assault rifle after leading them into an ambush when they responded to a house fire he set in Western New York, left behind a typewritten note saying he wanted to "do what I like doing best, killing people," police said.
William Spengler, 62, set his home and a car on fire early Monday morning with the intention of setting a trap to kill firefighters and to see "how much of the neighborhood I can burn down," according to the note he wrote and which police found at the scene. The note did not give a reason for his actions.
Spengler, who served 18 years in prison for beating his 92-year-old grandmother to death with a hammer in 1981, hid Monday morning in a small ditch beside a tree overlooking the sleepy lakeside street in Webster, N.Y., where he lived with his sister, police said today in a news conference.
That woman, Cheryl Spengler, 67, remains missing and may also have been killed, police said.
FULL story at link.
Read more:
http://abcnews.go.com/US/webster-gunman-bushmaster-left-chilling-note/story?id=18062121
---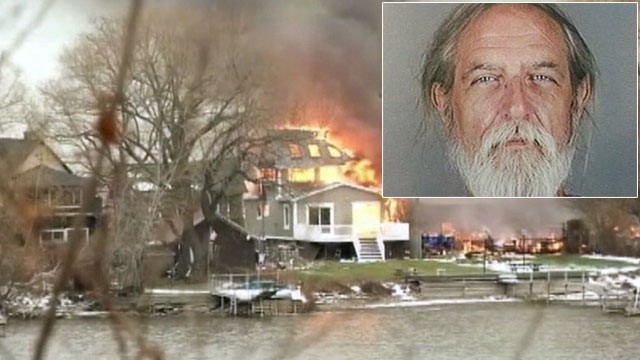 Firefighters were called to a house fire in Webster, N.Y. on Dec. 24, 2012, only to find a gunman. Inset: William Spangler who cops have identified as the alleged suspect. (ABC News/WHAM)
135 replies, 19755 views
Replies to this discussion thread
135 replies
Author
Time
Post

Gunman William Spengler Used Bushmaster, Left Chilling Note

[View all]

Omaha Steve
Dec 2012
OP
underthematrix
Dec 2012
#1
awoke_in_2003
Dec 2012
#6
mbperrin
Dec 2012
#50
humblebum
Dec 2012
#107
PavePusher
Dec 2012
#111
awoke_in_2003
Dec 2012
#2
slackmaster
Dec 2012
#4
awoke_in_2003
Dec 2012
#7
freshwest
Dec 2012
#19
exboyfil
Dec 2012
#68
LisaL
Dec 2012
#69
exboyfil
Dec 2012
#71
freshwest
Dec 2012
#72
oldbanjo
Dec 2012
#93
awoke_in_2003
Dec 2012
#98
Katashi_itto
Dec 2012
#99
awoke_in_2003
Dec 2012
#100
wordpix
Dec 2012
#134
marshall
Dec 2012
#108
awoke_in_2003
Dec 2012
#126
Hoyt
Dec 2012
#3
Trunk Monkey
Dec 2012
#12
Hoyt
Dec 2012
#13
Trunk Monkey
Dec 2012
#28
Hoyt
Dec 2012
#30
reACTIONary
Dec 2012
#95
PavePusher
Dec 2012
#110
reACTIONary
Dec 2012
#129
PavePusher
Dec 2012
#131
reACTIONary
Dec 2012
#132
PavePusher
Dec 2012
#133
Trunk Monkey
Dec 2012
#106
sulphurdunn
Dec 2012
#46
HooptieWagon
Dec 2012
#51
sulphurdunn
Dec 2012
#58
PavePusher
Dec 2012
#109
sulphurdunn
Dec 2012
#112
PavePusher
Dec 2012
#114
sulphurdunn
Dec 2012
#118
PavePusher
Dec 2012
#119
sulphurdunn
Dec 2012
#121
PavePusher
Dec 2012
#123
sulphurdunn
Dec 2012
#127
geckosfeet
Dec 2012
#54
HooptieWagon
Dec 2012
#65
RC
Dec 2012
#86
HooptieWagon
Dec 2012
#91
geckosfeet
Dec 2012
#103
PavePusher
Dec 2012
#115
geckosfeet
Dec 2012
#120
PavePusher
Dec 2012
#122
Chorophyll
Dec 2012
#5
awoke_in_2003
Dec 2012
#8
Trunk Monkey
Dec 2012
#26
starroute
Dec 2012
#32
Trunk Monkey
Dec 2012
#104
awoke_in_2003
Dec 2012
#42
Trunk Monkey
Dec 2012
#105
aquart
Dec 2012
#9
cantbeserious
Dec 2012
#10
dkf
Dec 2012
#11
msongs
Dec 2012
#14
LeftishBrit
Dec 2012
#15
slackmaster
Dec 2012
#16
IveWornAHundredPants
Dec 2012
#23
slackmaster
Dec 2012
#25
awoke_in_2003
Dec 2012
#48
socialindependocrat
Dec 2012
#52
Paladin
Dec 2012
#17
Judi Lynn
Dec 2012
#18
alfredo
Dec 2012
#20
Baitball Blogger
Dec 2012
#21
alfredo
Dec 2012
#61
MisterP
Dec 2012
#22
TheMadMonk
Dec 2012
#62
coalition_unwilling
Dec 2012
#102
Third Doctor
Dec 2012
#24
bossy22
Dec 2012
#45
billh58
Dec 2012
#53
oldbanjo
Dec 2012
#96
oldbanjo
Dec 2012
#94
graham4anything
Dec 2012
#27
KareBear
Dec 2012
#29
doc03
Dec 2012
#31
LisaL
Dec 2012
#34
doc03
Dec 2012
#39
LisaL
Dec 2012
#41
HooptieWagon
Dec 2012
#40
doc03
Dec 2012
#44
HooptieWagon
Dec 2012
#49
doc03
Dec 2012
#60
HooptieWagon
Dec 2012
#73
PavePusher
Dec 2012
#113
HooptieWagon
Dec 2012
#116
billh58
Dec 2012
#55
eilen
Dec 2012
#67
HooptieWagon
Dec 2012
#35
LisaL
Dec 2012
#37
HooptieWagon
Dec 2012
#43
TheMadMonk
Dec 2012
#64
HooptieWagon
Dec 2012
#87
TheMadMonk
Dec 2012
#92
primavera
Dec 2012
#135
pwb
Dec 2012
#33
lexw
Dec 2012
#36
LisaL
Dec 2012
#38
lexw
Dec 2012
#130
HooptieWagon
Dec 2012
#47
Tarheel_Dem
Dec 2012
#59
ReRe
Dec 2012
#56
Live and Learn
Dec 2012
#57
LisaL
Dec 2012
#63
Live and Learn
Dec 2012
#70
LisaL
Dec 2012
#76
HooptieWagon
Dec 2012
#74
LisaL
Dec 2012
#77
HooptieWagon
Dec 2012
#80
Live and Learn
Dec 2012
#83
Live and Learn
Dec 2012
#84
Live and Learn
Dec 2012
#81
Odin2005
Dec 2012
#66
HooptieWagon
Dec 2012
#89
MrSlayer
Dec 2012
#75
Aerows
Dec 2012
#78
LisaL
Dec 2012
#79
HooptieWagon
Dec 2012
#85
happyslug
Dec 2012
#125
Jamastiene
Dec 2012
#82
JI7
Dec 2012
#88
oldbanjo
Dec 2012
#97
RC
Dec 2012
#90
Jamastiene
Dec 2012
#101
Paul E Ester
Dec 2012
#117
ieoeja
Dec 2012
#124
SpartanDem
Dec 2012
#128